Back to

News & Events
Stockyard wins feedlot MSA award for the third time running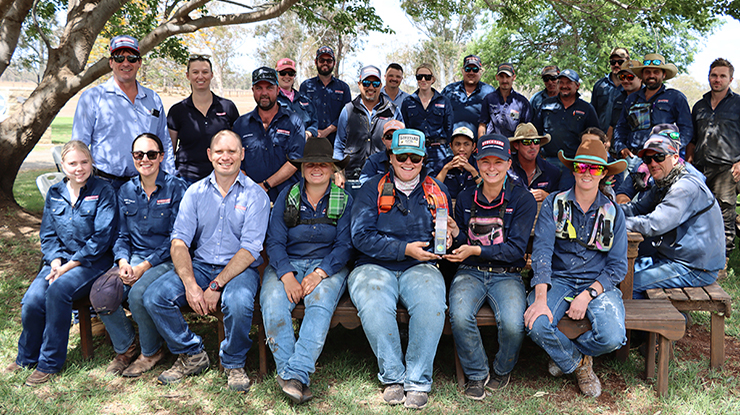 The team at Stockyard's Kerwee feedlot came together to celebrate their success in the MSA awards in October 2023.
A focus on attention to detail and all aspects of eating quality has seen Stockyard Beef win its category at the recently announced MSA Eating Quality Awards for 2021 to 2023.
Stockyard, which operates the Kerwee feedlot at Jondaryan in Queensland, is no stranger to the awards, having also won the top gong in the feedlot category for 2019-21 and 2017-19 (and been runner-up in 2015-17).
Stockyard General Manager for Livestock Operations, Marcus Doumany, said that Stockyard was thrilled to have won the 'most outstanding beef producer – feedlot' category and that the award was a testament to the huge team effort across the Stockyard supply chain.
"This award is an objective verification of Stockyard beef and is underpinned by the fantastic carcase results on every single animal that is leaving our supply chain," Mr Doumany said.
"It really starts with the strong relationship that we have with our suppliers. We have very open conversations and they are also keen to improve the quality of their animals based on our feedback and carcase results.
"Once the animals are here within our feedlot, our focus is on making our practices second to none."
He said this encompassed low-stress animal handling, health and tailored nutrition.
Stockyard's Kerwee Feedlot focuses on Wagyu and Angus cattle and can have up to 20,200 cattle in its care at any one time.
Angus cattle are fed for a minimum of 200 days, while Wagyu cattle are fed 400-plus days. Both breeds supply Stockyard brands that go into markets all around the world.
The ration is tailored for the breed and specific requirements by a nutritionist. It is based around steam flaked grain, silage, straw, liquid supplement, molasses, vegetable oil and protein meals.
MSA Program Manager, David Packer, congratulated Stockyard on improving its compliance and eating quality outcomes over time, with the company achieving a compliance rate of 99.9% and an MSA index of 65.1.
"This is the 25th year of the MSA program and in that time, it has become the world-leading eating quality grade program for Australian red meat," Dr Packer said. "It is a key driving force behind the quality of Australian red meat, so these awards are a prestigious achievement for the producers.
"Each winner must achieve high eating quality performance for MSA graded cattle during the 2021-22 and 2022-23 financial years and supply consistent MSA cattle within the top 50% percentile for that state and feed type.
"These are the best of the best when it comes to producing consistently outstanding beef."
MSA is based on more than 1.7 million taste tests by over 250,000 consumers from 13 countries and considers the factors that affect eating quality from the paddock to plate.