Back to

News & Events
Taking herd performance to new heights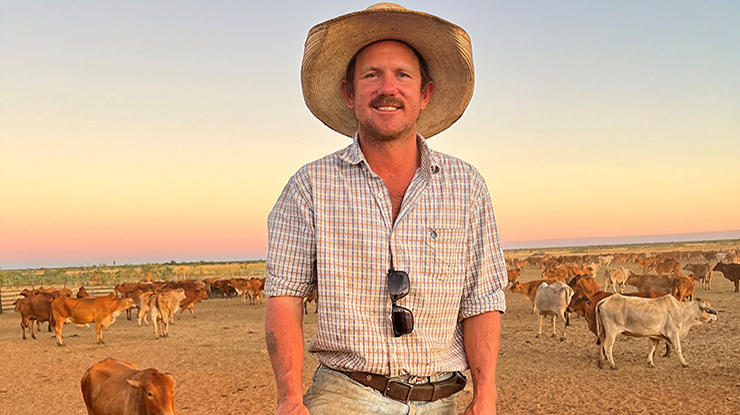 WA producers Lach McClymont and Camille Camp's focus on maximising their Droughtmaster herd's reproductive performance goes hand-in-hand with careful breeder management and a hunger for continuous improvement.
The couple recently took over the management of 'Kalyeeda Station' in WA's Kimberley region and its 4,000 head breeding herd from Camille's parents, Peter and Cheryl Camp.
Peter and Cheryl purchased Kalyeeda 27 years ago and, according to son-in-law Lach, they've taken a concerted approach to building a business which has set the breeding and backgrounding operations up for success.
"Peter and Cheryl have always placed a focus on production while being on the front foot with animal welfare," Lach said.
"The whole property's been strategically developed in terms of water, infrastructure and floods."
Constant learning
Both couples have attended Breeding EDGE workshops hosted by MLA to learn how to improve their breeding program. Most recently, Lach attended a Breeding EDGE workshop in Broome last year which renewed the family's focus on boosting production.
"We're all very open to the style of management system that Breeding EDGE workshops exposes you to," Lach said.
"When I went to the workshop last year, I was able to develop a breeder plan for our whole property, which involved working out what areas we could improve on in our production and also what were the areas we're doing really well at.
"I found it really powerful being able to bring that home and focus on what we needed to do better."
Strategic supplementation
Supplementing their young breeders to set them up for success is one of the first strategies Lach and Camille have put in place at Kalyeeda since Lach attended the EDGE workshop.
"We're putting out wet and dry season phosphorus supplement to all of our breeders, with an emphasis on our younger cattle to get them up to a critical mating weight of 340kg between
24–36 months of age," Lach said.
"Anything below that and the heifer does it tough in this environment – so we focus a lot on looking after our heifers and that just sets them up for the rest of their life here."
Divide and conquer
Heifers or cows with low body condition score are drafted off and put in dedicated paddocks.
They're supplemented to ensure they can reach and maintain good condition during the next calving and beyond.
"Leading up to the wet season in October, we'll go back into some paddocks and start pulling weaners off heifers or cows that have slipped below a body condition score of 3," Lach said.
"We'll get that weaner off so that cow or heifer has recovered by those first storms and be well and truly on a rising plane of nutrition by January in order to get back in calf."
Segregating breeders is another approach Lach and Camille have implemented to reduce calf loss and boost weaning rates on Kalyeeda, as well as minimising second-round mustering when many of their breeders are calving.
"Our spring plan is to have fully segregated our breeders according to their calving window, so I don't have to go in just to get more weaners off," Lach said.
"We don't have to go into paddocks where our October–December calvers are during our second round muster; it's quite an efficient management process with rising mustering overheads."
Bulls that perform
Camille's father, Peter, has always paid particular attention to selecting high-performing bulls to maximise production on Kalyeeda – a skill Lach hopes to develop with the tools the Breeding EDGE workshop has given him.
"Peter has always chosen quality bulls and looks at the semen testing, morphology and Estimated Breeding Values (EBVs) to do this," Lach said.
"The main EBVs we're selecting for are days to calving, postpartum interval, 200‑day weight gain and critical mating weight.
"At the Breeding EDGE workshop, we did a whole session on bull selection, including EBVs and semen morphology testing, which will help me with our purchases moving forward."
Stepping it up again
Into the future, Camille and Lach have their sights set on taking their herd performance to new heights.
"We want to find our real peak performers and use them to maintain our production of a high-quality article," Lach said.
"A lot of it is just identifying cows that aren't performing as well as ones that are – really, it's learning to read your animals year by year and drafting based off that."