Back to

News & Events
Tapping into Indonesia's growing red meat and cattle sector
Key points:
Indonesia's large and rapidly expanding middle class consumer base and ongoing infrastructure development will support long-term import demand growth for Australian live cattle and boxed beef

Indonesia became a billion-dollar beef and cattle export market for Australia for the first time in 2018–19 and presents many opportunities for Australian investors across the Indonesian beef supply chain, from cattle breeding to meat home delivery services.

A new DFAT Blueprint for Trade and Investment with Indonesia offers Australian businesses assistance to leverage opportunities afforded by the Indonesia-Australia Comprehensive Economic Partnership Agreement.

A large and expanding red meat market
Indonesia is on track to become the world's fourth largest economy by mid-century, with economic growth (real GDP) in 2023 projected to be 5.1% (World Bank), comparable to Australia's other trading partners, such as China (5.3%) and India (6.5%).

Indonesia is one of the world's fastest-growing and comparatively urbanised consumer markets. The number of households earning at least US$35,000 annual disposable income is forecast to increase eight-fold from 480,000 in 2016 to almost 3.8 million by 2026 (Fitch Solutions).

Indonesia's growing appetite for premium, healthy and safe food products, particularly in large cities such as Jakarta, Surabaya, Bandung and Medan and major tourist destinations like Bali, presents a growing consumer market for Australian exporters and manufacturers to tap into.
Rapidly improving infrastructure to support expanding red meat and livestock trade
The

Indonesia-Australia Comprehensive Economic Partnership Agreement

(IA-CEPA) includes improved tariffs and preferential arrangements for a range of commodities including for live cattle, frozen beef, sheep and goatmeat, representing significantly enhanced market access conditions for Australia.

The Indonesian Government has established 15 Special Economic Zones (SEZ, known as KEK in Indonesian). These designate areas within certain boundaries with particular economic advantages (particularly access to global markets through sea and air), in order to accelerate economic development.

Connectivity and infrastructure are therefore major priorities, with major investments occurring in roads (both urban mass transit and major connecting trunk roads), rail, ports and airports. Ports and airports continue to receive high priority in order to connect the 6,000 inhabited islands, while maritime sea routes are a new focus.

While Australia has long sold food to Indonesia, there is now rising demand for pre-packaged, ready- to-eat-and-deliver products, marketed and ordered online. New cold chain investments will further support growth in these segments

.

According to the Indonesia Logistics and Forwarders' Association, the cold chain market is expected to grow 8–10% over the next five years (ILFA 2020).

Indonesia is the largest and fastest growing digital economy in South-East Asia. It had 175 million internet users in January 2020 (S. Kemp, Digital 2020: Indonesia, 2020) and an estimated 183 million Indonesians are smartphone users. The digital economy was valued at $59 billion in 2020 and is expected to nearly triple in market value to $167 billion by 2025. As one of the Indonesian Government's highest priorities, development of the digital economy will in turn enhance cold chain logistics and retail modernisation, supporting new opportunities for Australian red meat in the market.

Indonesian consumers are tech-savvy and avid users of online shopping platforms. Customers are purchasing more sophisticated beef products, included ready-to-eat meals and processed products. The pandemic has accelerated the growth in demand for home food and meal delivery services and "B2C" commerce and rapid innovation in cold chain services to meet the demand, creating new investment opportunities across the supply chain.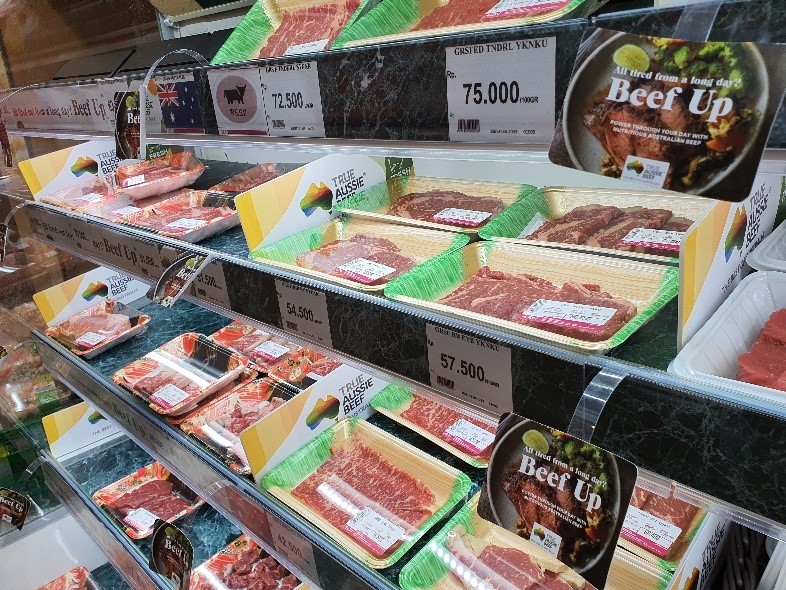 MLA's Southern Asia team has run a successful 'Beef Up' campaign to promote True Aussie beef in Indonesian modern retail (Photo courtesy of the Red Meat & Cattle Partnership).
IA-CEPA benefits for red meat and livestock trade
In 2020, the IA-CEPA entered into force, further strengthening

well-established economic, trade and investment ties

and new opportunities for Australian businesses in the Indonesian market. 

Indonesia has been Australia's primary market for live feeder cattle for over two decades and has grown to become Australia's fifth largest boxed beef export market. Indonesian demand for Australian live cattle and boxed red meat has been remarkably resilient, despite impacts of the COVID-19 pandemic and record-high Australian cattle prices, with demand forecast to rebound strongly in 2022–23.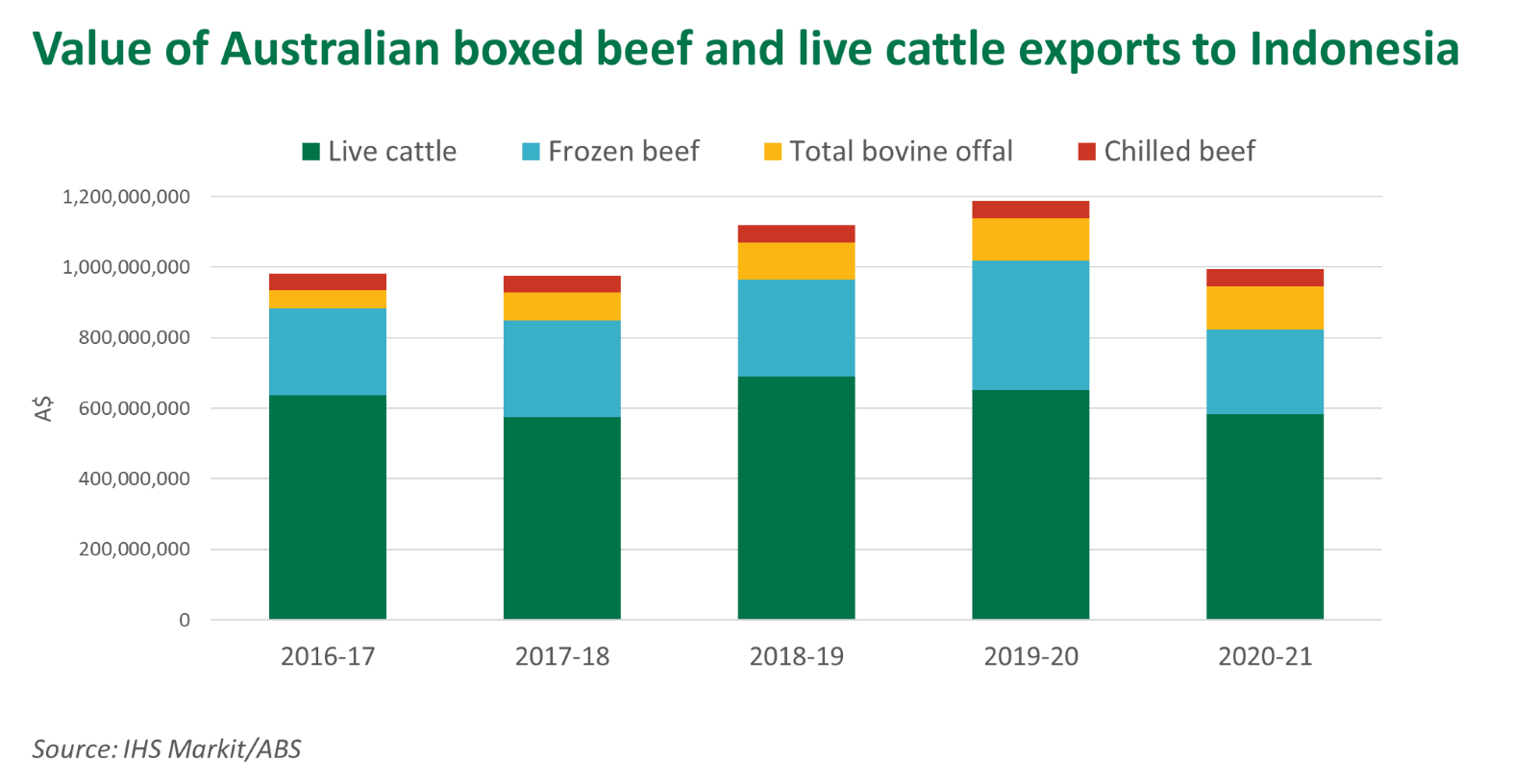 Under IA-CEPA, Indonesia has committed to issue import permits automatically and without seasonality for key products such as live cattle, frozen beef and sheepmeat. To illustrate

, in the first six months of the agreement to the end of 2020, up to 281,215 head of Australian live male cattle could enter Indonesia duty free. This amount grows annually to 700,000 in year six of the agreement. Female live cattle exported from Australia also receive tariff-free access. 
Tariffs on frozen bone-in beef and frozen sheepmeat were initially reduced to 2.5% from 5% and will be eliminated by 2023. Tariffs on all other frozen beef have been eliminated. In the first five months of operation, tariff rate quota (TRQ) certificates have been issued to more than 100,000 head of live male cattle, providing duty free access for this key Australian export and demonstrating IA-CEPA's immediate benefit to exporters. 

The Indonesian government is concurrently actively supporting investment in its own cattle production through regulatory change and new policy development. Recent research highlights long-term opportunities for investors in commercial cattle breeding in association with oil palm production, with potential annual returns on investment of up to 12%. The integration of cattle into existing plantations requires no additional clearing of land and reduces the usage of herbicides and inorganic fertilisers.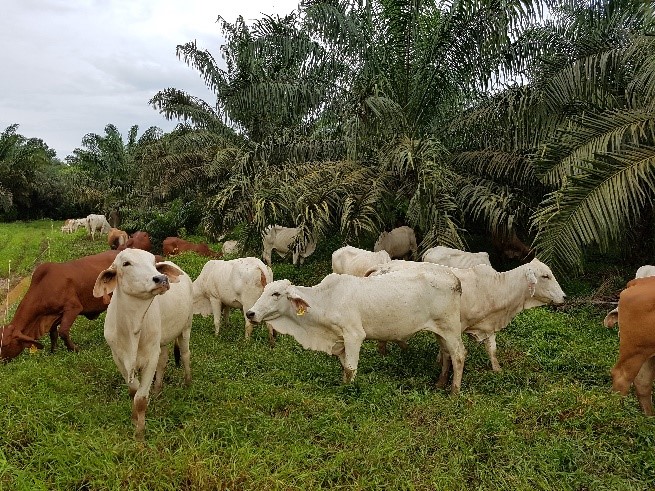 Cattle roaming in an Indonesian palm oil plantation
(Photo courtesy of the Red Meat & Cattle Partnership).
New DFAT Blueprint for Trade and Investment with Indonesia
To further assist Australian companies to leverage opportunities in the agriculture and food sectors afforded by IA-CEPA, the Australian government, through the Department of Foreign Affairs and Trade, recently launched its

Blueprint for Trade and Investment with Indonesia

.

Chapter 9 of the Blueprint is dedicated to opportunities for Australia in the red meat and livestock sector and points to both existing and future opportunities likely to emerge from Indonesia's changing regulatory environment and digital growth in the coming years.

As Australia looks for new growth opportunities to support near-term economic recovery and long-term economic security, the case for deepening our trade and investment engagement with Indonesia is strengthening, with both countries standing to benefit.