Back to

News & Events
Tapping new tenderloin market in South Korea
South Korea's rapid response to managing COVID-19 and 'flattening the curve' has seen its population starting to return to a new normal, a positive signal for Australian beef exports.
While South Korea experienced a spike in the number of infections in late February, it implemented a range of key measures to contain the spread of COVID-19 infections that has enabled it to emerge from self-isolation more quickly than many other countries.
South Korea is the fourth largest market for Australian beef, with the top five cuts comprising chuck roll, blade, brisket, ribs and manufacturing beef.
MLA Regional General Manager, Japan & Korea, Scott Walker, said with South Korea's economy showing strong signs of recovery, MLA's in-country Korea marketing team is supporting Australian exporters in potentially creating a new channel into Korea for high value tenderloins.
"Korea is in a very good position relative to almost any other country in the world because it has been so rigorous with its contact tracing and testing for COVID-19, and that's why life has been able to return to a new, socially distant normal," Scott said.
"With the market in Korea recovering faster than others, exporters are looking to Korea to sell tenderloins which would traditionally be utilised by fine dining restaurants in other markets now impacted by COVID-19 lockdowns and a lack of tourists.
"The loin market in Korea is not huge and it's basically introducing a new product to consumers.
"We are trying different tactics, working with Australian brand owners to collaborate for TV broadcasting programs and launching loin cut sales at retail, to showcase how to use it and different cooking methods to encourage consumers to try to cook it at home.
"Korean consumers have never seen tenderloin in retail before, so this is a new channel for sales, targeting retail and online shopping."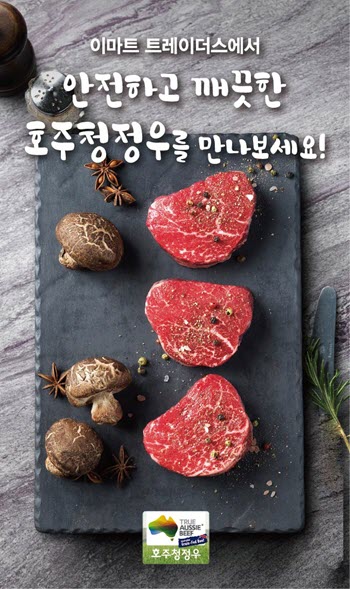 Caption: Collateral from MLA's True Aussie Beef retail promotions.
Retail campaigns ramp-up
MLA Country Manager, South Korea, Charlie Ko, who is based in MLA's Seoul office which reopened last week, said the market had experienced a shift in demand from foodservice to in-home cooking and home delivery, as consumer behaviour reflected the rise and fall in the country's COVID-19 cases.
"Koreans really enjoy eating out. In early March, people stopped eating out and restaurant sales dropped 66%," Charlie said.
"However, once the number of COVID-19 cases started falling in April, people started going out again and eating out more, particularly at lunch time.
"Most restaurant sales recovered enough in April to reach 80% of sales for the same time last year.
"There are still some lockdowns in place impacting the foodservice sector, such as school catering and chain hotels. However, schools are starting to reopen this week and people can travel freely across the country, which they did during the national holiday from 30 April to 5 May, so that will further boost foodservice."
While consumers shifted their focus away from eating out at the peak of the COVID-19 pandemic, the country's well-established food delivery and take-away capabilities saw demand flourish, with home delivery sales increasing 30-40%.
At the same time, retail sales have increased about 20% and online sales are up 40%. Australia's chilled beef exports to Korea for retail and online increased 15% in April, compared to April 2019.
MLA's Korea marketing team has been focused on retail campaigns, undertaking a four-week, 18-store True Aussie Beef campaign in warehouse style retailer, E-mart Traders, in April, which resulted in a 14% sales increase compared to last year.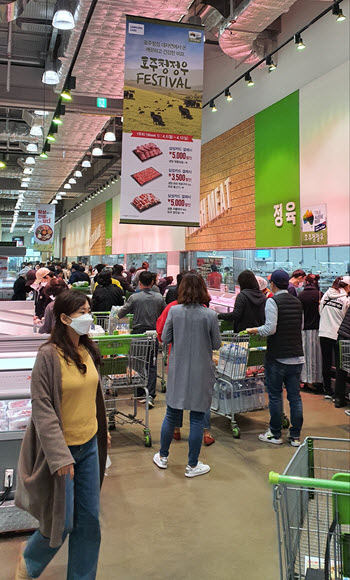 Caption: MLA True Aussie Beef promotion in warehouse style retailer, E-mart Traders
This week, MLA will start a week-long promotion of True Aussie Beef and Lamb across more than 15 Hyundai Department Stores.
Several other retailers and online platforms also plan to promote tenderloin cut sales this month.
"Any marketing activities that we do are underpinned by the pillars of nutrition, wellbeing, safety and quality. We're going back to basics, reminding consumers at a time when they are conscious of their personal health, that Australian beef is a safe, quality product," Scott said.
"The impact of COVID-19 on meat supply out of the United States also created a gap in the market, with Australian red meat well positioned to fill the short-term void."