Back to

News & Events
Where does my goat transaction levy go?
20 August 2019
Goat producers are legally obligated to pay a transaction levy on the sale of their livestock. The levy is paid to the Department of Agriculture and is also known as the Livestock Transaction Levy.
The goat transaction levy is 37.7 cents/head/transaction, and covers four components (see below).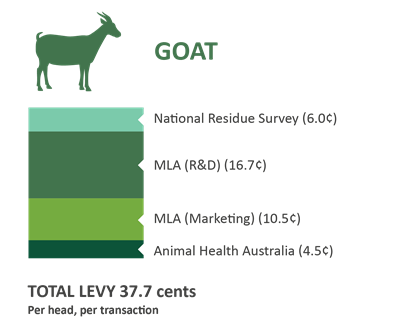 Who is a levy payer?
A levy payer is the person who is liable to pay the levy. They are often the producer, i.e. the person who owns the livestock immediately before it is first sold, processed or exported. Normally a levy payer will pay levy through an intermediary, also known as a collection agent, as a part of the usual transaction process.
When is the levy applied?
The goat transaction levy is payable on each transaction where the ownership of the goat changes from one person to another. For example, the levy is payable when the:
goats are delivered to an abattoir (processor) where there was no sale
breeding stock are sold to another producer, or
stock are sold to a depot.
Who must collect the levy and submit the return?
The party identified in the table below must collect the goat transaction levy and submit a return to the department.
Transaction type

Who must collect the levy and submit a return

Producer (seller) to producer (buyer)

The seller

Producer to abattoir (processor)

The processor

Producer via intermediary
(i.e. collection agent, stock agent)

The intermediary
How is your money invested?
The Australian Government will match eligible Research and Development (R&D) expenditure dollar for dollar. These funds are invested by MLA in R&D projects for the benefit of the goat industry. Recent investments include the population modelling and forecasting program, an investigation into the causes and prevalence of kid loss and a national roadshow of producer events.
MLA's new goat industry research, development and adoption committee (GIRDAC) drives R&D investment. The Goat Industry Council of Australia (GICA), the industry's peak council, provides strategic input and oversight of the broader investment portfolio. The annual goat R&D budget is approximately $1.3M
Marketing levy funds are not matched by the Australian Government. They are invested by MLA to promote the end product domestically and internationally. Recent marketing projects have developed the 'True Aussie Goat' brand, creating a goat presence at domestic food shows and tracking consumer awareness and perceptions of goatmeat. The annual goat marketing budget is approximately $420,000.
You can find out more about Australia's goat industry here.
What other levies apply to goats?
There are additional levies and/or charges that may apply to goats. This includes the: