Back to

Prices & Markets
Subscribe to Prices & Markets e-newsletter
For in-depth red meat market news, information and analysis.
SIGN UP
Saleyard lamb prices lift further
08 October 2020
Key points:
National Light and Trade Lamb Indicators continue to track above year-ago levels
Yardings have lifted above year-ago levels
Heavy lambs have regained a premium to light lambs
National saleyard indicators have continued to strengthen this month, with most categories tracking above year-ago levels. The National Trade Lamb Indicator was reported at 809¢/kg cwt on Tuesday 6 October, 13¢ above year-ago levels and 45¢ above last week. Light lambs followed a similar trend, lifting 35¢ year-on-year to average 783¢/kg cwt.
While increased spring supply saw prices move on a downwards trajectory this time last year, 2020 is seeing prices move in the opposite direction. For the week ending 2 October, eastern states lamb yardings tracked 22% above the same week last year, to average 186,200 head, albeit the light lamb portion of supply contracted 20% on year-ago levels to average 21,800 head. This year has seen improved conditions across key lamb producing regions, leading to increased marking rates and an incentive to increase stocking rates – a main driver of elevated national lamb supply. Additionally, a recovery in domestic market conditions has seen a shift in demand, primarily out of NSW, which has resulted in prices pushing higher.
Heavy lambs came under pressure over the June quarter, on the back of processor disruptions in Victoria and market uncertainty resulting in greater demand for lighter categories. However, heavy lambs have regained a 15¢ premium to light lambs this month, averaging 798¢/kg cwt. For the same week last year, heavy lambs averaged 801¢/kg cwt, trading at a 53¢ premium to light lambs. Interestingly, heavy lamb supply has lifted 82% on year-ago levels to 122,000 head, yet only a 3¢ price difference exists year-on-year. This has largely been driven by a lift in demand for heavier categories thanks to a recovery in domestic conditions and from key export markets such as China.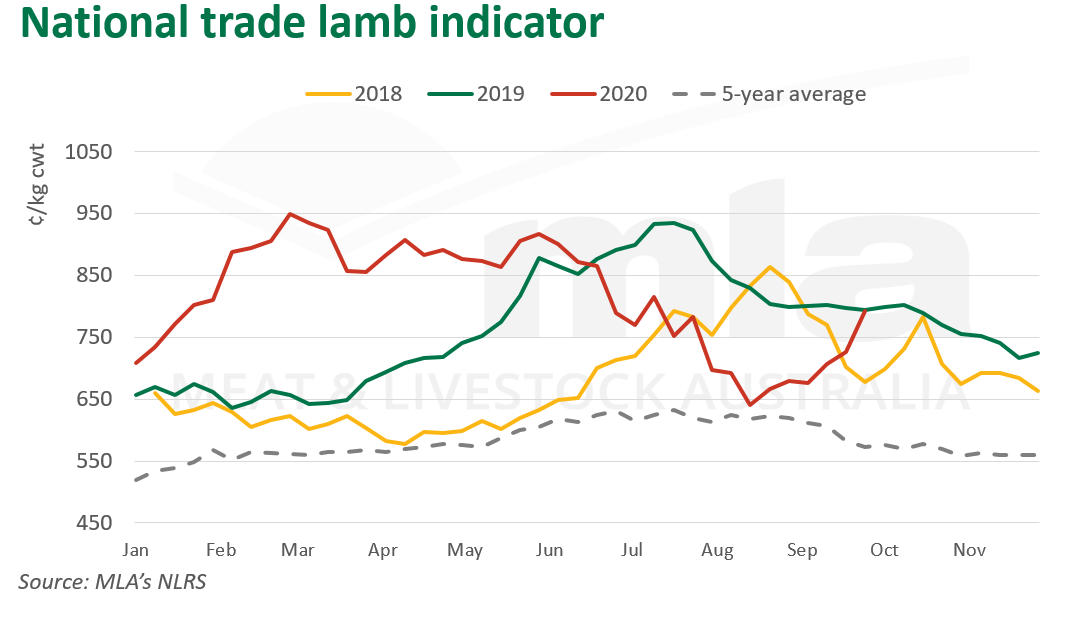 © Meat & Livestock Australia Limited, 2020