Back to

Prices & Markets
Subscribe to The Weekly e-newsletter
For in-depth red meat market news, information and analysis.
SIGN UP
Shifting global demand creating beef carcase imbalance
Key points:
Retail demand growing in many markets, particularly for staple items like mince
Demand from domestic and international foodservice channels has plunged
Balancing cut value across carcase becoming increasingly difficult.
With the impact of COVID-19 unfolding, factors underpinning demand for red meat around the world keep shifting. As foodservice channels slow and, in some cases, grind to a halt, demand for meat through retail, particularly online, has lifted significantly. This is leading to a shift in the cut mix sold domestically and around the world.
Retail booming as consumption shifts from 'out-of-home' to 'in-home' across markets
Australia has a very export driven beef sector, last year sending 74% of total beef production to overseas markets. Additionally, it is estimated that around two-thirds of Australian beef exports are ultimately consumed through foodservice channels. However, across many markets in the last month, shopping and consumption behaviour has changed rapidly and the typical balance of demand for Australian beef has shifted. The domestic market, as an example, has seen a significant spike in demand through retail, with shelves only recently getting back to being well stocked. Meanwhile many cafes, restaurants and pubs have closed or shifted to takeaway or delivery only due to government restrictions.
While flourishing retail demand is a positive and has helped offset the lack of demand from the foodservice sector, a number of issues have emerged from this shift. Typically, higher value loin cuts make their way into foodservice, balancing out the overall value of the carcase for processors. Profit margins on manufacturing meat are typically much smaller and the sale of high-value cuts are necessary to maintain profitability. With most markets facing similar shifts in foodservice demand, carcase balance becomes a major challenge, even a diversified exporter like Australia. If this lopsided demand remains, and the premium injection from foodservice is forgone, it will likely impact processor purchasing power for cattle.
Shifts in demand amongst export markets will also impact cut demand
Given the current global uncertainty regarding COVID-19, there are a number of factors which will shape demand in the coming months.
Fluctuating demand across domestic and export markets also has potential to upset typical cut flows. Typically, Australia's big manufacturing market is the US, driven a need for lean frozen meat to blend with fattier domestic trim, primarily destined for the foodservice industry. Japan is also a key market for manufacturing beef, while China's demand has been building over the past years.
With the uncertain economic outlook across the globe, a demand slowdown in any key export market will also affect the cuts balance given the skewed nature of what each market typically takes, as highlighted below.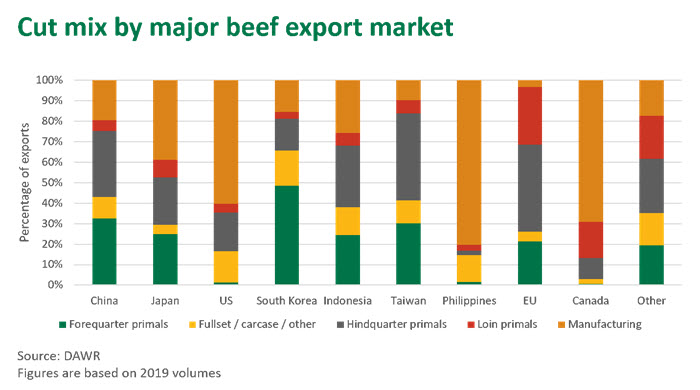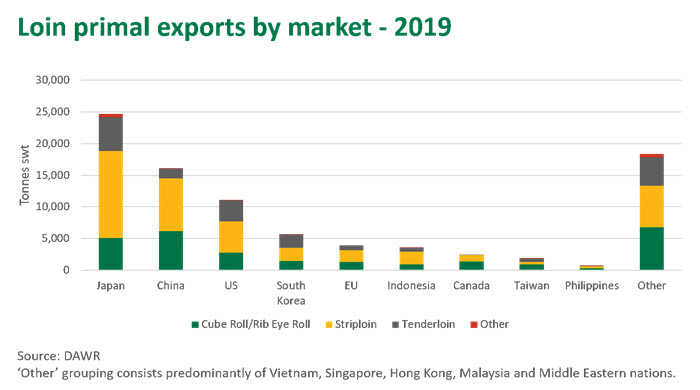 Looking ahead
As many consumers worldwide prepare to spend more time cooking at home, demand for beef cuts will likely continue to be lopsided. Combined with continual shifts in demand by market, it will remain a constant challenge for processors to move the entire carcase while minimising the impact to overall value. While, in time, processors will adapt to these new circumstances and/or markets will return towards more typical consumption patterns, the hugely uncertain impact of COVID-19 means the timeframe for a return to 'normal' remains unclear.
© Meat & Livestock Australia Limited, 2020