Back to

Research & Development
Subscribe to R&D Round-Up newsletter
Stay informed with a short, sharp monthly summary of MLA's latest research reports.
Sign up
Antimicrobial Stewardship
Antimicrobial stewardship describes practices designed to reduce the need for antimicrobial use and to ensure that when antimicrobials are required, they're utilised in a way that maximises efficacy while minimising adverse effects – including the development of antimicrobial resistance.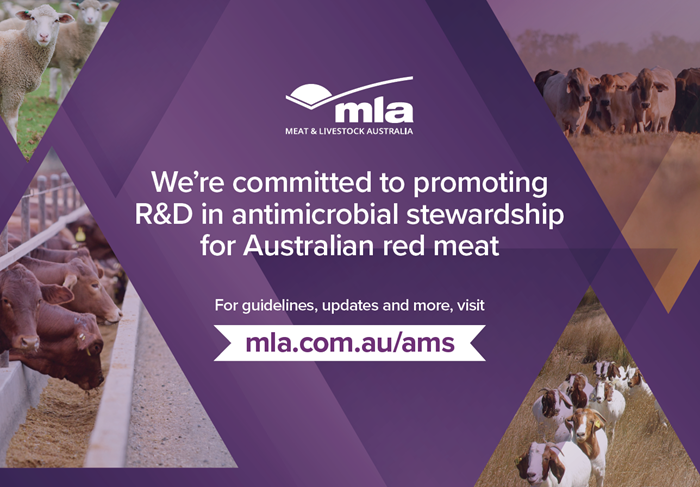 Antimicrobial stewardship also includes all those measures to refine, reduce and replace antimicrobial use. In view of the global concern around the increasing public health crisis associated with antimicrobial resistance and the implementation of Australia's First National Antimicrobial Resistance Strategy (Australian Government 2015), it's important to ensure that all antimicrobials are used responsibly to preserve their effectiveness.
Antimicrobial stewardship guidelines
The Australian Lot Feeders' Association (ALFA), through MLA, has invested grainfed levies to develop the Antimicrobial Stewardship Guidelines for the Australian cattle feedlot industry. These guidelines will assist in arming feedlot managers with practical information on antimicrobial resistance and provide a framework to ensure appropriate use of antimicrobials, thereby reducing the risk of antimicrobial resistance and safeguarding the use of these important animal health tools well into the future.
These practical guidelines have been developed by independent, internationally recognised antimicrobial stewardship experts, Australian industry practitioners and industry representatives who operate feedlots.
The guidelines align the feedlot industry with national and international initiatives to preserve the effectiveness of antimicrobials for people and animals, and specifically the Federal Government's First National Antimicrobial Resistance Strategy (2015–2019) objective that encourages animal industries to develop stewardship programs.
More information and resources
Peer Reviewed Open Access Journal Articles from 2012–13 by authors Robert S. Barlow, Kate E. McMillan, Lesley L. Duffy, Narelle Fegan, David Jordan, Glen E. Mellor