Join myMLA
One username and password for key integrity and information Systems (LPA/NVD, NLIS, MSA & LDL).
Sign Up
Back to

Marketing beef & lamb
Lamb campaigns
Summer 2022
The highly anticipated summer 2022 Lamb campaign launched Monday 10th January 2022, showing Australia reuniting with the world over Lamb after almost two years of isolation from other nations.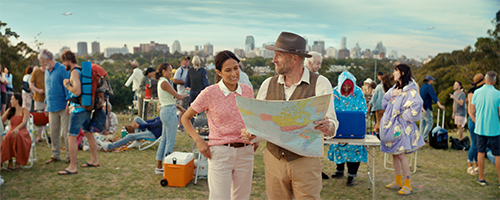 MLA's summer Lamb campaigns have built a strong legacy of highly topical advertising and thought provoking creative, which has generated widespread conversation and publicity for Australian Lamb. Summer is a key time for Australians to get together with friends and family over a meal or barbeque. For Lamb to capture this key sales occasion, it is imperative that the campaign not only creates talkability for the brand, but encourages purchases when shoppers are making their key protein choice across retail and food service environments.
Building on the 'Share the Lamb' brand platform, the 6-week integrated campaign reflects upon how Australia has become isolated from the rest of the world due to strict international border closures during the pandemic.
The long form advert follows a world explorer and their student apprentice protégé, as they rediscover that there is a whole world outside of 'fortress Australia'. Inspired by the tantalising sight of Australian Lamb, the ultimate unifier, the duo cultivates a plan to get Australia back on the international map with the help of Lambassador, Sam Kekovich.
The TVC highlights how Australians are stronger and better when we come together. To ensure Lamb's relevancy to consumers, the campaign also demonstrates the ease and versatility through various cuts, cooking methods and meal inspiration.
The campaign launched with a live broadcast BBQ on Sunrise with Lambassador, Sam Kekovich. The advert appeared on national TV with placements during the Australian Open and the campaign featured across path to purchase out-of-home (OOH), online video and social platforms.
To keep lamb top of mind and drive the purchase in store, the campaign also connected with consumers with a presence in major retail environments including Coles, Woolworth's, IGA, Costco, Drakes, ALDI and butcher stores. Product-focused digital screens, catalogue, magazines, digital assets and point of sale activity deliver meal inspiration and drive purchase in store.
Food service partnerships with Seagrass Boutique Hospitality Group, Australian Venue Co. and Pegasus Leisure Group showcased a delicious range of lamb dishes on menus to further drive sales. Additionally, Australian Lamb hosted an event in January at 6 Head Restaurant (Seagrass Group) highlighting the best of Australian Lamb to key influencers and their networks to drive awareness. The January issue of Rare Medium Magazine and Rare Medium Academy also featured Australian Lamb as a key focus.
Summer 2021 - Make Lamb, Not Walls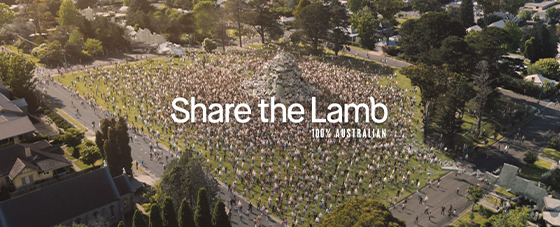 Australian Lamb's annual summer campaign has launched, showing the country uniting over lamb - and laughs - after a year that has seen Aussies more divided than ever.
Building on the 'Share the Lamb' brand platform, the integrated campaign reflects upon 2020 as a pivotal time in our history where, for the first time, Australia was physically distanced due to the pandemic.
The new TV advert takes us to the year 2031 - where division between states has escalated to new heights and a once united nation is separated by a great wall, towering over every state border - offering a tongue-in-cheek look at what could be if state borders are shut for good.
However, this un-Australian division can't last forever as the great unification of Australia is sparked by an irresistible scent coming through a crack in the wall.
As the hero is overwhelmed by the aroma and begins smashing at the wall that separates himself from Queensland, a hand appears through the crack holding out a beacon of hope - a perfectly cooked lamb cutlet!
This act of unity triggers Aussies around the country to tear down the wall, overcome their fears and together share a delicious lamb BBQ.
The ad aired on the Sunrise program on the 11th January with 'Lambassador' Sam Kekovich and will appear on TV, Foxtel, online video, digital, social media, and outdoor displays.
A PR activation will help support the campaign and spark positive conversations about Aussie lamb across the nation.
To keep lamb top of mind and drive sales, the campaign will also connect with consumers along the 'path to purchase' with digital screens in retail outlets that are product-focused and deliver meal inspiration.
To watch the film visit the Australian Lamb Facebook and YouTube page or view the content at: https://www.australianlamb.com.au/unitedwelamb.
Christmas 2020 - Lamb Legends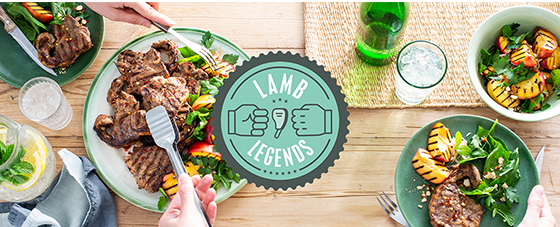 The new campaign is a continuation of the successful Lamb Legends series, with new content which features iconic Aussie chefs cooking delicious lamb dishes for local legends in the lead up to the Christmas holiday period.
The campaign features MasterChef Australia star, Elena Duggan, treating sustainable farmer, Anika Molesworth, to a Moroccan Lamb Roast and top chef, Mitch Orr, grilling lamb loin chops for Find A Bed founder, Erin Riley.
The campaign will utilise the 'Share the Lamb' platform over four weeks in the lead up to Christmas, demonstrating lamb as an easy and versatile meat option. The campaign will appear across digital video, on demand TV video broadcast, YouTube and social channels.
To drive consumer participation and share the lamb during the festive season, MLA will be running a social competition on Facebook and Instagram. Consumers just have to nominate a Lamb Legend in their life to win a lamb meat tray from their local butcher. Winners will be drawn from across the country.
To watch the Lamb Legends content series visit www.australianlamb.com.au/lamblegends
Spring 2020 - Lamb Legends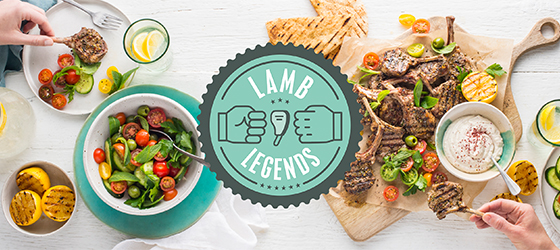 Meat & Livestock Australia's Spring Lamb campaign has launched with a new content series which aims to demonstrate the ease and versatility of cooking with lamb by celebrating local Aussie heroes with renowned Aussie chefs cooking them legendary lamb meals to say thanks for their inspiring work.
The Lamb Legends series kicks off with a three part video series, where top chefs – MasterChef star Hayden Quinn, Mr Wong legend Dan Hong and Three Blue Ducks chef Darren Robertson – say thanks to a deserving legend with a tasty lamb meal.
To tackle the perception that lamb is hard to cook and unsuitable for everyday meals, the series will demonstrate how easy and versatile lamb is by showcasing a range of popular cuts, cuisines and cooking methods. The series will continue across Christmas and autumn 2021 to remind Australians to share lamb at key occasion periods and build confidence to cook and enjoy lamb more frequently throughout the year.
The uplifting series aims to deepen the emotional association with lamb by highlighting the importance of connecting through sharing lamb meals. Utilising the platform, Share the Lamb, the series reiterates lamb's strength as the meat that brings people together and encourages Aussies to cook and share a lamb dish with a legend in their own lives.
In order to meet the needs of the evolving consumer during the COVID-19 period, the campaign will provide simple and practical cooking information as engaging content through relevant digital channels. The six-week spring campaign will appear across digital video, on demand TV video broadcast, YouTube and social channels. A social competition will drive audience engagement with a chance to win a personal online cooking tutorial with Merivale Head Chef, Dan Hong.
To keep lamb top of mind and drive intent to purchase, retailers will be promoting Australian Lamb through various in-store and catalogue activities.
To see the full series and recipes visit https://www.australianlamb.com.au/lamblegends
Winter 2020 - Share the Secret Recipe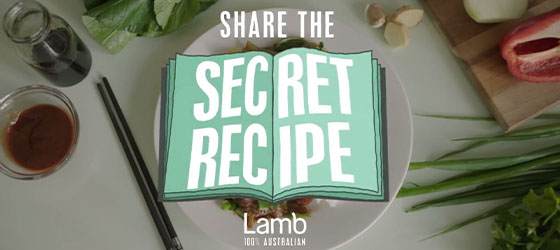 MLA has launched its new winter lamb campaign with a focus on bridging the isolation gap and bringing people together through cooking Australian Lamb.
The 'Share the Secret Recipe' campaign features senior Australians from different cultural backgrounds show younger Australians how to cook their secret lamb recipes via a video call, and share the story of the recipe's history. Each recipe showcases their unique heritage and cooking style.
While COVID-19 has kept many family members apart, this campaign is bridging the isolation gap an encouraging families to connect through the experience of cooking lamb.
Utilising the 'Share the Lamb' platform, the four-week campaign will appear across social, video, and on demand video broadcast. Chef Dan Hong will be featured on The Today Show, sharing his secret recipe with additional TV advertisements and billboards to be featured during the program.
PR will spread the message across earned media plus a series of influencer activity sharing various lamb recipes and story content.
Watch the full videos and find the secret recipes at australianlamb.com.au/sharethesecretrecipe
Summer Lamb 2020 - Lambalytica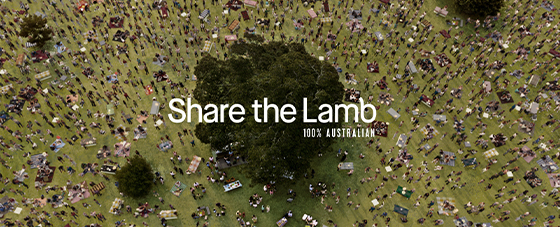 Meat & Livestock Australia's (MLA) annual summer campaign for Australian Lamb has launched, urging Aussies to look up from their screens and share the Lamb.
The integrated campaign utilises the 'Share the Lamb' brand platform and sets out to remind a tech-obsessed nation, distracted by their phones, screens and social media, to seek out real life connection and unite over delicious Aussie Lamb.
The long-form advert shows an elite 'Lambalytica' team disrupting people's devices to bring them together face-to face. From a couple who spend more time looking at their phones than each other, to a teenager gamer glued to the TV, Lambalytica taps into the screens of unsuspecting Aussies and redirects them to an epic lamb barbie offline.
With Aussies spending more time online than face-to face, Australian Lamb is the catalyst to awaken the nation and celebrate real connection through the power of sharing Lamb over summer. Time to prepare and cook meals has become a constraint for many consumers and as cooking and share meal times diminish, the campaign aims to ensure lamb's relevance by highlighting the emotional need to come together, connect and contribute to the best form of cultural expression, cooking and eating together with lamb.
The broader campaign also includes in-store, product-focused point-of-sale materials, outdoor advertising, social media, digital displays and in-store radio.
Spring Lamb 2019 - Too Easy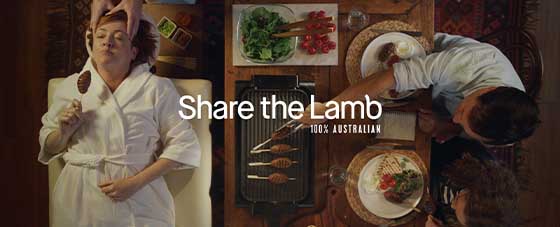 Inspiring consumers to diversify their mundane mid-week meal repertoire with lamb is the focus of Meat & Livestock Australia's (MLA) new Spring Lamb Campaign.
The campaign aims to drive mid-week meal lamb consumption by educating and building confidence for Australians to cook lamb as part of their routine meals.
The six-week campaign builds on the successful 'Too Easy' campaign platform, inspiring consumers to diversify their usual mid-week meal repertoire with quick and easy lamb meal solutions.
The demand for ease and convenience is a key purchasing driver with consumers having less time to cook coupled with a limited repertoire and knowledge for cooking lamb. Many consumers want a variety of options that are fast and simple and some are switching to other proteins that are perceived to be easier to cook.
The campaign aims to combat these perceptions by highlighting the many simple ways to cook and enjoy lamb for mid-week meals, whilst maintaining a consistent message as the meat that brings people together.
The integrated campaign will appear across outdoor locations, like bus shelters, along with video, digital, social, in-store radio and point of sale material.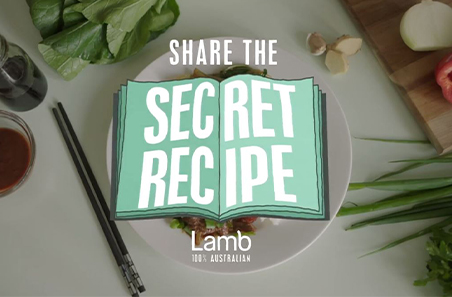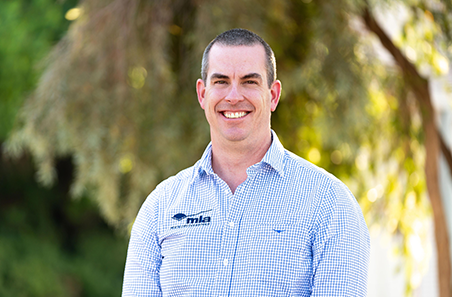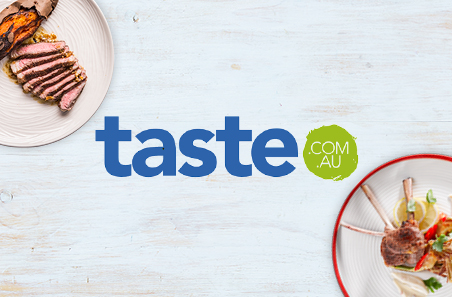 Partnerships
MLA has teamed up with Australia's biggest recipe website, taste.com.au, to inspire the site's 5.1 million visitors to cook more beef and lamb each month.