Back to

About MLA
Beef Business Mentoring
MDC, in partnership with the Agri-Business Development Institute (ABDI) launched the Beef Business Mentoring program workshops in 2016.
Through a combination of webinars, teleconferences, workshops and longer-term mentoring, the program guides businesses through a structured and focused business change and development process.
Initially, businesses undertake a stocktake to evaluate their current position, identify the key issues that require attention and then work collectively on significantly improving them. Participants are mentored by industry business professionals to help them make change happen.
The program is also based around sharing ideas and experiences with other like-minded and motivated beef industry operators, through regular live workshops and interactive programs.
Currently based in southern Queensland, most program participants came from northern Australia during 2016–17, with other attendees from central and southern NSW, southern WA and Tasmania.
Participant feedback rated the workshops as highly beneficial, and those in the mentoring program have already shown documented changes in attitudes and practices in improving business management.
The Beef Business Mentoring program is also supported by the Queensland Department of Agriculture and Fisheries, AgForce and Crowe Horwath.


Case Study: Carlie and Lauchie Ward - Dingo, Emerald and Bajool, Queensland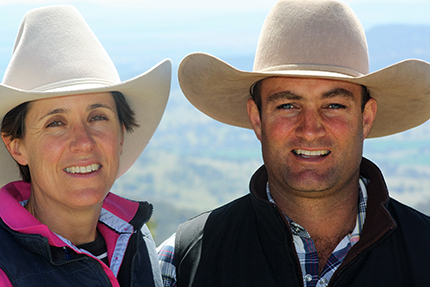 "We've had a period where we've grown financially and taken on a lot of risk; it got a little out of hand for a while and was extremely stressful.
To address this, Lauchie and I entered the Beef Business Mentoring program, which is supported by MDC in partnership with the Agri-Business Development Institute. This has forced us to pull our focus out of the day-to-day operations and take a more corporate view of the business and our growth plans. We are now implementing a business approach that is more structured and controlled.
Until now, we've sought most of our business advice from my father and other industry leaders. However, now we are branching out into more organised human resource management we learned in the course and are getting more strategic financial input from our accountant."