Producer Innovation Fast-Track program
Producer Innovation Fast-Track is an initiative developed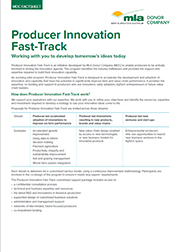 by MLA Donor Company (MDC) to enable producers to be actively involved in driving the innovation agenda. This program identifies the industry trailblazers and provides the support and expertise required to build their innovation capability.
An evolving pilot program, Producer Innovation Fast-Track is designed to accelerate the development and adoption of innovation and capability that have the potential to significantly improve farm and value chain performance. It provides the expertise, co-funding and support to producers who are innovators, early adopters, AgTech entrepreneurs or future value chain leaders.
How does Producer Innovation Fast-Track work?
We support your aspirations with our expertise. We work with you to refine your objectives and identify the resources, expertise and investment required to develop a strategy to see your innovative ideas come to life.
Proposals for Producer Innovation Fast-Track are invited across three streams:
Producer-led accelerated adoption of innovations to improve on-farm performance
Producer-led innovations resulting in new products, brands and value chains
Producer-led new ventures and start-ups
Each stream is delivered via a customised service model, using a continuous improvement methodology. Participants are involved in the co-design of the program to ensure it meets levy payers' requirements.
The Producer Innovation Fast-Track customised support package includes access to:
a confidential consultation process
technical and business expertise and resources
the latest R&D and innovations in livestock production
supported design of customised business solutions
administration and management support
networks of like-minded, future-focused producers
co-investment funding.
Eligibility
All levy-paying producers and producer groups (groups can include providers and value chain partners) who can demonstrate a commitment to innovation investment can participate.
There are specific project activities which are eligible and ineligible for Producer Innovation Fast-Track funding - for more information read the Producer Innovation Fast-Track flyer.
Please note: the Producer Innovation Fast-Track pilot program is now in the evaluation phase and is not currently accepting new applications. Contact Renelle Jeffrey for information about other support programs that may be relevant to you.
More information

or contact:
Renelle Jeffrey
Manager – Producer Innovation Partnerships
MLA Donor Company
M: +61 414 255 058
E: fasttrack@mla.com.au
Case studies



Cultivating aspiring farmers
Making it possible for people who
want to be farmers to be farmers.

Value adding to eID
Using electronic ID to detect and
solve problems offers the next
frontier in livestock management.

The model of ewe efficiency
Establishing a group of sheep producers
implementing the latest technologies to
identify the most efficient ewes.
Join myMLA today
One username and password for key integrity and information Systems (LPA/NVD, NLIS, MSA & LDL).
A personalised online dashboard that provides news, weather, events and R&D tools relevant to you.
Customised market information and analysis.
Already registered for myMLA?