Back to

News & Events
Feedback podcast

The Feedback podcast from Meat & Livestock Australia (MLA) features stories, news, information and interviews. This includes everything from red meat producers to policy makers and celebrity chefs to scientists.
The podcast – which also contains a snapshot of news from MLA – is for anyone who has a keen interest in the red meat and livestock industry.
Latest episode
This episode covers:
Connecting Australian consumers and red meat production
MLA recently co-funded the #BackOnTrack campaign as part of the National Farmer's Federation's Telling our Story initiative, which shines a light on the role farmers have played keeping food on our plates during the COVID-19 pandemic.
Interviewee
Natalie Sommerville is a South Australian sheep and grain producer who is one of six feature producers sharing their stories as part of the campaign.
Further resources
Go to farmers.org.au to read Nat's story and those of the five other #BackOnTrack feature producers.
Building a carbon neutral brand
The Australian red meat and livestock industry has set the ambitious target to be Carbon Neutral by 2030. MLA's Program Manager for Sustainability, Doug McNicholl provides an update on how industry is tracking, and NAPCo's General Manager – Corporate and Commercial, Stephen Moore shares NAPCo's journey to launching one of Australia's first carbon neutral beef brands.
Interviewee
Doug McNicholl is MLA's Program Manager – Sustainability and CN30
Stephen Moore is NAPCo's General Manager – Corporate and Commercial.
Further resources
Go to mla.com.au/cn30 for more on what MLA is doing to help industry achieve the ambitious CN30 target
Visit napco.com.au for more information on NAPCo's journey to launching a carbon neutral brand.
A cuts-based MSA sheepmeat model is in sight
After more than 10 years of research the world-leading Meat Standards Australia program has developed a prototype cuts-based sheepmeat model. MSA program manager, David Packer and Professor Emeritus Dave Pethick, Murdoch University, explain what this means and when industry can realistically expect commercial implementation.
Interviewee
David Packer is the MSA Program Manager
David Pethick, is an Emeritus Professor, Murdoch University and is also a member of the MSA Sheepmeat Pathways R&D Committee, comprised of leading independent Australian scientists.
Further resources
Visit mla.com.au/msa for more information on the MSA program and sheepmeat pathways.
Episode 4 - How much do consumers really know about the red meat industry?
Episode 3
Episode 2
Episode 1
Feedback express
Feedback EXPRESS

In this express edition hear Victorian prime lamb and wool producer Ricky Luhrs discusses how targeted genetic selection has improved the profitability of his business.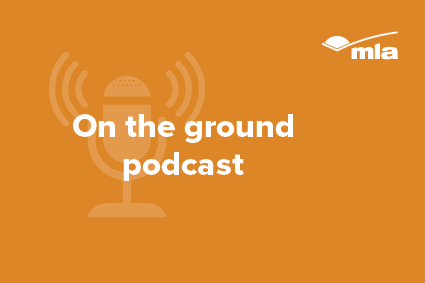 On the ground
Our fortnightly podcast series On the ground provides the latest information from key international markets.