Back to

News & Events
Feedback podcast

The new Feedback podcast from Meat & Livestock Australia (MLA) features stories, news, information and interviews. This includes everything from red meat producers to policy makers and celebrity chefs to scientists.
The podcast – which also contains a snapshot of news from MLA – is for anyone who has a keen interest in the red meat and livestock industry.
Listen along at home, in the paddock, while checking fences or driving the tractor.
Latest episode
In this episode Jason Strong explains what MLA's newly-released Strategic Plan 2020-25 means for red meat producers; we talk to Merimbula cattle producer, Deb Gray who is one of almost 100 fire-affected producers who have accessed support through MLA's Back to Business Program; MLA Market Insights Manager, Tim Ryan, dissects the trade outlook for the second half of 2020; Central Queensland beef producer, Melinee Leather explains how MSA feedback informs her on-farm decisions; and Integrity Systems Company, Integrity Program Manager, Damon Holmes gives us the rundown on what to expect from changes to National Vendor Declarations, which come into effect from next month.
Further resources
Episode 1
In episode 1, hear from gold medal winning Australian Paralympian and beef ambassador, Temora's Scott Reardon, and catch up with MLA Managing Director, Jason Strong for an in-depth interview on how industry is responding to the challenges from COVID-19.
We also get help for producers impacted by bushfires, some red meat cooking tips from MLA sponsored celebrity chef Hayden Quinn, and Victorian producer Fiona Conroy walks us through the making of her family's carbon neutral farm.
Additional resources: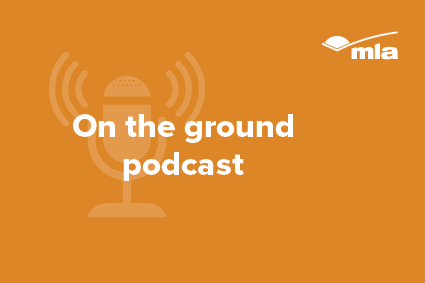 On the ground
Our weekly podcast series On the ground provides the latest information from key international markets.