Back to

News & Events
Virtually improving labour, costs and welfare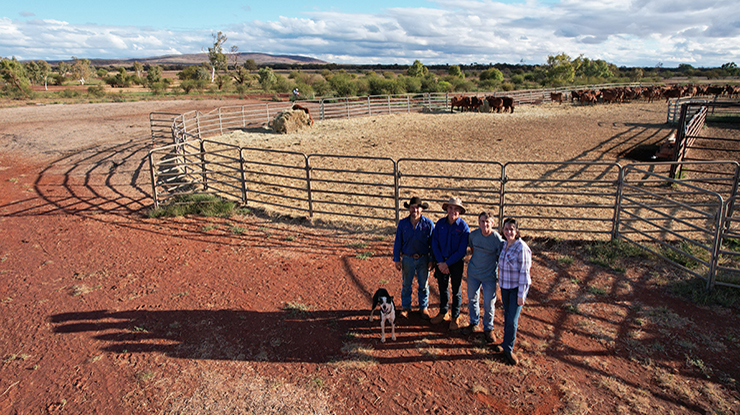 Some of the team at Hamersley Station, where the virtual fencing technology is being installed.
Keeping fences up to scratch on a 250,000ha cattle station is no easy feat – but fixing fences on Rio Tinto's 'Hamersley Station' could soon be made a lot simpler with a promising on-property trial of virtual fencing technology (VFT).
Rio Tinto's Manager of Pastoral Stations, Sim Mathwin, said the decision to take part in the BeefLinks VFT trial (see story opposite) was largely driven by the significant time and expense spent maintaining fences on the Pilbara property.
"Fencing infrastructure is expensive to install and takes a lot of ongoing maintenance," Sim said.
"Ideally, Rio Tinto would have effective fences to prevent cattle from accessing our rail infrastructure and mining operations, but it takes a lot of time to do this."
Controlled grazing
Rio Tinto is also keen to explore the potential benefits of virtual fencing for livestock and grazing management.
"Controlled grazing of cattle is a key driver for pasture health, and virtual fencing has the potential to deliver very targeted outcomes, particularly when used in parallel with satellite data," Sim said.
"You can program the fencing collars to move the cattle, and we're looking at options to link the collars to satellite imagery showing feed on offer.
"Where the satellite imagery shows strong pasture from a rainfall event, it's technically possible to program the collars to move the cattle into that area."
Protected livestock
With animal welfare a top priority at Hamersley, Sim said the prospect of being able to move livestock without staff on the ground was particularly attractive to the station and other extensive pastoral systems in the north.
"Instead of getting people on motorbikes and horses to muster cattle, programming the virtual fencing collars to move the cattle towards the yards would be a much lower stress style of handling livestock," Sim said.
"Even better, during flooding events like what happened in Queensland in 2019, if you had virtual fencing collars on cattle, you could move them to higher ground or to areas where you've put hay.
"Similarly, if a fire's coming through and you're relying on virtual fences, then cattle could move freely away from the fire, whereas with physical fences, there is a risk of cattle becoming trapped."
A Strong Start
With the third phase of the trial now well underway at Hamersley, Sim said the results of the research so far have shown great promise for producers.
If the technology was to be approved for roll out to broader industry, Sim envisions it would serve as a vital tool for producers seeking to refine their herd management.
"In the future, producers might put collars on all their best breeders so they know exactly where they are and can manage the breeding of their cattle," Sim said.
"They could also put them on dry cattle such as steers if they really want to earmark a certain area of their station for targeted grazing."
The sky's the limit
With an eye on the future, Rio Tinto is committed to investing in technologies that will improve cost and operational efficiencies – and Sim encourages other producers to stay open to the opportunities presented by technology.
"It's still early stages with virtual fencing, so you have to be open-minded when thinking about the potential benefits.
"If you look at the scale of cattle stations, if you can know where your cattle are and control your grazing using virtual fencing, then this technology has to be a good thing.
"You still need to be realistic about your capacities at the moment and the current accessibility of the technology – but imagine if you could do these things, how you could run your station."