Back to

News & Events
A more prosperous industry
22 November 2019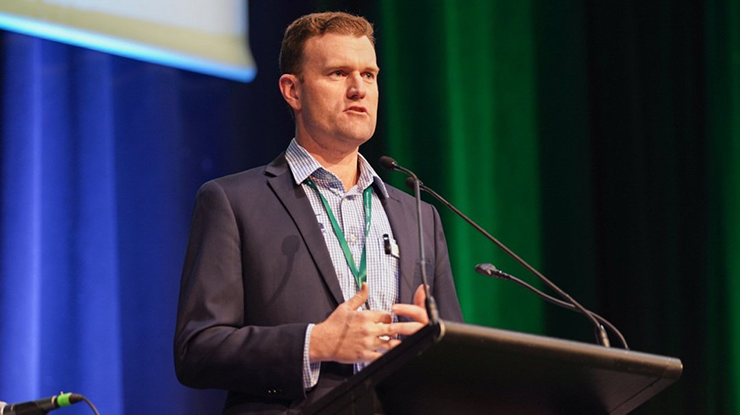 From building resilience in a changing climate to unlocking ag-tech benefits on-farm, Day 2 of Red Meat 2019 brought a host of interesting speakers and discussions. Here's a summary of each of the forums held in Tamworth on Tuesday 19 November.

The road to resilience
The road to resilience is built on strong business foundations – and more effective extension and adoption of R&D is a key driver of success.
That was the key take-home message from the Producer Consultation and Adoption forum which kicked off Day 2 of Red Meat 2019.
The forum, Building resilience in a changing climate while maintaining productivity and animal wellbeing, featured a robust panel discussion on the links between R&D, adoption and business resilience.
Opened by MLA Program Manager – Value Chain Research, Development & Adoption, David Beatty, and MLA Adoption Program Manager, David Packer, the session started with an overview of how MLA is working to ensure its comprehensive R&D program is fit for purpose in helping producers be more resilient.
"When we think about building resilience, we need to ask ourselves if we're doing the right R&D for our current climate," Mr Beatty said.
"The climate we're operating in is changing – whether that's environmental change, market change or consumer change. At the same time, we must recognise that producers still need to be making money. To be sustainable and resilient, we ultimately must be profitable."
Outlining that producer consultation must flow both ways in order to guide the R&D program, David Packer outlined that adoption of research outcomes is absolutely critical to driving impact and practice change.
"We're taking considerable steps to boost the adoption of research outcomes across three key phases of awareness, motivation and partnering," Mr Packer said.
"It's about making sure we're speaking in a language that is commercially relevant to producers and stakeholders, providing them with relevant ways to engage with research outcomes and emphasising experiential and peer-to-peer learning."
Driving profit through the farm gate
The capacity for data to drive profit through the farm gate was the focus of the Driving profit through the farm gate: investments shaping red meat's future forum.
The forum kicked off with a panel discussion between MLA Program Manager – Genetics, Hamish Chandler, University of New England lecturer and researcher, Peter McGilchrist, and South Australian White Suffolk producer, Troy Fischer.
Discussing how genetic traits and improvements in selection accuracy can lead to greater profitability in red meat businesses, Hamish outlined a key challenge for producers.
"How a business' profit drivers align with genetic traits in a specific bull or ram is often a difficult connection to make," he said.
"With our research programs, we're working better understand genetic traits and how to better and more accurately make selections."
Genomics are a key part of this work, with the technology looking at patterns in DNA which indicate key traits, as opposed to having to gather data across those key traits over the animal's lifetime.
Taking the audience to the other end of the supply chain, Meat Standards Australia (MSA) Program Manager, Sarah Strachan, facilitated a consumer-focused panel with P&O Cruises Executive Chef Uwe Stiefel, MSA End User Training Facilitator Kelly Payne and Jasmin Green from Teys Australia.
Serving Australian beef and lamb to 9,000 guests across three cruise ships, Chef Uwe Stiefel explained the importance of consistency and quality in the product, and the reassurance grading programs like MSA delivered.
"We have 22 different restaurants and food service outlets on board, so it's critical to have reliability, versatility and consistency in the products we procure," Uwe said.
Unlocking digital technology benefits on-farm
Carwoola Pastoral Company Manager, Darren Price, provided a snapshot of the return on investment resulting from 12 months of testing a range of on-farm solutions across four properties in the NSW Southern Tablelands and the ACT, as part of the Digital Livestock pilot project with MLA at the Digital Forum.
Darren said among the range of technology installed at Carwoola, remote water monitoring technology had reduced the need to physically check waters by 70% to date.
Another pilot project is about kick-off between MLA and Romani Pastoral Company, and the forum heard Windy Station Manager, David Lee, discuss the technology that had been installed at two of Romani's four properties.
Integrity systems
The Red Meat Integrity Systems forum introduced the red meat Integrity Systems Strategy - 2025 and beyond; a system that aims to further utilise data and technologies to underpin future market demands and build increased trust and recognition of Australian red meat.
Representatives from across the value chain also shared their views on the future of the integrity system, with opportunities surrounding data to improve business operations and the importance of meeting customer expectations through transparency.
The Integrity Systems Company's new website - integritysystems.com.au - was also launched.