Back to

News & Events
ABSF Sustainability Steering Group Chair calls for vegetation management initiative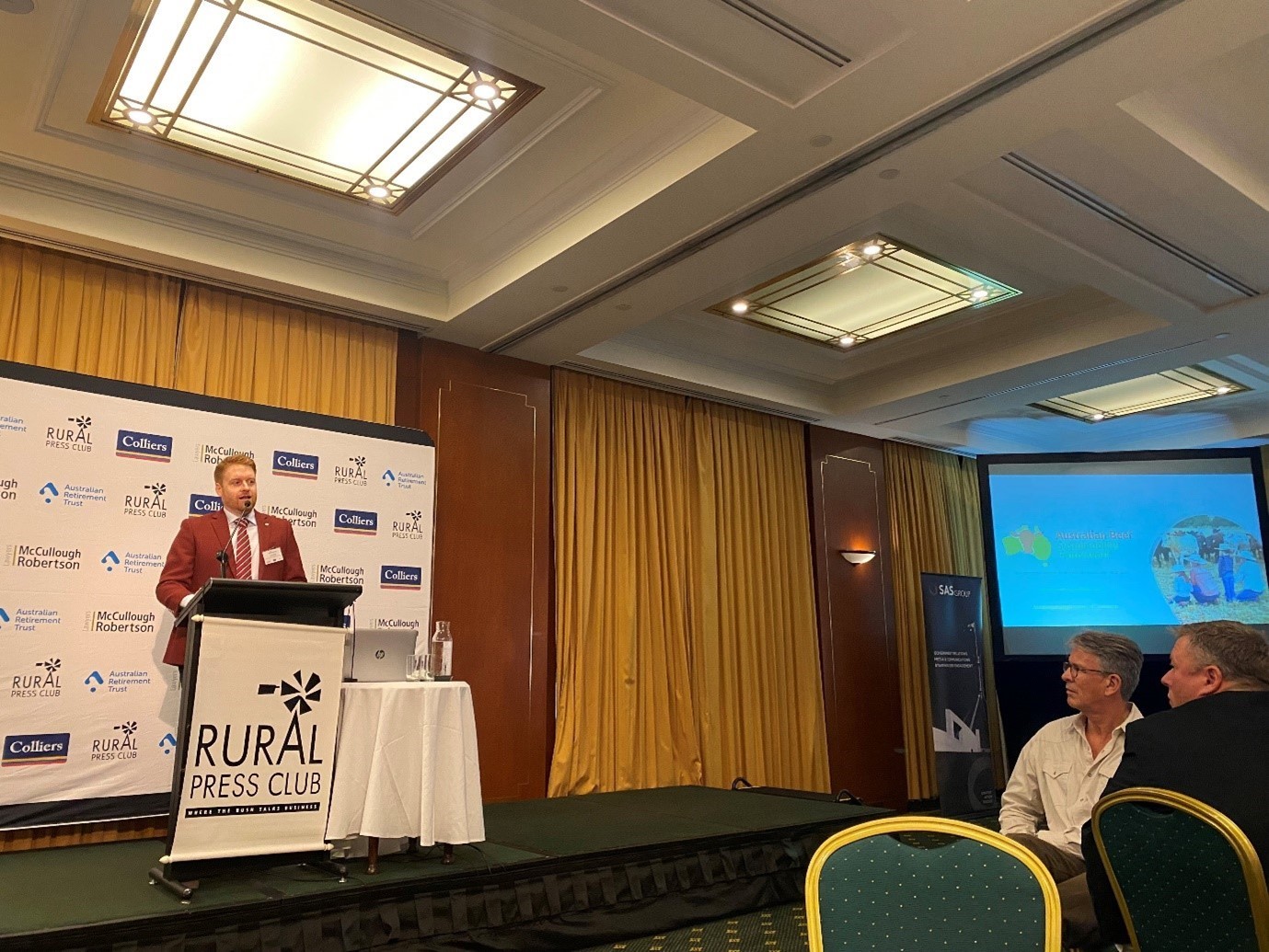 Mark Davie presenting at the Rural Press Club Queensland
Key points:
SSG Chair calls for vegetation management initiative.
AUSTRALIAN Beef Sustainability Framework (ABSF) Sustainability Steering Group (SSG) Chair, Mark Davie, has urged the nation's beef sector to address vegetation management in a way similar to the Carbon Neutral by 2030 initiative (CN30). Mr Davie that this could demonstrate environmental performance more powerfully and showcase the link between active grazing land management and positive sustainability outcomes.
Speaking at the Rural Press Club of Queensland in Brisbane last month, Mr Davie said the ABSF and the CN30 initiative had proven a powerful tool in driving Australia's global leadership in the important discussion surrounding emissions management and had won the hearts and minds of key stakeholder groups.
"Our industry set a goal for no net release of greenhouse gas (GHG) emissions into the atmosphere by 2030, and we committed to this in 2017 – well before businesses and governments, which have only really started to set strategies in the past 12 months," Mr Davie said.
"We defined a problem and our obstacles and set about driving research and development to address the challenge, informed by the drivers of industry productivity and cost. Because of this initiative we are now leading the global narrative on emissions reduction.
"CN30 is already winning hearts and minds. We must now be even more ambitious, define our goal for vegetation management and resource how we are going to solve this issue in an open and transparent way.
"Very few industries have an opportunity to feed the world and execute a response to global challenges the way beef can. We are a carbon sink and we, as an industry, can actively manage the biogenic carbon cycle."
Mr Davie said industry must take a proactive approach to presenting its solution to feed the world while addressing climate change.
"Perceptions and trust drive market access, regulation, and access to capital. For industry to meaningfully drive a discussion that supports productive agriculture, the environment and helps meet global challenges, we need to have an open and transparent conversation with our customers and opponents."
He said understanding what was required to support global human nutrition must also be a key consideration in defining sustainability and deforestation targets and policy.
"We have seen Oxfam raise the alarm on the risk of global food prices rapidly increasing due to reforestation processes.
"Food security doesn't matter – until it does, and it is the poorest people in the world who feel it first.
"The ABSF defines sustainability as the production of beef in a manner that is socially, environmentally, and economically responsible. We do this through the care of natural resources, people and the community, the health and welfare of animals, and the drive for continuous improvement.
"As an industry we are obligated to always look for opportunities to do better, to actively communicate our successes and back this with data, and to consider each of the factors in that definition to achieve sustainability in the true sense of the word.
"We must use scientific evidence to support the role of the ruminant in meeting global challenges, preserving our environment and feeding the world – and never give up a beast to climate policy."