Back to

News & Events
ALFA education medal winner committed to people-centred management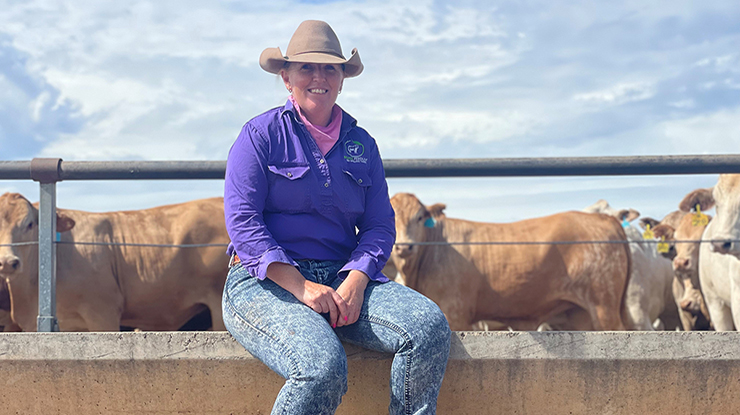 Bec Donnelly (pictured), winner of the 2022 ALFA Excellence in Feedlot Education Medal. Image: Bec Donnelly.
The 2022 winner of the Australian Lot Feeders' Association (ALFA) Excellence in Feedlot Education Medal was Feedlot Operations Manager, Bec Donnelly, who received her award at the most recent BeefEx22 conference. This annual award, sponsored by Zoetis, acknowledges and rewards feedlot staff committed to continual formal learning and training within the Australian feedlot industry.
Feedlot operations manager at Roma Feedlot and Spelling Yards since 2019, Bec is committed to continual learning and the pursuit of excellence.
She has completed a range of practical and theoretical courses through ALFA's innovative Feedlot TECH online Training Hub, which she says have been of huge benefit to her role as manager. She encourages a love of learning among her staff and role models a proactive approach in undertaking ongoing professional development.
"This is an integral part of creating a positive, likeminded, unified and productive culture and team where we are all striving to achieve the same end goal," Bec said.
She believes that upskilling staff is a key route to increasing their confidence and makes sure her staff know that she values each and every job they do at the feedlot.
"The 'I'm just a pen rider, or just a trough cleaner, or just a feed truck driver' mentality has got to change. You guys aren't just those things. You are all the turning cogs of what makes our industry so great," Bec said.
She also believes in the importance of passion, loyalty, integrity and resilience.
"These four qualities are what builds and drives a successful team and business," Bec said.
ALFA courses Bec has completed include:
Margin and People Management Program
Animal Welfare Officer training
Antimicrobial Stewardship training
Feedlot TECH online short courses
Nutrition and Milling training.
Megan Krause, Livestock Supervisor at Sandalwood Feedlot and Teressa Gealy, Dispatch Officer at Whyalla Beef, were also nominated for the award for their commitment to continual education and excellence in the field.