Back to

News & Events
Applications open for 2024 Zanda McDonald Award program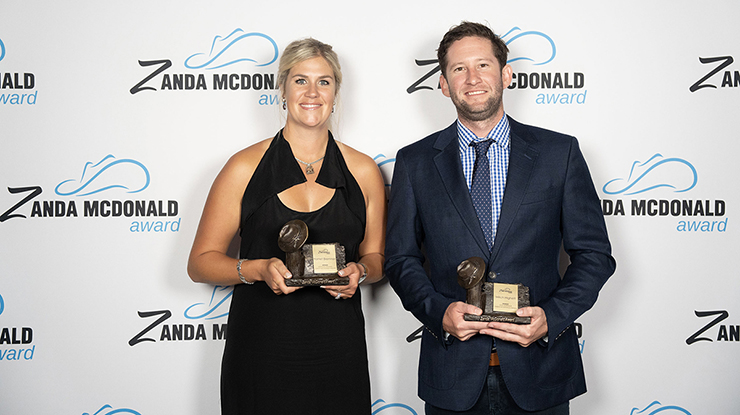 The search is on for the next generation of game-changers who are making a difference in agriculture, with applications now open for the 2024 Zanda McDonald Award.

The trans-Tasman Award, now entering its ten-year milestone, is seen as the most coveted prize of its kind in Australasian agribusiness. The award is open to Australian and New Zealand residents aged 21-35 working in the agriculture sector, and provides unrivalled development for personal and professional growth. One winner is chosen from Australia and New Zealand annually, both receiving a fully personalised education, training and mentoring package across both countries, spending time with leaders across all areas of the primary sector.

"Ten years is a pretty special milestone, particularly when we get to witness the impact it's having on the career trajectory of our winners and finalists, as well as the sector at large," says Zanda McDonald Award Chair Shane McManaway MNZM.

"Now we're on the lookout for the next crop of passionate young Kiwis and Aussies who are making a difference and wanting to go to new heights. Through this award we can provide the avenues and support to help them get there. The winners will get face-to-face with some of the biggest and most successful agricultural operators in Australasia to really elevate their thinking, and we'll arm them with strong leadership skills and unparalleled opportunities that money can't buy."

The winners programme is completely tailored to meet their desired areas of interest and growth, with the mentoring trips seen as a real highlight. All travel and accommodation costs are covered, including flights by private plane to access remote and varied locations.

"It's been an absolute game-changer for me, and the customised programme has opened so many doors. I've made connections that will continue to support me right through my career, and can't recommend it enough." said Mitch Highett, 2023 Australian Award winner.

Mitch Highett is Founder and Managing Director of farm management company Bullseye Ag. His business works alongside farms across NSW and QLD with an area totalling over 500,000 acres. He won the 2023 award alongside New Zealander Harriet Bremner, a farmer at Jericho Station, Southland, children's book author, and health, safety and well-being advocate for agriculture.

Harriet said " I've been so humbled by the experience so far. What makes it particularly special is the amazing network I now have through the Award family, and the ongoing support and guidance."

Applications open on 1 October 2023 and close on Tuesday 31 October 2023 at 5pm NZ time. Late entries will not be accepted.