Back to

News & Events
Zanda McDonald Award hits the bullseye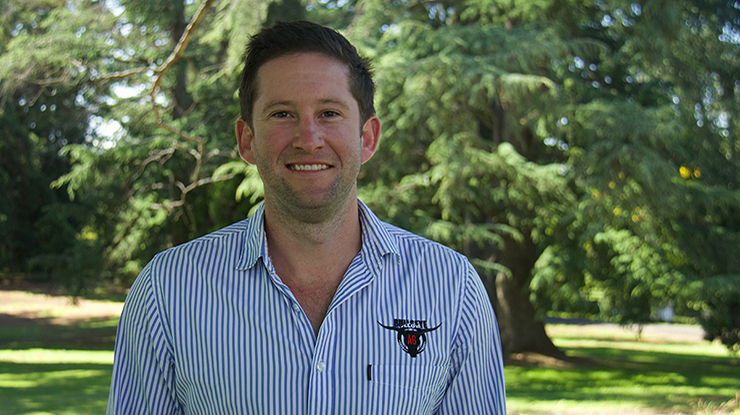 The red meat industry recognised a young NSW innovator as this year's Australian winner of the dual Zanda McDonald Award.
Mitch Highett (pictured), founder of agricultural advisory start-up Bullseye Ag, was co-winner of the prestigious gong, along with New Zealander Harriet Bremner – a sheep and beef producer, farm health and safety advocate and children's book author.
Mitch said a highlight of the award was the opportunity to learn from other nominees and connect with industry leaders.
"I've talked with the best in the business about how they got to where they are, personally and in their careers," Mitch said.
Career path
While he was at school in Sydney, Mitch's interest in farming was sparked by hearing his grandfather reminisce about working on farms in NSW and Queensland. His future in agriculture – further fuelled by weekends spent at his family's hobby farm in central west NSW – was sealed by the time he finished school.
In 2007, Mitch headed off to Texas, USA, and spent his gap year on a cotton and peanut ranch – an experience which further cemented his desire to forge a career in the agricultural industry.
Mitch went on to study agricultural business management and notched up industry experience in Canada, USA, the UK, New Zealand and Sydney in agricultural advisory work. He recognised an opportunity in the market for advisory and management services for the 'smaller end of town', and in 2016 launched his own solution: Bullseye Ag.
Based in Orange, NSW, Mitch and his team now manage an impressive suite of properties beyond the initial target of family-based investors – with government and corporate clients now on the books.
He recognises the value of soft skills he's learnt along the way.
"I've certainly learned the importance of being kind. People think you have to be hard-nosed and abrupt in operating and running a business, but I've got a lot more out of being kind and empathetic from a client and employee perspective," Mitch said.
Deserving winner
As a key sponsor of the award, MLA aims to support emerging leaders and, in doing so, build the capability of the red meat industry.
Mitch's initiative and willingness to back himself made him a prime contender for the Zanda McDonald award and will ensure he makes the most of its financial backing and access to a Rolodex of influential industry contacts.
Mitch looks forward to learning from other key players in the ag industry during the mentoring component of his prize, which includes $10,000 towards education or training.
It's already given him the opportunity to see how other businesses pitch their services to clients and see how this could be built into his own business.
"The nominees received PR and media training at the award's inaugural Impact Summit. We learned the importance of speaking clearly and succinctly and knowing our topic area," Mitch said.
"It's also really important to just be yourself – if you try to mimic and be someone you're not, it will come across as untrustworthy and false."
Broaden horizons
For those without a background in agriculture who want to carve out a career in the industry, Mitch recommended connecting with people who are in the position to help.
"Don't be afraid to say you're from a non-traditional farming background – be willing to chew the dust a bit before you make it. You've got to get out there and do the hard work and even work for nothing to get some experience behind you," Mitch said.
Looking to the future, he hopes to broaden Bullseye Ag's reach within Australia and possibly New Zealand and one day own his own patch of Australia – with a cattle enterprise at the top of his bucket list.