Back to

News & Events
Helping producers a privilege and learning opportunity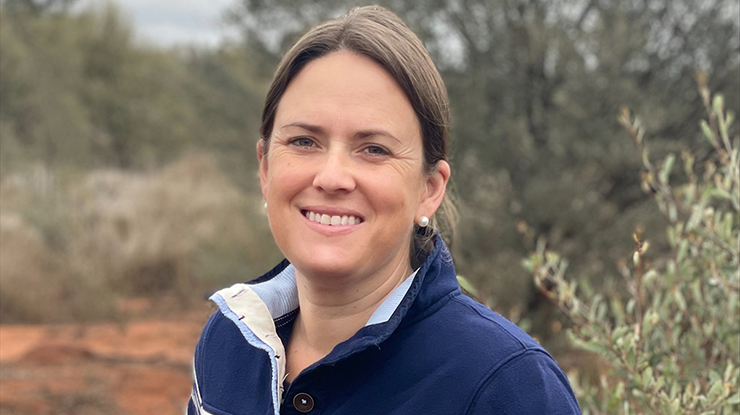 Bec Brayley is the new Queensland Department of Agriculture and Fisheries' extension officer (small ruminants), based at Charleville. Image: Bec Brayley.
Key points:
It's important to understand biosecurity risks, even if people are keeping goats as pets.
Ask questions and seek out people who can support you.
All goats can carry and spread a range of dangerous ruminant diseases.
Watch the MLA Goat Roadshow Webinar: On-farm biosecurity for goat producers.


Queensland goat producers have a new point of contact in Bec Brayley, a new small ruminant extension officer based at Charleville.
Supporting producers through their most challenging times has fuelled Bec Brayley's passion for biosecurity and the livestock industry.
While others might have hesitated to stand alongside a producer as they were told their livestock – and livelihood – need to be quarantined or culled because of a biosecurity risk or disease or pest incursion, Bec saw this part of her role as a biosecurity inspector as an immense privilege.
"When you live in a community and develop relationships with the producers, it's a privilege to be able to be there with them in some of those hard or tragic times in their lives," Bec said.
"The privilege is being able to help people through that. It's not easy for them and it's not easy for us either, but if they feel they're being guided by someone they know, it's less stressful than a stranger coming in.
"I see myself as a translator of sorts. I try to take the information from government and other regulators and make it easier for producers to understand for their individual situations."

Having finished in her role as a biosecurity inspector earlier in the year, Bec is now working as the Queensland Department of Agriculture and Fisheries' extension officer (small ruminants), and said she was excited at the prospect of continuing to work closely with producers.
"It was hard to walk away from the stockie role but I'm looking forward to specialising in goats and having a positive influence on others," Bec said.
"As the goat industry in Queensland becomes more sophisticated and producers move away from opportunistic harvesting to managed production, it's important for goat producers to have a point of contact.
"Biosecurity is just one part of my role now, but I get to stay in the district and work with the same producers in a different way."
Lifelong passion for agriculture
Bec knew from an early age she wanted to pursue a career in agriculture, regardless of what shape that might take.
She spent a year after school working as a jillaroo on a station in the Channel Country before enrolling at the University of Queensland, where she completed a bachelor of applied science in production animals. As part of this degree, Bec studied beef cattle at Texas A&M University in the United States.
"I fell in love with the industry and couldn't see myself doing anything else," Bec said.
"The Channel Country fascinated me – the ecology and grazing system, floods, and native pastures.
"Studying in the US allowed me to see the beef industry from an international perspective. I love how complex it is and that there is a place for everyone."
Bec then worked in an abattoir at Grantham for AACo before completing a year in a veterinary pathology laboratory in Toowoomba.
"This really gave me a solid grounding in postmortem, sample collection and diagnostics," Bec said.
"From the laboratory side, it helped me to understand that to have the best chance of getting a diagnosis, you need to ensure you collect adequate samples, which I then took into my work with producers.
"Disease investigation is something I've been really interested in. For me, it's the problem-solving aspect and working through whether it's a virus or a fertility issue, or a range of other problems, to work out what is causing an issue.
"Often you can come up with ways to improve the health of the whole herd or find a solution to a problem and can save a lot of animals' lives."
Increase in goats creates opportunities
Bec, who lives just outside Charleville with her husband Chris and three children – Jimmy, 7, Ted, 6 and Alice, 3 – said the extension officer position had been newly created as a result of the rise of the goat industry, partially due to an increase in cluster fencing in western Queensland over the past 10–15 years.
"The fences didn't come about because of the goats, but it has had a flow-on effect," Bec said.
"The uptake of fencing has been huge, and a lot of properties are at least partially fenced, if not fully fenced. Once the fences went up and people realised the benefits, they started restocking with sheep again.
"Then a combination of factors drove an increase in goat numbers, including an increase in price and producers not needing to upgrade infrastructure to keep goats behind existing fencing.
"There is still a large number of people who are harvesting rangeland goats but a lot of them are coming from behind wire because we've got the fences now."
Understanding biosecurity is key
For goat producers in particular, Bec said the importance of understanding biosecurity and potential risks could not be understated.
"Goats are so charming as pets and have a strong appeal to people who might want a farm animal in a small landholding area," Bec said.
"However, goats can carry and spread diseases that other animals are susceptible to. If there are goats near other livestock, it is important to be aware of managing any potential risks.
"Often, people in peri-urban areas aren't aware of the biosecurity risks or the implications of a disease or pest incursion on the broader agriculture industry.
"While big cities tend to provide our rural and remote areas with a buffer zone from people coming from overseas, in those areas on the edges of cities, there is a greater chance of those pet animals coming into contact with a biosecurity risk or disease.
"There is also the risk that those who keep only one goat as a pet may not recognise the signs or symptoms of a disease when it happens."
Bec's role will include connecting with goat and sheep producers across the region, as well as offering insights into keeping goats on-farm and ensuring owners are aware of all the benefits and pitfalls.
Research driving outcomes
Bec will also be involved in research across a range of areas.
Recently, Bec was involved in some field trials supporting biosecurity preparedness in the case of a foot-and-mouth disease (FMD) incursion in Australia. This work involved looking at changes in a carcase as it decomposes, to understand how long viruses such as FMD can survive in a carcase under Australian conditions.
"Like all living organisms, viruses can only survive in specific conditions relating to moisture, pH level, temperature, and so on," Bec said.
"If we know how long it takes for the conditions in a decomposing carcase to reach thresholds at which a specific virus is no longer viable, we can infer a point at which the carcase of an animal infected with that virus will no longer have the potential to infect live animals.
"This has important implications for managing a disease outbreak, so the research findings help us plan the response strategies that could be used should we ever face an outbreak of an emergency animal disease such as FMD."
Bec will also be involved in the Kids+ research through the University of Queensland, which is looking at goat fertility to improve reproductive performance and exploring further research opportunities.
Ask, listen and learn
Continuing to listen to producers remains a priority for Bec, regardless of the role she's working in.
"At the end of the day, the best part is the same in both jobs – when you visit people's properties and listen to what they say, you learn so much from them," Bec said.
"There's so much knowledge to be gained if you're willing to sit and listen, take an interest and ask questions."
And asking questions is something she encourages all producers to do.
"Seek out animal health professionals in your area, whether they are private veterinarians or government employees," Bec said.
"The government offers a huge range of free advice, testing and information but people don't always realise it's there.
"Sometimes it can be confusing or overwhelming trying to find what you need on the internet, but a person like myself can help you to navigate that.
"In my experience, some of the biggest biosecurity incursions could have been avoided with a 15-minute phone call. If a producer asked a question before they'd done something, there could have been a different outcome.
"It can be so easy to avoid much bigger problems by simply asking a question. And if you don't know who your local biosecurity or extension officer is, call the call centre in your state and they will put you in touch with someone."