Back to

News & Events
Weight, condition and finish contributing to softer prices
Key points:
Softer markets can be partially attributed to the weight, condition and finish of livestock offerings.
Fat and muscle scores are contributing to the price premiums for cattle, with processors and feeders looking for different finishes.
Weight seems to be a larger driver in the lamb market, but high fat scores, which can give an indication of finish, are fetching higher prices.


Softer prices in the market recently have been driven largely by the weight, condition and finish of livestock. With extensive supply in the saleyards and processors booked out in advance, demand pressure in the saleyards has been soft. Less activity at the saleyard has also affected prices, with not all regular buyers present or actively bidding.
The prospect of drier conditions and the movement towards a growth phase in the herd and flock has reduced the demand for restocker livestock. Coupled with a general seasonal easing of prices, this has led to the markets softening for younger cattle and breeding ewes.
As the intensive rebuild of herd and flock numbers declines, the feeder and processor prices are not the more relevant prices to watch. Calves and lambs born during the rebuild are now coming to market weights and moving through the saleyards.
Muscle scores
When we compare the prices for different muscle scores across the year, the price premiums being paid based on muscle score can be examined. High muscle scores indicate cattle with better muscle mass and finish. Feeders and processors look for different muscle scores and so price disparity can vary between the sale prefixes.
Feeder buyers generally look for cattle they can add weight to for final processing. This trend can be seen in the price change difference from the beginning of the year to now for muscle scores C and D. Prices for feeder buyers for muscle score D have eased 32%, whereas for C cattle they have only softened by 25%, and 23% for B. The price gap between B and D has also widened by 8¢ compared to January.
Figure 1: Average prices for feeder cattle by muscle score.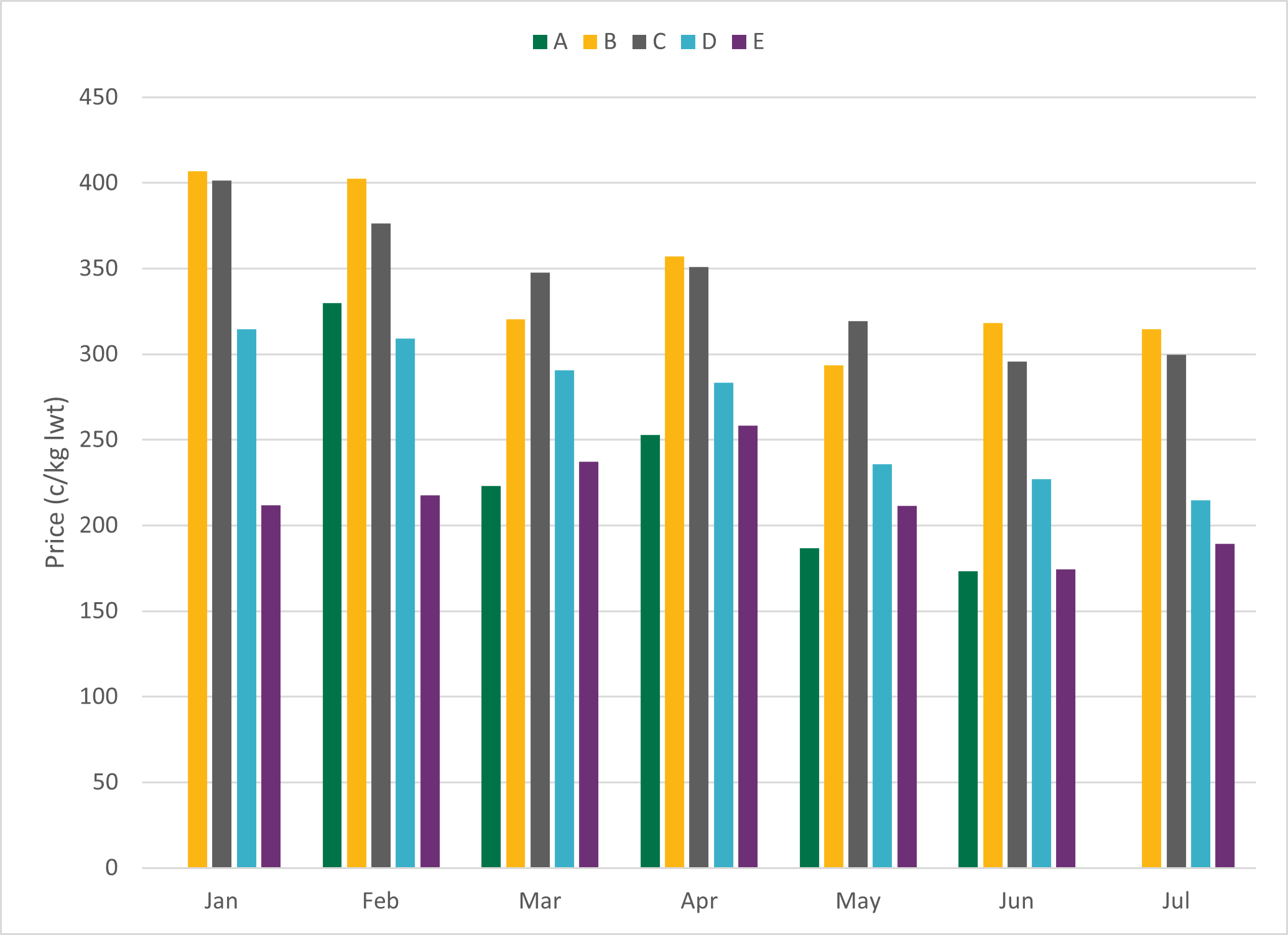 Fat scores
Processor buyers generally look for a fattier animal that's ready for final processing and has been finished. Prices for fat score 2 cattle have eased 33% from the beginning of the year compared to fat score 4, which has only eased 21%. The price premium has also widened significantly, with prices only 4¢ higher for fat score 4 back in January but now averaging 39¢ higher.
Figure 2: Average prices for processor cattle by fat score.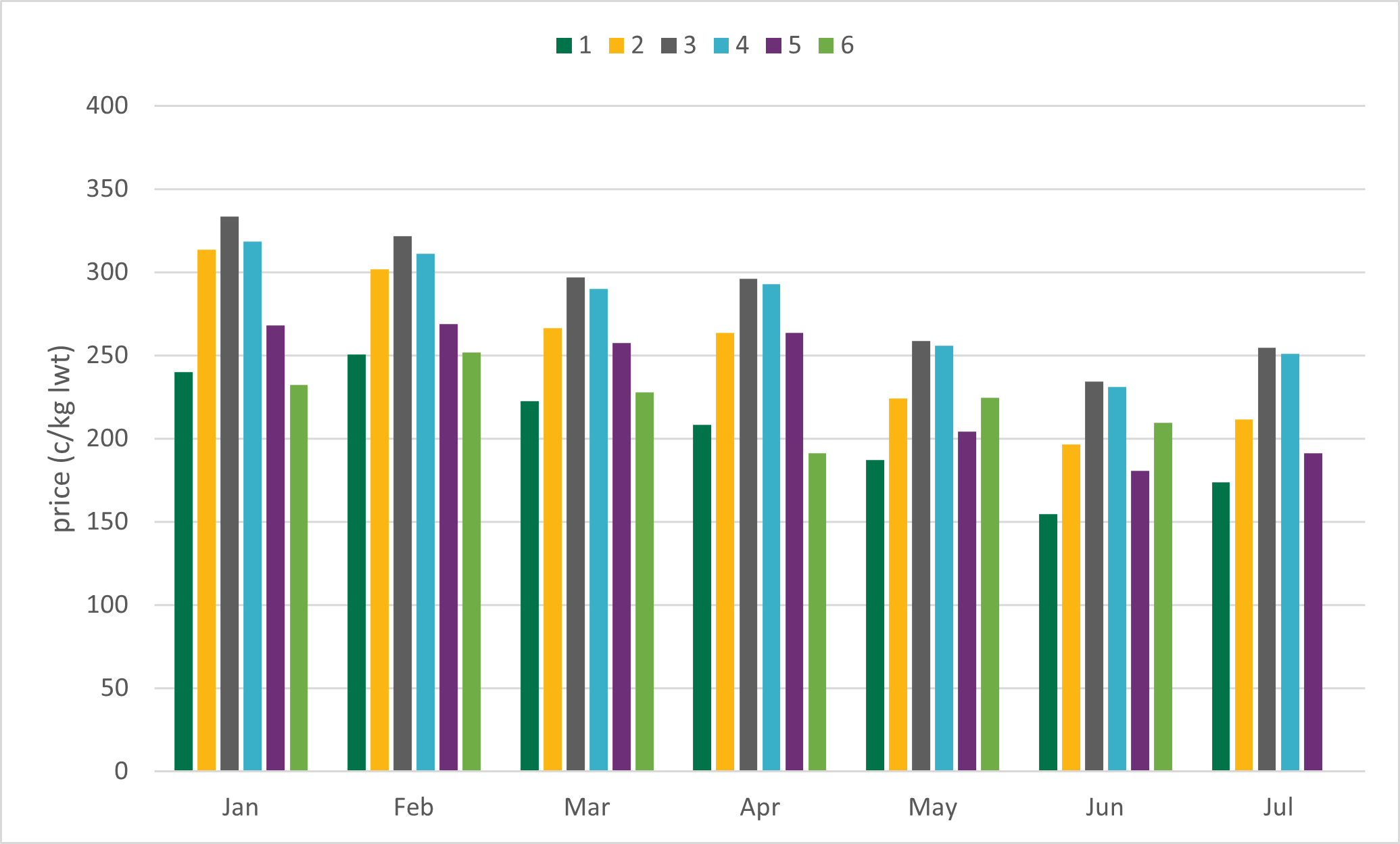 For lambs, the market has followed a similar trend. Much of the throughput seen in the market at the moment are the seconds or older lambs from last season. Premium prices are being paid for fat scores 3 and 4, in general. With yardings tightening in the last month, the price disparity has eased. When there was excessive supply in the market, the difference between average prices for fat score 2 and 3 reached over 100¢ and was 135¢ for scores between 2 and 4.
Figure 3: Average prices for lambs by fat score.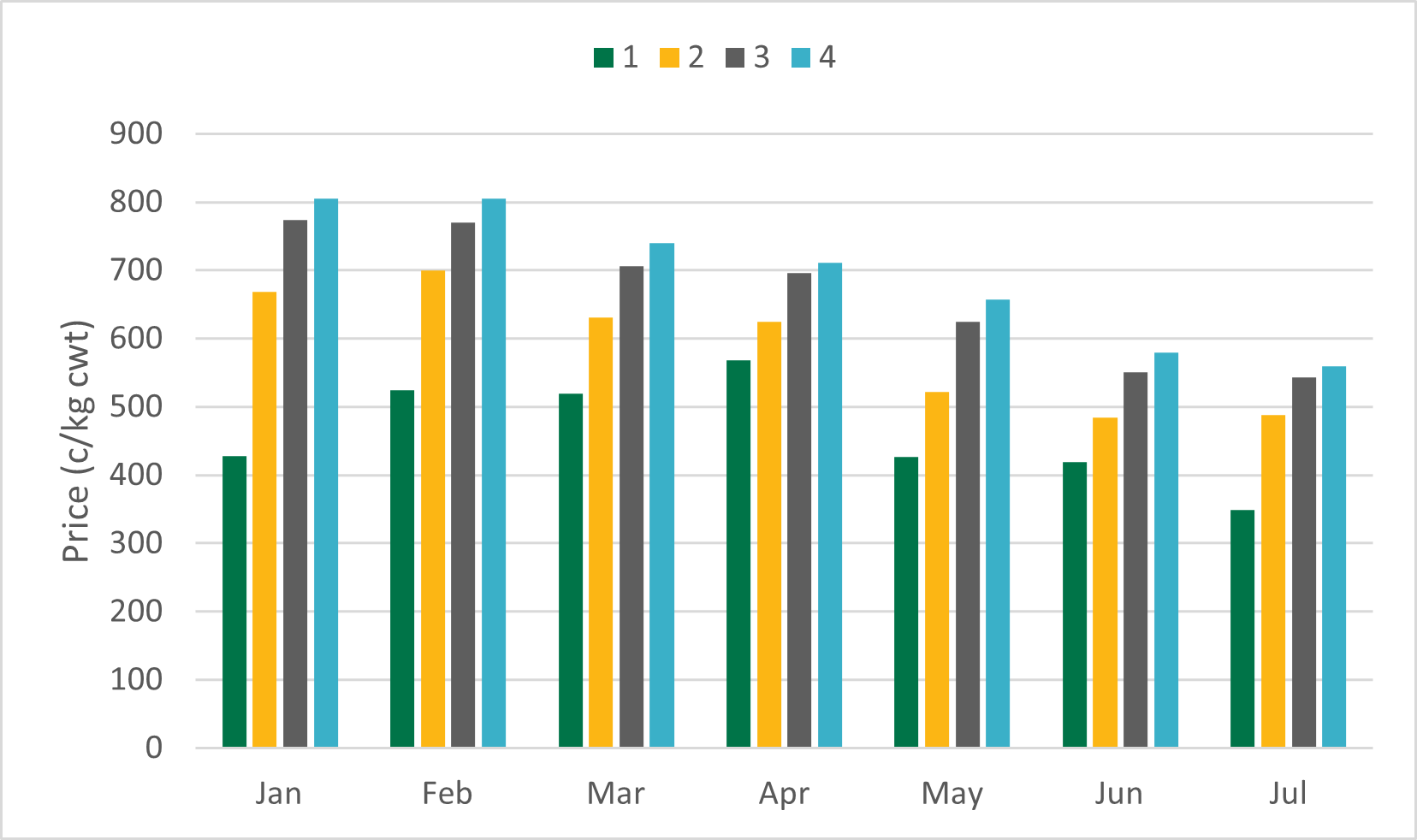 Interestingly, lamb market prices across all fat scores have generally eased at a similar rate. In this way, weight has played a bigger part for what processors are willing to pay, with consistently strong premiums for heavy and extra heavy lambs.
These gaps generally exist as quality drives the market, but the reduced throughput of well-finished livestock is playing a part in dampening demand and price. As new season lambs hit the market after good joining conditions, it will be interesting to see how active buyers become.