Back to

News & Events
A passion for change overcomes challenges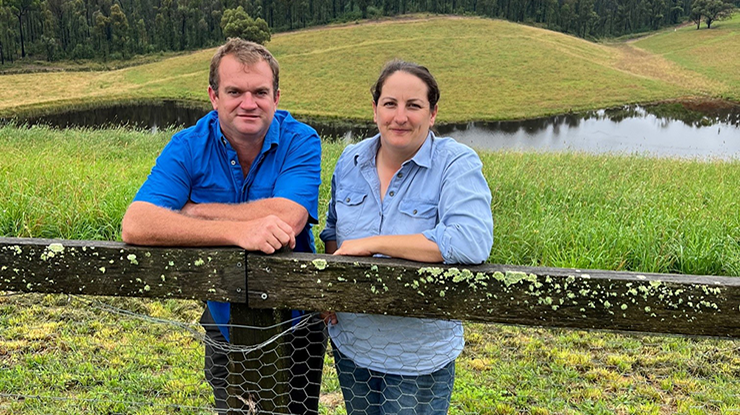 Brad and Jen Smith on their property at Clifton Creek.
Victorian sheep and cattle producers Jan and Brad Smith are no strangers to adaptation – it's part of their response to a changing and challenging environment.
The 10 years since they took over the family business have been some of the most challenging for their business and landscape, with the management required to weather an already variable climate compounded by natural disasters.
The Smiths' Gippsland property was one of hundreds burnt out in the 2020 fires – an event sandwiched between drought and floods.
Against this backdrop, the Smiths were keen to participate in the MLA supported NEXUS project. NEXUS explored how sheep and beef enterprises can adapt to the changing climate – in their case, warmer temperatures with less winter and spring rainfall and higher rainfall variability – and reduce greenhouse gas emissions.
"Taking part in the NEXUS project was about getting the resources to baseline our emissions and establish a starting point and a system of measurement that could help us grow," Jen said.
"This helped us understand the state of our business, establish benchmarking and work towards identifying some clear guidelines of where we could improve.
"We know our climate is incredibly variable, we know we need to modify our practices in response to this, so this was just the next step in the process."
A changing climate
The Smiths worked with the University of Melbourne to model how their practices could change in response to the impacts of climate change in their region, with simulations projected for 2030 and 2050.
Jen said their business' existing pathway to continuous improvement – such as changes in stock, pasture and property – aligned with the options presented as part of the NEXUS project.
"We've improved our pasture renovation strategy to involve one to two years of cropping, followed by permanent pasture so we can have pasture in years where we aren't getting reliable rainfall," Jen said.
The Smiths have also adjusted livestock breeds to better suit their environment, swapping their historical large-framed Hereford herd to a more moderate-framed Angus herd, and transitioning from Merinos to a maternal composite flock.
As well as these adaptations, which were suggested by NEXUS but already implemented on-farm, the project suggested purchasing land in a different climatic zone to improve resilience in response to extreme weather events.
"We were already thinking about expanding, but the concept of buying land further away was often ruled out due to logistics," Jen said.
"However, when it was identified in the study, we embraced the opportunity to expand and ensure we were more resilient in our future production."
Toward carbon neutral
Jen and Brad believe standing still is not an option when dealing with climate variability or emerging market trends towards carbon neutrality and green credentials.
Jen said the strategic decisions they, and other producers, make today will affect their opportunities in future markets.
"There's plenty of data that identifies the benefits of different types of investment and how it can make your business more sustainable," Jen said.
"We are confident that whatever the framework, we can adapt our farming practises to suit it."