Back to

News & Events
Trade opportunities on the menu in Vietnam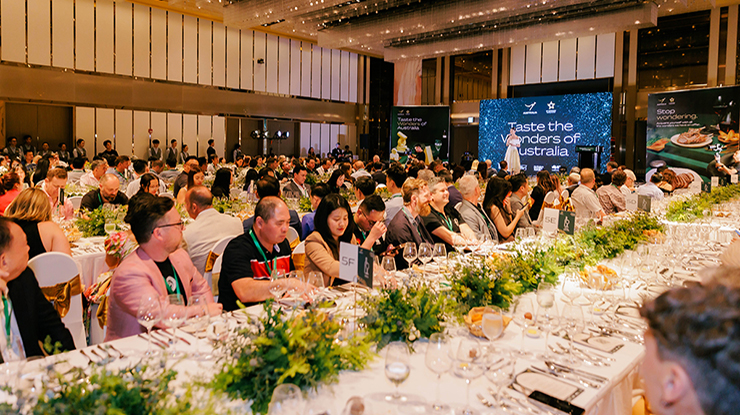 More than 200 of Vietnam's food industry leaders, importers, distributors and government representatives gathered last week to dine on Australia's finest fresh food and premium wines.
The Taste the Wonders of Australia gala dinner was held in Ho Chi Minh City on Wednesday 20 September and was part of the Australian Food and Wine Collaboration Group's latest export market push, following successful export market access sprints in South Korea and Thailand over the past 12 months.
The events provide representatives from MLA the opportunity to team up with Dairy Australia, Wine Australia, Seafood Industry Australia and Hort Innovation and meet face-to-face with customers and trade contacts. Discussions focus on market access, consumer demand and future growth opportunities for both countries.
Vietnam is the third country targeted by the Collaboration Group, and Meat & Livestock Australia's Regional Manager for South East Asia, Valeska said it was an obvious choice, being one of Australia's fastest-growing red meat export markets.
"Currently, Vietnam is the 10th largest market for Australian beef, and the fourth biggest in the South East Asian region," Valeska said.
"This is underpinned by a large population with rising incomes, resilient economic growth, continued urbanisation and growing popularity of red meat, particularly among the youth. Vietnamese consumers trust Australian beef and lamb's quality and safety credentials.
"Beef exports to Vietnam are up 10% from the first half of last year and Vietnam is also the second-largest destination for Australian live cattle in 2023 so far, with exports totalling 55,328 head or 16% of the total.
"The long-term prospects for Vietnam as an export market for Australian beef and lamb are very strong, as a rapidly developing market with a growing middle-class consumer base."
The menu for the gala dinner illustrated the true strengths and depth of Australian agriculture products. Premium land and steak were served alongside fresh citrus, seasonal vegetables, almonds and macadamias, as well as fresh lobster, abalone and mussels, butter, yoghurt, cream cheese and ice cream. The dishes were paired with wines from some of Australia's premier growing regions.
The event was attended by government representatives from both countries, including the Australian Consul-General, Ho Chi Minh City, Vietnam Sarah Hooper and Senior Trade and Investment Commissioner, Vietnam (Austrade) Rebecca Ball.
More than just a dinner, the event provided MLA the rare opportunity to work alongside some of Australia's other influential agriculture representative groups through Australia's Nation Brand approach.
Dairy Australia General Manager Trade and Industry Strategy Charles McElhone said the Team Australia was proving successful in developing export opportunities and optimising valuable resources across the five member organisations.
"These key trade customers are buying dairy today, wine tomorrow and red meat the next day, so it makes sense for us to work as a group when we talk to them," Mr McElhone said.
"We are all big industries, significant exporters in our own right and have been working in Vietnam for many years with our own individual commodity programs, but this gives us an added opportunity to come together and work as one unit.
"There's a huge amount of expectation with regards to efficient management of resources from levy payers, members and government and, through this collaboration, we are able to leverage off each other.
"It is taking us into a zone that many of us are unfamiliar with, and it takes a lot of effort, but we are learning so much from each other about different ways to successfully navigate through these export markets."
With the Vietnam Sprint completed, the Collaboration Group now turns its attention to the next target market – Indonesia.
"Indonesia is an incredibly significant market," Mr McElhone said. "It's seen by the Australian food and wine industry as the next big thing after China, with a significant population and an enormous trade profile. We are really looking forward to building that partnership for the future."
The Australian Food and Wine Collaboration Group is support by an Agriculture Trade and Market Access Cooperation (ATMAC) grant of $500,000. An additional $600,000 grant announced earlier this year will see the partnership continue, with target markets including Taiwan slated for the next two years.