Back to

News & Events
Genetic tools open the gate to financial gains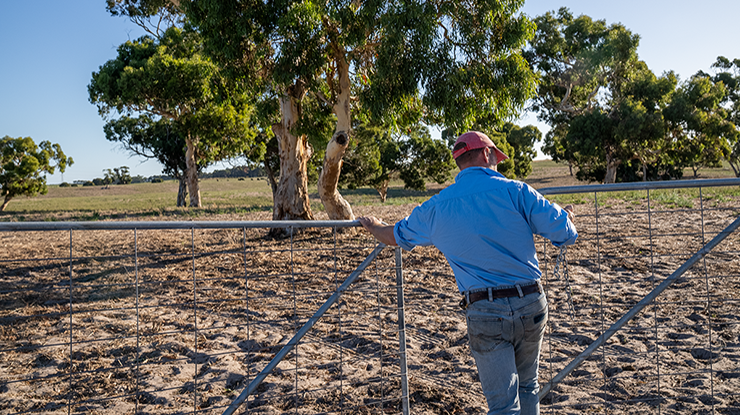 Key points:
More commercial producers are using BREEDPLAN EBVs (59%) and Sheep Genetics ASBVs (55%), according to the results from MLA's latest Genetics Insights Survey.
Commercial producers who use ASBVs are significantly more likely to say that their financial health is improving compared to non-users (61% vs 41%).
Producers can access practical, easy-to-understand resources on MLA's Genetics Hub. Support is also available through BredWell FedWell workshops.


MLA's investment in the development and improvement of genetic tools such as Estimated Breeding Values (EBVs) and Australian Sheep Breeding Values (ASBVs) has led to a significant increase in adoption by commercial producers, as well as financial benefits on-farm.

Insights from latest survey
MLA's recent Genetics Insights Survey involved conducting interviews with a representative sample of the industry, in terms of location, breed type and production systems. These included 525 beef and 585 sheep producers.
Key survey outcomes:
The use of BREEDPLAN EBVs by commercial beef producers increased between 2016–2023 from 18% to 59%.
The use of Sheep Genetics ASBVs by commercial sheep producers increased between 2016–2023 from 14% to 55%.
The stud sector also increased its use of genetic tools (111 sheep and 114 beef seedstock producers). Increases included:

beef: 32% to 56%
sheep: 18% to 55%.

Positive attitudes towards EBVs and ASBVs were driven by a sentiment of trust, scientific validity, validation of purpose and positive historical performance.
Breeding values linked to improved financial health
Ensuring a solid return on any investment – whether that be money or time – is top of mind for all producers. The latest survey results confirmed that commercial producers who use ASBVs are significantly more likely to say their financial health is improving compared to those who don't use ASBVs (61% vs 41%).
Figure 1: Perceived financial health of sheep producers, comparing users and non-users of ASBVs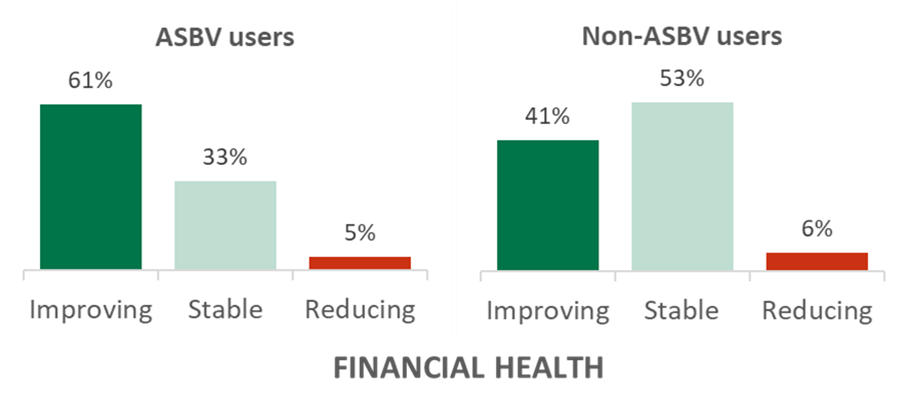 Overcoming obstacles
Producers may be hesitant to embark on the journey of getting up to speed on the seemingly complex array of genetic tools available. Dr Sarita Guy, MLA's Project Manager for Genetics Adoption, encourages producers to explore using these tools alongside their current processes used in purchasing decisions.
"Visual assessment is important, as is raw data. It's also good to talk to the breeder to understand what traits they've been selecting for," Sarita said.
"The most accurate tools to compare sires, within one stud and across different studs of the same breed, are breeding values – and we have good evidence that they work."
The accuracy of these tools will increase over time and will encompass an increasingly wider range of traits that directly impact profitability and the sustainability of our industry.
These tools are underpinned by accurate data and scientifically robust methods. Objective EBVs and ASBVs can be used hand-in-hand with visual assessment and are useful even for smaller operations.
"By using these tools, producers can capitalise on this investment and increase their herd or flock performance," Sarita said.
As more tools become available, Sarita said MLA is committed to providing the resources and support needed to make the most out of them.
"MLA's Genetics Hub is a one-stop shop with easy-to-understand resources, advice and practical examples of how the different tools can be used. There are also videos and articles where producers share their journey on how genetics have made a real impact on their bottom line," Sarita said.
Producers can receive guidance on developing a customised breeding plan and how to maximise their genetic investment by attending the revamped BredWell FedWell workshops.
"BredWell FedWell is an introductory workshop that helps producers develop a genetics and nutrition regime, specific to their production systems and markets. These workshops are hosted on-farm and are very practical. There are many opportunities to discuss concepts with other producers, and each producer creates a plan for how they can apply what they learn to their own enterprise," Sarita said.
What benefits one can benefit many
Genetic tools are one more piece of the puzzle to boost efficiency and profitability for producers.
More producers using the latest genetic tools and insights to their advantage is good news for the continued prosperity of the red meat industry, as well as the robustness of the nation's herds and flocks.
"With the challenges we're facing and the rising costs of production, it's important to explore all opportunities and tools that can lift livestock performance in a sustainable way.
"Genetics is one of those tools that can help us achieve this," Sarita said.