Back to

News & Events
Bring on Beef Australia 2024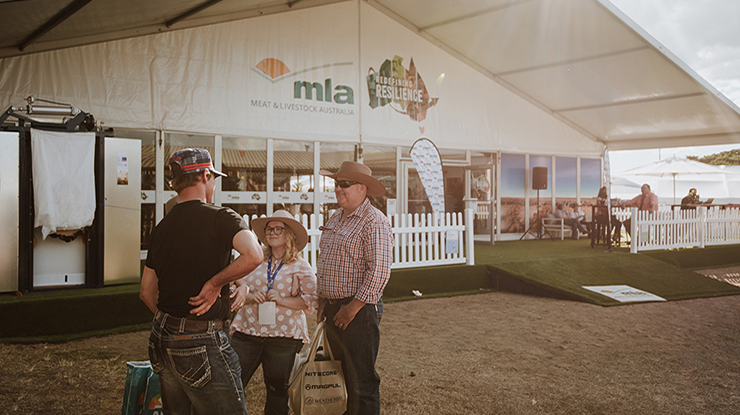 Meat & Livestock Australia (MLA) is proud to once again be a major partner of the biggest event on the beef calendar – Beef Australia 2024.
The event, which is held in Rockhampton every three years and runs over six days, attracts over 100,000 visitors, and brings together the Australian beef community with opportunities for full supply chain participation and community engagement. 
It provides a unique platform to showcase MLA's work and network with a broad range of stakeholders.  
As a major partner, MLA will be hosting two seminars and the sustainability lounge, as well as taking part in the school education program, and the national carcase competition. 
Beyond the sponsorship of those key programs at Beef Australia, MLA will have a trade display marquee right near the entrance where we will be showcasing our suite of research and development projects, on-farm practical adoption programs, market insights, marketing and communication activities. MLA and Integrity Systems Company (ISC) staff will be on hand to provide support to producers who are keen to learn more about how to become more involved in carbon neutral by 2030 (CN30) initiatives, myMLA and MSA feedback, eNVDs and other key MLA initiatives.
Within the MLA trade site, besides the information hubs for key MLA and ISC programs, MLA plans to host mini-info sessions for producers on key initiatives, and a networking opportunity for industry stakeholders to meet with the MLA Board, executives and staff.
MLA Managing Director Jason Strong said it was fantastic to be involved in such an important event again.
"Beef Australia is Australia's largest beef expo and has a vision to be a world-class organisation that promotes, advances, and celebrates a sustainable beef industry," he said.
"The Australian beef industry has a remarkable story to tell, from our exceptional animal welfare standards to our sustainable livestock management practices.
"Beef Australia 2024 provides us with an excellent platform to share our achievements and aspirations with the wider community."
Join us in Rockhampton from 5–11 May 2024, for this week-long exhibition and celebration of the best of beef. Be sure to stop at the MLA trade site to chat to MLA Board members, management and staff.