Back to

News & Events
Industry insights and innovation on show at MLA Updates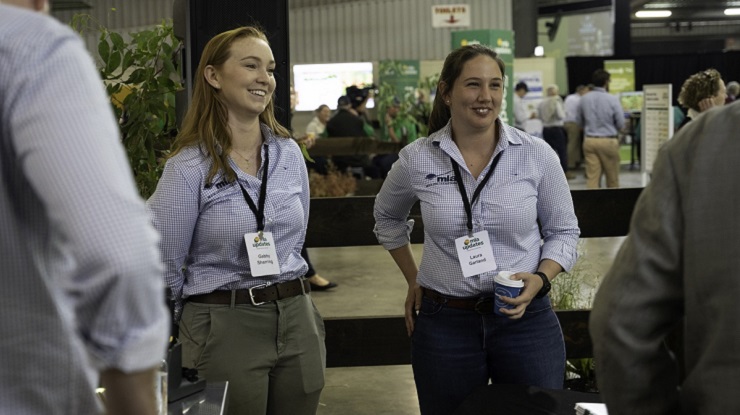 MLA staff at last year's MLA Updates event in Toowoomba.
MLA's annual flagship event is back. Don't miss this opportunity to see how your levies are invested, get up-to-date on marketing insights and explore the latest technology.
MLA Updates is a day of presentations and demonstrations to bring industry up-to-date on MLA's investments in research, development, and marketing. MLA Updates will be held on Thursday 23 November 2023 at the Bendigo Showgrounds in Victoria.
This year's theme of 'sustainability from paddock to plate,' focuses on solutions and technology that embrace sustainability and set you up for success. From producer to consumer, the event will inform attendees about what's happening across the red meat industry.
Have your questions answered by those in the industry
In plenary session one, following a keynote presentation on sustainability from paddock to plate from Board Director of Woolworths (Sustainability Chair), Fonterra and ANZ Holly Kramer, five panellists will take to the stage for a discussion followed by a Q&A.
The panel features:
Tom Bull, LAMBPRO General Manager
Iain Bruce, Western Plains beef producer
Jack Holden, MLA Board Director
Sarah Strachan, MLA Group Manager – Adoption and Commercial Services.
This is an opportunity to listen in as the panel discusses the latest sustainability initiatives, technology, tools, and solutions that will help boost industry productivity and set those in the red meat supply chain up for success. At the conclusion of the panel discussion, there will be a Q&A with the panellists.
Hear the latest marketing update
MLA's General Manager for Marketing and Insights, Nathan Low, will be delivering a presentation on the customer journey and the role of marketing.
This marketing and insights update will get you up to speed on what MLA is doing to boost red meat sales and industry profit.
Get a guided breakdown on turning cuts into cuisine
Get to know your products with MLA Corporate Chef Sam Burke and Corporate Butcher Doug Piper as they give a guided breakdown for transforming trends onto menus.
Doug's lamb carcase breakdown will help you perfect your knowledge on cuts and their ideal properties, while Sam's insights will bring you up-to-date on current food trends and driving demands.
Keep up to date with MLA's AGM
MLA's 2023 Annual General Meeting (AGM) will be taking place from 3:30pm AEDT.
This is your opportunity to hear about MLA's annual performance and cast your votes for the elected directors for 2024.
For full details on the AGM and MLA member voting entitlements click here.
Catch up and connect
Rural Aid councillors and staff will be attending this year's event to showcase the services they provide to producers facing challenging times.
Visit Rural Aid at the Be Prepared hub to get familiar with the services and the programs, businesses and people who are there to support our red meat producers during extreme climate events.
It's also an opportunity to find out how you can help fellow producers should you find yourself in a position to do so.
Conclude the day with our sundowner networking event. Enjoy some cocktail food and beverages and settle in for some downtime. This closing event provides the perfect chance to network, chat and share ideas with other producers, stakeholders and MLA staff.
To register to attend and view full event program please visit MLA updates 2023.