Back to

News & Events
Calf survival project leads to heavier calves and healthier cows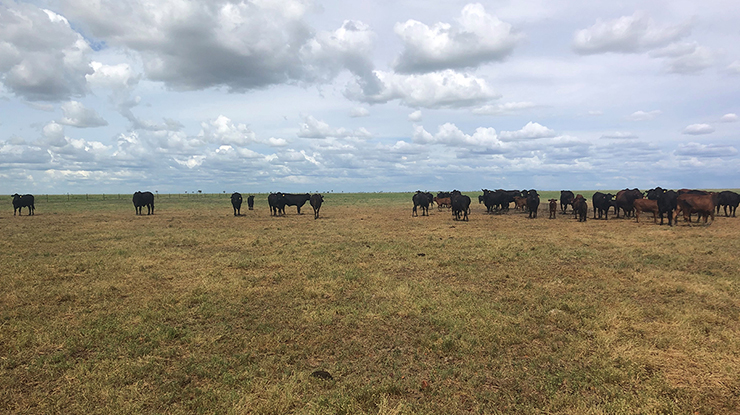 As manager of Paraway Pastoral Company's largest cattle breeding operation, Matt Barrett keeps a close eye on the reproductive performance of the herd at 'Rocklands'.
The extensive property – which spans 6,600 square km on the Queensland/NT border – is home to a 46,000 head Brahman-based breeder herd. Santa Gertrudis and Angus genetics have been added since 2017, with the long-term aim to build a Santa Gertrudis/Angus-cross herd.
Rocklands supplies Paraway's channel country properties with steers, so genetic investment in quality bulls focuses on increasing turn-off weights and reproduction rates.
Reproductive challenges
Like most northern beef business managers, Matt faces the challenge of a high number of losses between pregnancy testing and weaning.
"Calf survivability is the biggest gain we can make at this point in time," Matt said.
"There's a massive percentage that's just wasted and if we can pick that up, it will make a huge difference to most of the businesses in the north."
He said there's no single factor which they've been able to identify as causing this percentage of losses.
"It's everything from the breeder's mothering ability, the nutrition in the grass, the quality of the grass, the distance to waters, a bit of dystocia and a bit of predation," he said.
Matt was attracted to the MLA/University of Queensland (UQ) Calf Alive project for its potential to address the industry-wide issue of calf survivability by ensuring cows have better nutrition to produce better milk so calves get on track to survive.
Research in action
For the Calf Alive research at Rocklands, pregnant cows were fed a high-energy, high-protein meal, four weeks pre-calving and two weeks post-calving.
Matt used two paddocks and fed breeders daily – while this intensity of intervention wouldn't be possible across 30,000 breeders, for the purposes of the project it showed what's feasible.
While the first-year numbers are still being crunched, Matt has already been able to pinpoint a difference in the condition of the cows.
"In terms of the number of calves, it would be very hard to put a statistical difference on them, but the condition of the cows was probably half a body condition score ahead."
He estimated cattle in the project were around 30kg in front of cows which weren't fed the supplement, and the condition of their calves or weaners was around 10kg better than calves not in the trial.
Promising results
Matt said these early signs were promising.
"A 1% improvement on our calving rate – just on weaners alone – is probably worth $200,000, which is significant, but there are added benefits as well.
"This way, we're supplementing cows for the right reason, and supplementing fewer cows that aren't bringing a calf to the yard."
Looking ahead, if the results from Calf Alive are positive, Matt said they will look at incorporating a nutrition program into their management longer term.
"We'd have to look at how we feed them, as it's pretty intensive at the moment. We're feeding cattle daily and we just can't do that across the whole herd. We'd have to develop a program where we feed them every week or feed them once at the start of that six-week period – or find some other way to make our labour a bit more efficient.
"It will come down to dollars. It's feasible, but it would have to be cost positive for us," he said.
The Calf Alive project is just one of a suite of improvements Matt oversees at Rocklands. He was also involved in the MLA Paddock Power project, which recently finished.
The three-year project, led by UQ's Kieren McCosker, looked at productivity increases from paddock development, such as fencing and improved water access.
Rocklands' watering points have increased, reducing grazing circles. All cattle now graze within 3km from water – down from the previous 6km, 8km or 10km.
Individual mobs of cattle have also been reduced from 2,000–3,000 head/mob to 800–1,000, allowing Matt to have more control over the feedbase. It's also minimised issues such as mismothering and over-grazing from larger mobs.