Back to

News & Events
Building a strong team in the bush
A strong workplace culture is crucial on expansive enterprises such as the family-owned and managed organic beef operation, 'Andado Station'.
It's one of five Crown Point Pastoral properties, which collectively span four million hectares (40,000km2) of the NT, and for the past decade has been home to Raquel and Peter Costello (pictured).
They've fostered a supportive workplace for their small team of station hands, domestic workers and a governess for their children, Beau and Charlotte.
Andado's remote location, five hours from Alice Springs, requires staff to live and work together full-time. This has necessitated a leadership style which caters to each team member's communication style, personality, career goals and wellbeing.
Taking part in MLA's Profitable Grazing Systems (PGS) professional development course, Lead with Certainty, has bolstered the Costellos' confidence as leaders and provided welcome advice for facing their challenges. Read page 31 of the winter 2023 edition of Feedback magazine for more about this course.
"It inspired us to endeavour to keep our workplace positive and productive – somewhere our team is happy to call home," Raquel said.
Hand-in-hand with this sentiment is the importance of building – and retaining – a team which is both self-reliant, and can be relied on.
Raquel and Peter attended Lead with Certainty alongside Pernille Nielsen, leading hand at Crown Pastoral's 'New Crown Station', and Raquel's brother, station hand Kurt Eldridge. They came away with practical insights to instil this across different teams in the business, at all levels of leadership.
"These sorts of courses can be confronting for people from the bush, and we wondered if it would be relevant to the whole team, but our coach Tammy Kruckow pitched it to a range of levels and tailored it specifically to our situation," Raquel said.
"She created a comfortable environment, and I would recommend it to anyone wanting to grow in this area."
Showing up, every day
A goal Raquel set for herself before the course was to better understand leadership and what it really means day-in, day-out.
"Something which hit home for me during the course was that you can't switch it on and off. Tammy instilled in us that being a good leader is not just when you feel like it, it's 90% of the time, and that can be challenging at times," Raquel said.
Increased self-awareness of her own and her team's personalities and communication styles through the course's DISC profiling activity has given Raquel insights into how team members can better relate, particularly in times of stress. Learning how to manage unhelpful thinking has been valuable.
"Tammy emphasised being aware of how long we're engaging in negative thinking patterns. It means letting yourself be in that zone but giving yourself a time frame for how long you remain in that mindset. Am I going to spend the whole day feeling like this?" Raquel said.
Pernille also came away with insights into creating a positive team dynamic.
"It gave me some great, practical tools on leadership and teamwork and how to improve communication, productivity and conflict management in the workplace," Pernille said.
A stronger team
Raquel and Peter have enacted some positive changes since attending the course.
"We better recognise the importance of team culture and have gained confidence as leaders," Raquel said.
"During recruitment, we now focus on soft skills like personality and communication styles.
"Getting skilled workers can be difficult out here, sometimes we find shifting the focus to hiring on attitude and personality can be effective. You can ask them about their hobbies and be attentive to how they talk about themselves.
"We've changed the way we conduct our interviews by asking more quality questions to ensure they are a good fit for the team we are creating."
She said team building is key.
"We believe keeping the team connected is really important. We often catch up with them after work on a casual basis to get a gauge on how everyone is going, and we also make sure we go to as many district get-togethers as we can. If there's a town rodeo, we aim to fit in their time off around those events," Raquel said.
Staff retention
Andado's remote location means no matter how great the culture, people will inevitably have their own plans for how long they want to stay. It can often be an experience many wish to tick off their list.
"Many will stay for a year or a season and then move on. Some station hands will stay two to three years which is fantastic – rehiring can be a constant part of the job," Raquel said.
One strategy to streamline the process for training new staff has been to develop manuals and induction resources.
Offering career development is also important.
"We want to get better at mentoring staff – we try to upskill them while they're here. If they show an interest in a particular area, we'll help them focus on that and send them to courses if they show potential. It helps them and it helps us," Raquel said.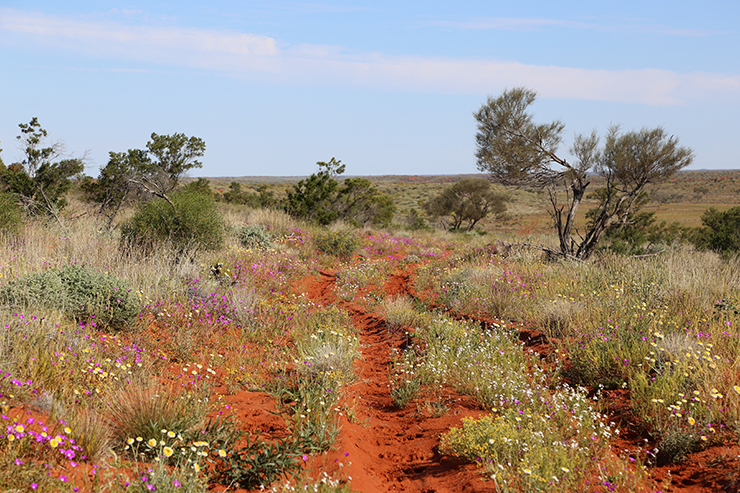 Richly biodiverse, pastures at 'Andado' nourish 8,000 Droughtmaster and Angus cattle. Image: Raquel Costello.
Lessons learnt
Consider the mix of ages and personalities when hiring, particularly on remote stations.
Effective leadership is consistent leadership – you can't pick and choose when to be a good leader.
A focus on social wellbeing boosts morale.
Seasonal action plan
Use quiet times during the year to update induction resources, such as operating manuals.
Plan for staff shortages by starting recruitment well in advance.
Get on the front foot by setting out a professional development schedule for the coming months.
To do