Back to

News & Events
QGoat's seed funding success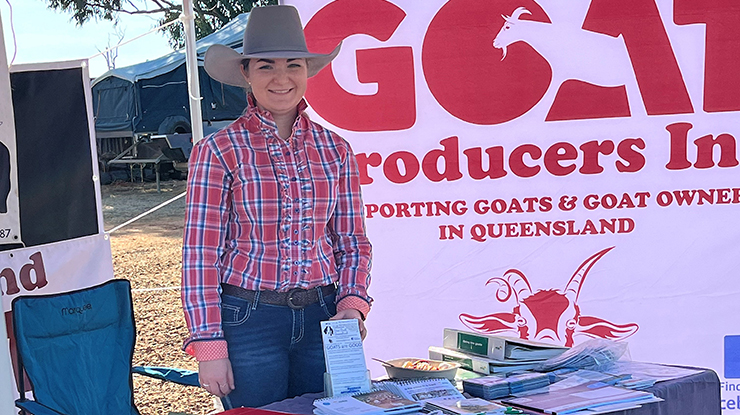 QGoat member and James Cook University Bachelor of Veterinary Science student, Maddison Clifford, Mt Hillary, Clermont, at the QGoat information stand at Ag-Grow Field Day, Emerald, in June. Image: QGoat.
Key points:
QGoat is the first producer group to be established as part of a seed funding initiative through GIRDAC and MLA.
The not-for-profit, grassroots group, currently has more than 130 members and over 400 producers on its mailing list.
Applications are now open for the next round of seed funding to help establish producer groups in goat production regions.


Queensland Goat Producers Inc, known as QGoat, is the first producer group to be established as part of an industry seed funding initiative, with applications now open for the next round of funding.
The seed funding is an initiative of the Goat Industry Research, Development and Adoption Committee (GIRDAC) and Meat & Livestock Australia (MLA).
It is designed to help develop capability and capacity by encouraging producers to establish groups in their region.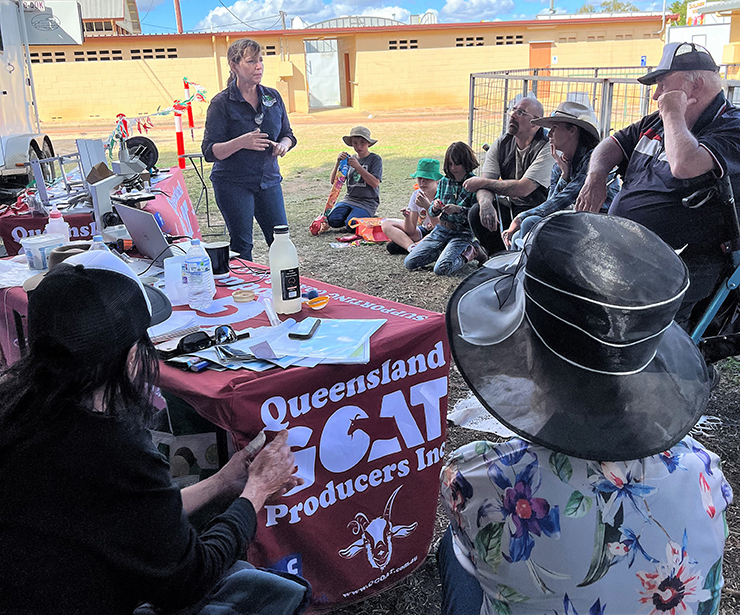 QGoat founding member and ParaBoss advisor, Kylie Leahy, Mount Roy Stud, Kuttabul, giving a presentation on parasite management at Charters Towers Show in August. Image: QGoat.
What is QGoat?
QGoat was formed in 2022 as the first non-breed specific commercial goat producers group representing meat, dairy, fibre and companion goats in Queensland.
It is a not-for-profit, grassroots group, which currently has more than 130 members and over 400 producers on its mailing list.
From a livestock perspective, it encompasses more than 86,000 breeder goats.
QGoat covers all of Queensland and also has regionally specific sub-groups to assist with the diverse goat rearing conditions, present workshops, assist with research and development (R&D), and network relevant to the areas.
QGoat Chair, Glenda Henry, said the group provides direct engagement with commercial goat producers, researchers, educators, suppliers and agencies to identify producer issues and collaborate to address issues within Queensland.
"QGoat's vision is to grow a strong, progressive and sustainable commercial goat industry, and we have already undertaken a range of activities to make that vision a reality," Glenda said.
"This year, Springsure Pastoral & Agricultural Society Inc invited QGoat to the 2023 Springsure Show for the second consecutive year.
"QGoat took the opportunity to host a day of educational and informative workshops as well as hosting a meat goat show on the second day to enhance capability and capacity of goat production in the Central Queensland area.
"Participants travelled from across the state to attend – from Gordonvale in the north, Rockhampton in the east, Aramac in the west and Toowoomba in the south.
"We were also invited to attend Charters Towers Show where we provided education sessions and networking opportunities.
"This month, veterinarian and research consultant, Dr Joan Lloyd is joining us at Westech Field Days at Barcaldine on the Queensland Department of Agriculture and Fisheries site to deliver information sessions about disease and worm diagnostics through faecal sampling, and PCR testing to detect pneumonia in goats and sheep.
"There's a lot of interest in the industry throughout Queensland. By establishing supportive partnerships across our industry, QGoat is providing an integrated, science-based approach to goat production."