Back to

News & Events
Ahead of the tide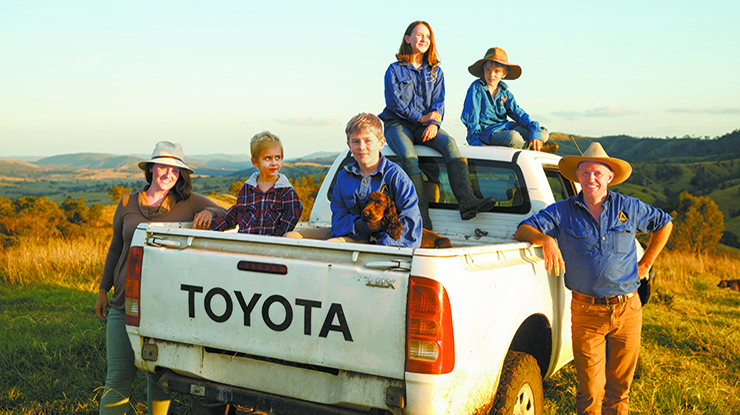 The Binnie family at 'Mirannie Station' – Liz, Benny, Campbell, Adelaide, Willber and Steve (left to right). Image: Newcastle Herald.
Innovative NSW beef producers, Steve and Liz Binnie, have come out on top thanks to an unswerving forward focus and a good dose of grit, in the face of the COVID-19 tsunami and its aftershocks.
Identifying opportunities to adapt and diversify their business amid a volley of setbacks has kept this young family and their premium Wagyu beef brand, 'Binnie Beef', in good stead for the future.
It's a future built on legacy. Steve and Liz started their married life in 2004 at 'Mirannie Station', which has been in Steve's family for four generations, with each making its mark over 130 years.
Steve and Liz added their own twist to the Mirannie story.
"Back in the day it was a draft horse stud, primarily servicing the horse-drawn brewery industry – then it became a Hereford stud for 97 years," Liz said.
"One day somebody asked us, 'Why Herefords?' We looked at each other and realised we couldn't answer that, except to say that we were honouring what Steve's father had done."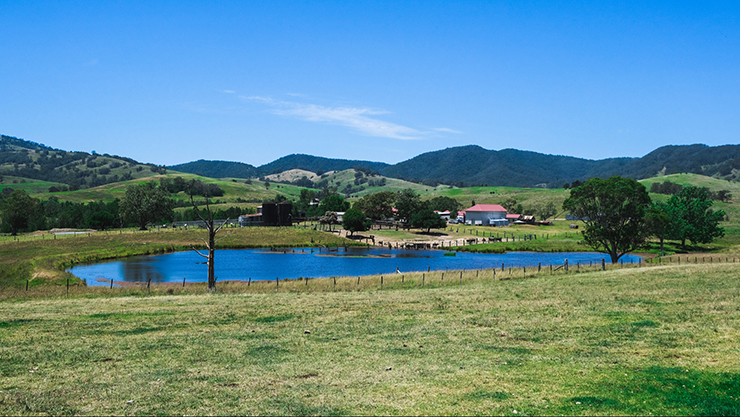 'Mirannie Station' has been in the Binnie family for four generations – it started as a draft horse stud and today is home to a Wagyu herd.
Embracing change
The time for change came after successive roadblocks impacted the viability of their business.
"First there was the live export ban, followed by two missed wet seasons in the north, which led to an oversupply of cattle into the southern markets – we just couldn't sell our cattle," Steve said.
"It became apparent that honouring those who had gone before us wasn't going to pay the bills, so we made the leap into Wagyu."
They researched other breeds, but Wagyu emerged as the best choice for their business.
"Wagyu have early sexual maturity, the meat tastes great and we recognised an upward trend with strong demand," Steve said.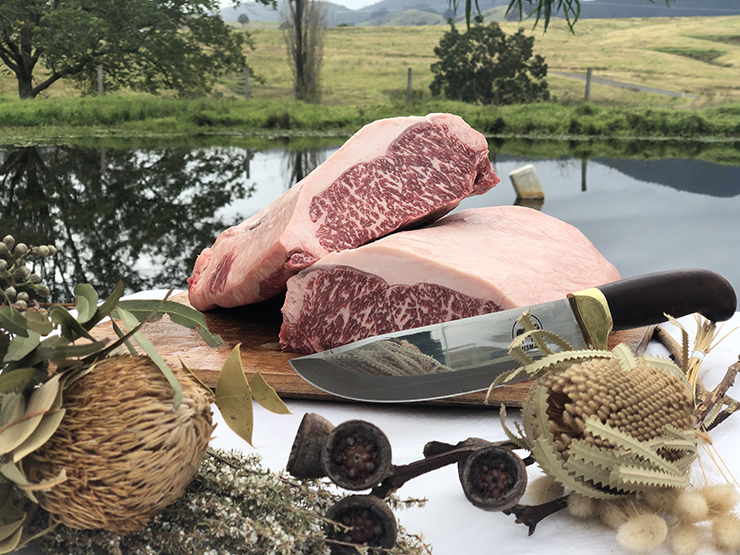 Binnie Beef Wagyu. Image: Binnie Beef.
COVID-19 challenges
Soon after setting out to build the genetics of their Delta Wagyu stud, the couple faced the backbreaking drought of 2016–2019, followed closely by the outbreak of COVID-19.
After an initially strong start exporting their Wagyu beef to China, the high costs of getting a container of product every month and needing a backlog of cattle to do so, took its toll.
"It takes about three years of shelling out money hand over fist to deliver a premium product to dinner plates, so minimum margins for full sets by the container was hardly inspiring. When COVID-19 closed all export markets to China, it was the perfect time to make a strategic change," Liz said.
"All our supply chains dried up and we were at a point where all the stock we'd had on feed for 400 days had no buyer."
While hunkering down with their four children during COVID-19 lockdowns and export restrictions, the Binnies found themselves with a heap of product they couldn't sell.
It made sense to help their community. A local church kitchen was only too happy to take the large lumps of product off their hands at cost pricing.
"We moved a container load of product from Casino down to the Hunter Valley and knew it would only go off if we didn't sell it or give it away," Liz said.
"We've donated enough beef for more than 30,000 meals to feed the homeless and support charity fundraisers throughout the Newcastle region. It's helped bring us a lot of joy, goodwill and customer loyalty."
The birth of Binnie Beef
As Liz reflects, necessity is the mother of all invention. The couple decided to back themselves and launch Binnie Beef – slaughtering their cattle, selling their own beef and building their own brand in one of the toughest beef selling climates on record.
The Binnies began to move away from selling whole carcases to individual cuts tailored to market requirements, then to selling directly into the domestic space.
With a background in marketing, Liz was instrumental in launching their paddock-to-plate enterprise.
Their brand emphasises the sustainable, high-welfare provenance of their product and is backed by a reputation for exceptional eating quality, with low melting point, fine-marbling genetics and 100% DNA traceability to Japan.
The fact the brand is locally owned and operated resonates with consumers, who have a taste for the honest reflection of the entire Binnie family's hands-on, passionate involvement.
"Our kids are working in the yards and in the strategic side of the business. We look forward to a day when they will surpass our talents and abilities," Liz said.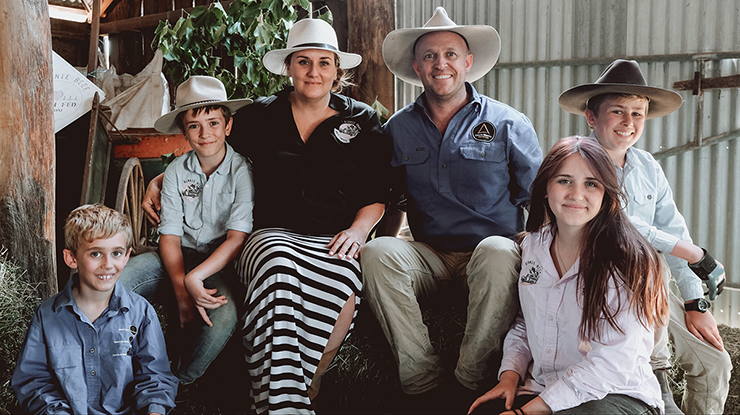 Liz and Steve Binnie with their children.
Diversifying against risk
The Binnies' journey required stamina, a strong focus on relationship building and the ability to learn on the go.
From a starting point in exports, they diversified to domestic and other international spaces after their abattoir was excluded by China.
"We had a few leads through MLA and Austrade and met some contacts through AUS-MEAT's non-packer exporter course. Often those conversations led to other introductions – we did many trips to Shanghai, Beijing, Singapore and Korea, some of which resulted in transactions and then regular repeat business," Liz said.
"It was about rolling back the sleeves and being available for conversations at any and all hours of the day or night."
"We got a huge updraft of support and now hold a fairly large market share in Newcastle, Hunter Valley and Sydney restaurants," Liz said.
Offshore markets are now more heavily diversified too, with exports to Singapore, Thailand, Vietnam, Hong Kong, Oman and Taiwan, amongst other destinations.
Widening their market
Keen to keep their fingers in a number of pies, they've expanded beyond the traditional premium Wagyu market.
"We're not hoity toity – our beef goes into pies, burgers and sausages as well as to high-end restaurants. Our local butcher has come up with an incredible recipe for sausages," Steve said.
Liz said it's been exciting to see the appetite for Binnie Beef.
"Our meat pies and burgers can be enjoyed at major McDonald Jones Stadium (Newcastle) events, including the recent Elton John concert, and they'll soon be available at the Sydney Cricket Ground and Sydney Football Stadium," she said.
Keeping up the home front
The Binnies have solidified their domestic market footprint with the addition of a sales team and a second wholesale retail outlet. The soon-to-open shopfront in Killara, Sydney, will join their existing Newcastle outlet.
"The retail outlets aren't a heaving business, rather a lovely opportunity to sell direct to households and spread the word. I find the best way for building a chef/ restaurant into a loyal supplier relationship is to start at the grassroots, and when their own customers ask for our beef on the menu it speaks volumes," Liz said.
"Two years ago, the abattoir we process through got a retail-ready packaging system, so we shave a bit off the side and bring retail-ready product into both our shopfronts. It's a bit of a secret that's gathering its own cult following.
"Wholesale is our breadwinner, but we've got scotch fillets, porterhouses, burger patties, minces, T-bone, tomahawks, and the odd fun thing for sale to the general public too."
Strategic adaptation
The forward-focused couple are investing in cutting-edge genetics, technology and expertise, and are making impressive gains with tropically adapted and polled Wagyu.
"We focus on eating quality, which is a function of marbling, and the fineness of that marbling. We also focus on carcase weight and fertility. These are the three biggest drivers of profitability," Liz said.
A tight hold on both ends of the supply chain with genetics and semen trading under Delta Wagyu, as well as Wagyu beef sales through Binnie Beef, has built resilience into the business.
"It looks like we've lurched from one disaster to the next, but in reality, it's been very strategic, with the occasional adaptation to circumvent unforeseen challenges," Steve said.
"Now, 10 years on from our Wagyu inception, we've a firm hand on both ends of the supply chain, from genetics through to restaurants."
The Binnies have about 2,000 registered Wagyu cattle at Mirannie, and a few hundred in feedlots at all times. They sell semen and embryos worldwide and have a strong market share across Europe and Africa, as well as to Uruguay, Brazil and South Africa.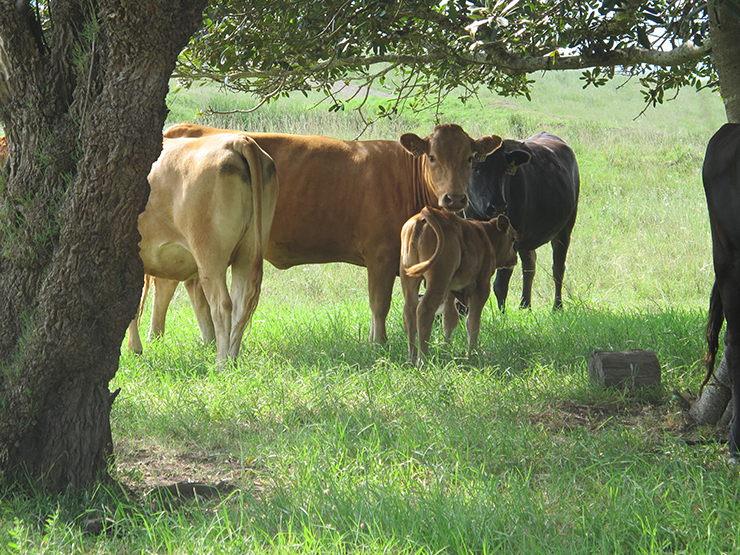 Mirannie is home to 2,000 registered Wagyu cattle including polled purebreds, fullbloods and these Akaushi reds – renowned for growth and carcase yield. Image: Binnie Beef.
With more of their bulls being sold into the tropical north of Australia, the Binnies are driving a research project in partnership with Newcastle University to develop a PCR test that determines whether a bull will throw damaged semen as a result of heat exposure.
"We follow a philosophy of sharing genetics, intellectual property and industry learnings, because the Wagyu community is particularly open with intellectual property, innovation and support for fellow breeders, and because this was the lead set by our forebearers," Liz said.
Looking to the future, the Binnies hope to continue their strategic approach to risk.
"We're doing well, and we've survived some extremely unusual and unforeseen challenges – now it's time to thrive. We want to be on the front foot when the next disaster/opportunity arrives," Liz said.
Binnie Beef received initial co-funding from MLA for early brand development. To learn more about MLA's beef and lamb marketing initiatives, visit mla.com.au/marketing-beef-and-lamb


Lessons learnt
Read your market – be flexible and take hold of opportunities when they arise.
Be open to trying new approaches – back yourself.
Strong relationships with your community and customers will help you ride out the tough times.
Seasonal action plan