Back to

News & Events
Australia's international competitiveness improves
Key points:
In September, Brazilian cattle prices reached parity with Australian prices.
This is due to underlying price movements in both countries, alongside movements in exchange rates.
In 2023 the exchange rate has helped maintain Australia's global competitiveness.


In the 2000s, Australian cattle prices were tied closely to prices in Brazil and other South American beef exporting countries. This began to change in 2015, when the price of Australian cattle rose and a substantial premium developed.
Price movements
Over the past year, the Australian heavy steer indicator has fallen by slightly more than 50%, while the Brazilian heavy steer price has stayed reasonably consistent. This has brought the two countries' cattle prices much closer together than in the past several years.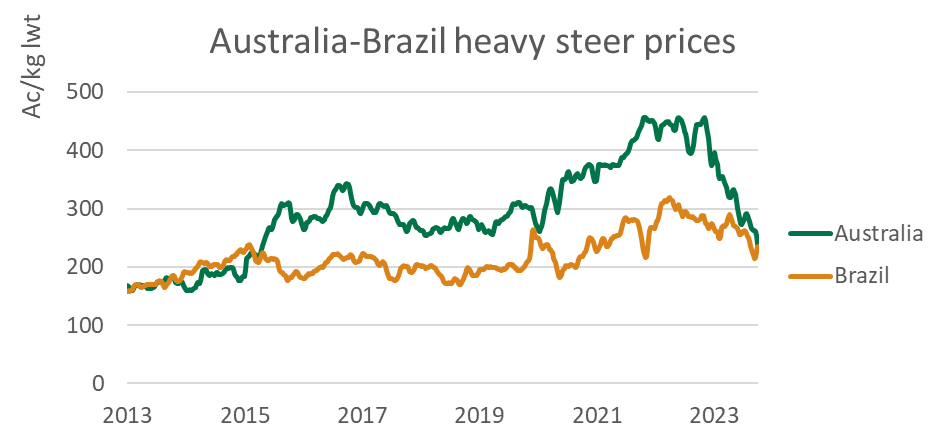 Source: NLRS, IPCVA. Note: Specifications differ between indicators
This turnaround in pricing has mostly been due to the decline in underlying Australian prices, but an important additional factor has been changes to the exchange rates in both countries.
Exchange rates
Australia's economy has performed strongly over the past decade compared to the global average, which has pushed our exchange rate well above historic averages. The effect of this has been to make imports relatively cheaper in Australia but push up the price of our exports on the global market.
By contrast, the opposite has occurred in Brazil, where the economy has underperformed and the real, Brazil's currency, lost around 60% of its value between 2012 and 2022.
This has meant that Brazilian cattle were cheap in global terms, while Australian cattle were expensive. While this didn't affect Australia's export mix that much, it did affect Brazil's. Export markets became more attractive than the domestic market for many processors, and domestic consumption fell by 20% over the decade.
Since the start of 2023, this trend has reversed slightly. The Australian dollar fell by 5% compared to the US dollar from the start of the year to October, while the Brazilian real rose by 5%, which effectively meant that Australian cattle received a 10% discount on the global market over their Brazilian counterparts compared to the start of the year.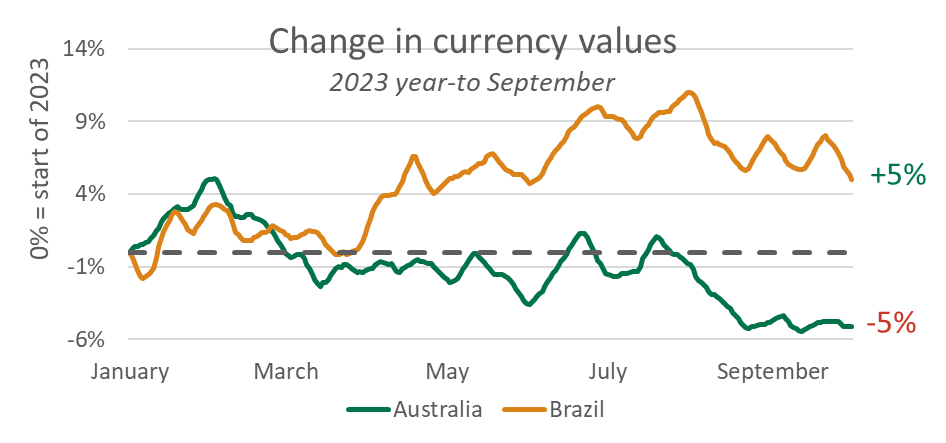 Source: XECD, MLA
Looking forward
While marginal, the weaker exchange rate benefits Australian exporters and ultimately drives demand for Australian red meat. In particular, it should allow Australian exports to compete on price in instances where Brazilian exports would have otherwise been attractive, which should be useful as export volumes continue to rise.
The exchange rate is famously difficult to predict, so it is not clear how long the positive effects of a slightly weaker Australian dollar on exports will last. At the same time, the exchange rate as it currently stands positions Australia well in the global market and could be helpful over coming months and years.