Back to

News & Events
Going Under Cover events focus on shade and covered housing systems fit for Australian feedlots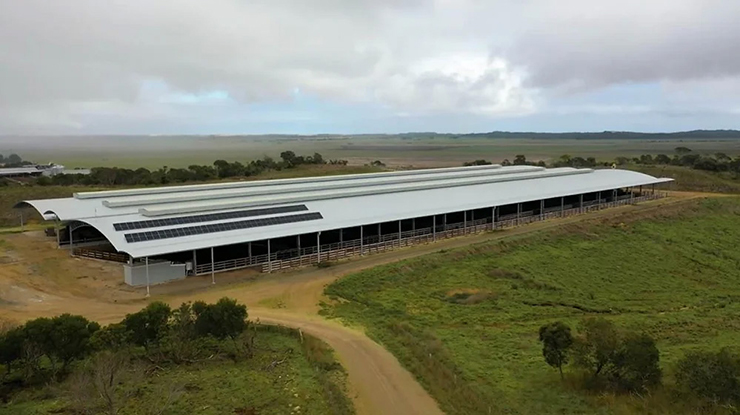 Participants at ALFA's feedlot bus tour visited Mayura, whose shed (pictured) provides shelter from Millicent's cold and wet winters. Image: ALFA.
Meat & Livestock Australia (MLA) and Australian Lot Feeders' Association (ALFA) recently supported two Going Under Cover events for the feedlot sector to over 148 feedlot stakeholders in Western Australia in March 2023 and Victoria/South Australia in May 2023. The events aimed to drive adoption of shade and shelter in Australian feedlots by showcasing examples of shelter in use at a variety of feedlots and the productivity and animal welfare benefits they have experienced.
Attendees of the information and exhibition event heard about the latest research findings from MLA as well as from industry experts who discussed the benefits, planning, implementation, finance, barriers, and animal welfare advantages of shade and covered housing. Participants were made aware of resources including best practice design guides, manufacturers and retailers.
The hands-on feedlot bus tour, which departed from Melbourne and concluded in Adelaide, saw participants visit multiple feedlots to review a variety of shade and covered housing systems available on the market and learn from their peers about their benefits.
A series of case study videos from the feedlot bus tour are:
On 12 October 2023, ALFA and MLA will hold a 'Reaching for the Roof' session at ALFA SmartBeef hosted at Elders Killara Feedlot. Dr Matt Van der Saag will launch the MLA Best practice design and management manual for covered and partially covered housing systems developed for the Australian lot feeding industry. The manual is built upon the best available knowledge from around the world for these systems, along with knowledge gained from visits to a variety of covered housing systems operational in Australia. The manual details design, construction, regulations, bedding, manure management, welfare standards, animal health considerations, and costs of these systems compared to best practice open feedlot pens.
Joining Matt in these sessions will be lot feeders Alex Smith of Rangers Valley and Andrew Talbot of Killara Feedlot. Andrew will share Elders' experience, learnings and positive performance outcomes from installing partial pen coverage with a two-tiered waterproof tarp-based system. Alex will provide an update on the MLA research project being conducted on site on partial pen coverage with an Entegra shed system.