Back to

News & Events
Strong demand for Australian beef drive exports to US
Key points:
Australian beef exports to the US are up 72% from 2022 levels.
Strong US demand for lean cow trimmings is pushing up the 90CL indicator.
US demand has bolstered Australian cow prices, which have outperformed the market.


Although easing this year, cow prices have outperformed the market relative to changes in the cattle market overall. Since the start of 2023, the processor cow indicator has eased by 28%, compared to a 36% decline in cattle prices overall.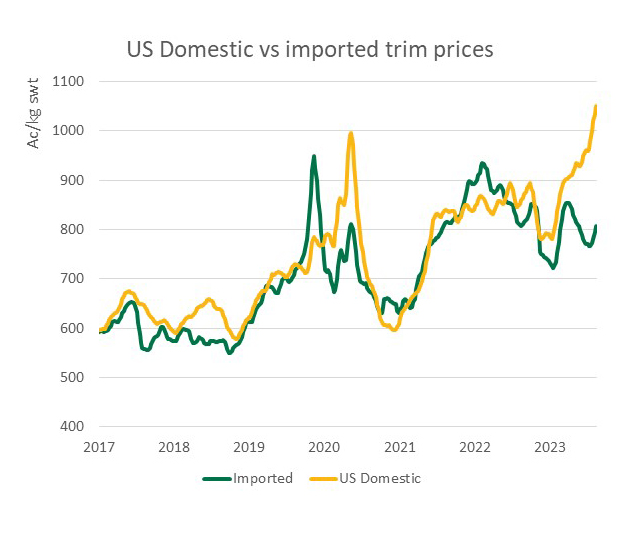 This difference can partially be explained by the strong demand for Australian trimmings in the United States. Australian exports to the US have risen 72% this year as the long-running American herd destock begins to affect domestic production.
In particular, demand for Australian lean cow trimmings has been strong this year. This is clear in the performance of the 90CL imported cow indicator, which has stayed well above 2022 levels this year, even as supply increases substantially.
As such, strong American demand for lean Australian beef has been driving demand for cows, providing price assistance and partially explaining the difference in performance between the processor cow and the broader market. Moreover, the 90CL indicator likely has substantial room to grow as US domestic beef production continues to fall and import demand continues to grow.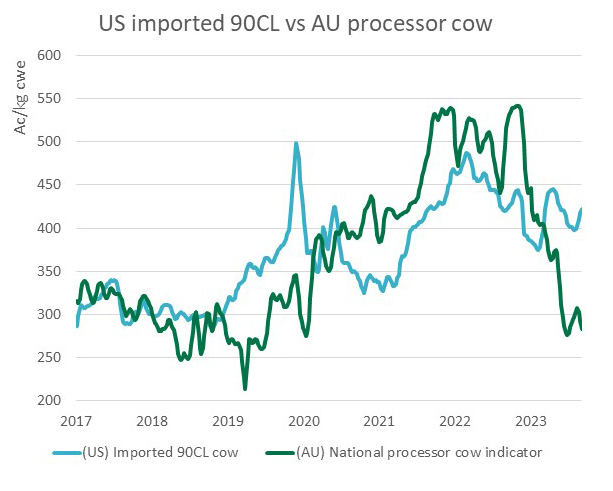 This year, the gap between domestic and imported 90CL beef in the US market is the largest it's been in a decade. Usually mirroring each other closely, the domestic premium has grown to 31% over imported 90CL, which is unusual as the indicators both track largely interchangeable, commodity-grade beef.
Price gaps between domestic and imported 90CL beef usually close, which either pushes down the value of US 90CL or boosts the value of Australian 90CL. In this case, it's more likely to be the latter, as forecast American declines in beef production would be large enough to keep US beef prices high.
Given that, demand for lean trimmings will likely continue to support Australian cow prices relative to the market overall. As Australian cattle slaughter continues to rise, the shortfall in American production will be important in generating demand for elevated Australian production.