Back to

News & Events
New animal welfare standards in Vietnam welcomed by live export industry
National animal welfare standards consistent with those applying to imported Australian-bred cattle have been announced in Vietnam this week, as part of the Australia-Vietnam Beef Cattle Symposium.
The Symposium runs from 13 to 15 November 2023 in Hanoi and features the Australian Ambassador to Vietnam, Andrew Goledzinowski, Vietnamese and Australian government officials, and representatives of Meat & Livestock Australia (MLA), the Australian Livestock Exporters' Council (ALEC) and LiveCorp.
Vietnam has become a significant partner for the live export industry in the past decade, importing almost two million head of cattle in that time. It is now Australia's second largest market for beef cattle.
CEO of LiveCorp, Wayne Collier, welcomed the announcement, saying it's fantastic to see Vietnam embracing animal welfare.
"Exporters have been in-market for years, building relationships, investing in training, and working with supply chain partners to help them continually improve their practices.
"This has provided an opportunity to start conversations that otherwise may not have happened for some time, including actively raising awareness of animal welfare and sharing the knowledge gained from decades of supporting beef operations across South East Asia.
"Australia is the only exporter of live animals requiring the industry to ensure animal welfare for exported livestock in destination countries meets (and surpasses) the guidelines set by the World Organisation for Animal Health.
"Vietnam's new standards will benefit local cattle by setting expectations for animal welfare in line with those for cattle imported from Australia."
Vietnam's animal welfare standards were developed over three years by the Ministry of Agriculture and Rural Development. The process included consultation with national and provincial government officials as well as industry, to ensure easy and practical adoption.
Information campaigns and training resources for the Vietnamese cattle and beef industry have also been developed and will showcase the various components of the new standards.
Australian assistance has been provided through the Livestock Export Program (LEP), a collaboration between LiveCorp and MLA which provides professional development and training for workers in feedlots and abattoirs in market, along with activities to support market access and regulatory compliance.
The work was also funded in part through a $135,000 grant from the Australian Government.

MLA's Market Development Manager - Asia Pacific, Spencer Whitaker, said the new standards are the latest step in the development of Vietnam's cattle industry.
"Since it started importing Australian cattle, Vietnam's cattle industry has grown significantly and modernised rapidly," Mr Whitaker said.
"People have become more aware of animal welfare, and it has been a pleasure to work alongside the Vietnamese Government to share the body of knowledge gained by the Australian industry."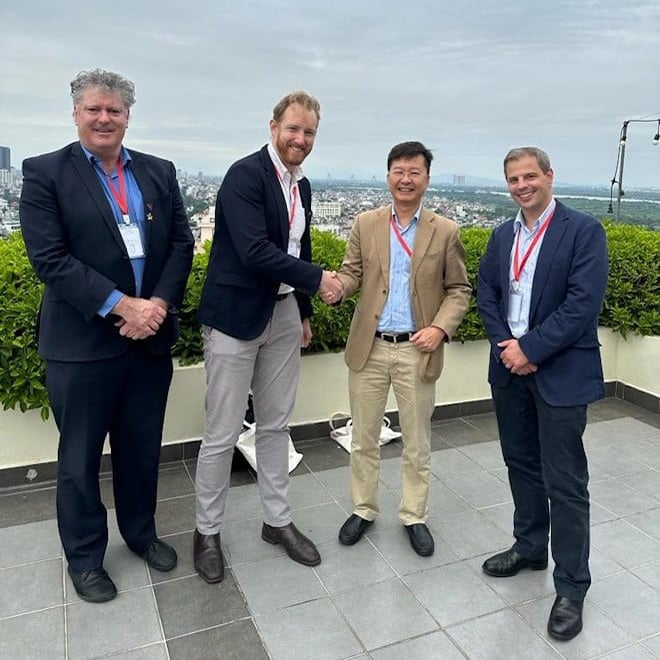 (L-R) Tony Harman, Australian agriculture counsellor to Vietnam; Spencer Whitaker, Market Development Manager - Asia Pacific at MLA; Tang Anh Vinh, Deputy Head of Public Veterinary division - DAH; Wayne Collier, CEO of LiveCorp