Back to

News & Events
Staying ahead of the pack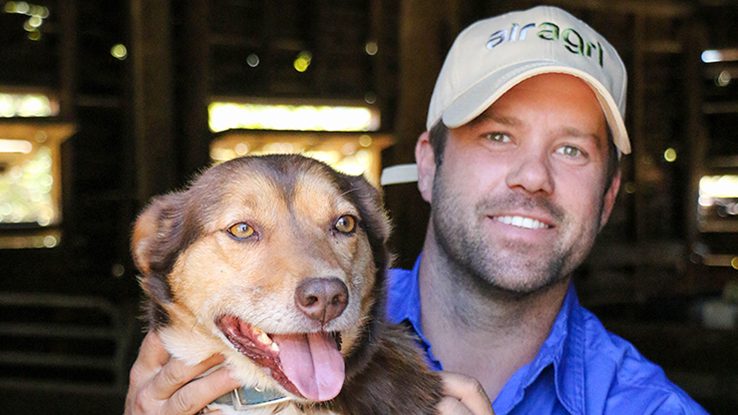 Victorian sheep and cattle producer Paul Diamond is vigilant against wild dog attacks on his Merino flock, particularly around lambing time. Image: Paul Diamond.
Collecting data, working collaboratively and supporting each other are vital to stay on the front foot when dealing with wild dog attacks.
This is the message from third generation Victorian sheep and cattle producer Paul Diamond, who has seen first-hand the devastation wreaked by wild dogs on producers' livelihoods, livestock and mental health.
Paul's property, 'Pinnaroo', is one of eight host properties in MLA's 'Less predators more lambs' Producer Demonstration Site (PDS), which is coordinated by Agridome Consultancy.
The PDS aims to improve lamb survival and demonstrate best practice in sheep management practices and predator control in autumn and spring lambing Merino and First-cross sheep enterprises in north-east Victoria.
"Wild dogs create a variable that's very difficult to control, so it's important to be vigilant and keep composure – although at times this can be extremely hard given the severity of the circumstances they create on farm," Paul said.
Harsh reality
Paul recalls the trauma of a wild dog attack where, over six weeks, he lost 60 scanned in lamb ewes. On top of the emotional toll, his financial loss was $15,000.
It's not only wild dogs causing such heartache – Pinnaroo's location near the shores of popular holiday destination Goughs Bay means visiting pet dogs often roam the area and impinge on the livelihoods of local producers. These dogs may not be registered with the local council, making it difficult to determine their ownership.
"It takes a huge mental toll – one weekend I lost 30 lambs. I asked the ranger to go around Goughs Bay and check permits but it could have been a dog owned by people who were just visiting for the weekend," Paul said.
These days, Paul works closely with his local professional wild dog controller for advice on trapping, baiting, and shooting and feels he has access to better support and tools.
"We utilise all the tools for the most effective methods of wild dog control," Paul said.
For specific tools and links to resources see the CISS website: invasives.com.au
Working together
Understanding the behaviour and location of wild dogs is key to predicting attacks and knowing where to place control measures such as baits.
Paul said they have most of their damage in March and April during the breeding season as wild dogs are roaming out of the bush further.
Paul uses tools such as the FeralScan Pest Mapping and WildDogScan apps and works with his neighbours to collect data on dog sightings, attacks and control activities.
He said this collaboration is critical.
"The more data points I have – whether it's my neighbour sighting a wild dog near my property or recently trapping one – the better I can prepare my sheep or cattle pre-lambing and calving," Paul said.
New tools
Paul and his brother James harnessed the power of technology to help producers implement a more systematic approach to everyday issues on-farm.
They developed a farm safety software platform, AirAgri.
"AirAgri enhances farm safety and management and taps into the sensitive topic of mental health. I use it to conduct my day-to-day operations with the confidence that I'll be getting home to my family every evening.
"An IoT network tracking device, which is incorporated into the AirAgri platform, along with the safety management system, gives me peace of mind," Paul said.
The platform allows producers to manage and implement tasks across different job lists on their farm.
"Along with the FeralScan app, it simplifies everything – it's a digital twin of your property."
Paul uses both AirAgri and FeralScan to log his predatory information.
"FeralScan feeds information back to government on the measures taken in different areas to control these predators, while AirAgri has task allocation so you can pinpoint areas where you want baits to be laid. You can then allocate that to different members on the platform," Paul said.
Predator Control Management Program
Another important tool in Paul's wild dog toolkit is his Predator Control Management Program (PCMP), which he conducts from April to May. This program was devised by PDS facilitator Dr Matt Mahoney, of Agridome Consultancy.
A PCMP includes:
everything in one place to ensure a comprehensive predator control season can be implemented
property-specific details, i.e. joining and lambing dates, baiting start and end dates and key contacts
a property map with control points marked
important information i.e., FeralScan login details
neighbour contact details for notification
information on number of baits required and signage requirements.
The PCMP is specific for his property and utilises thermal imaging and baiting controls for about eight weeks leading into, as well as during lambing.
"Throughout the year it's on and off but that eight-week period is really when we hit it hard. If we're copping significant damage, which luckily we aren't this season, we'll add trapping to that list from February onwards.
Paul uses thermal imaging on his gun scope which helps give him the upper hand by removing the need for spotlights.
"Spotlights can spook dogs and foxes – I use the Pulsar Thermion XP50 scope," Paul said.
Learnings so far
Since applying his PCMP, Paul has seen lamb marking rates increase by 6–10% per year.
Being involved in the PDS has given him the confidence that the overall management system on the farm is going to continually perform year-on-year.
"The PDS, along with the use of Lifetime Ewe Management and the Lambs Alive courses have given me a far greater understanding in the management of both livestock and pastures to maximise the output of our Merino flock," Paul said.