Back to

News & Events
MLA's flagship event heading to Bendigo this November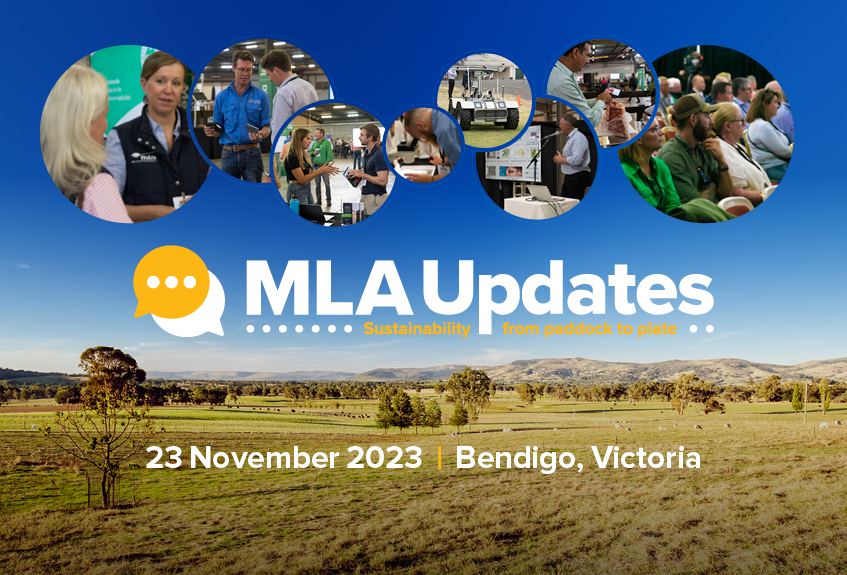 Meat & Livestock Australia's (MLA) flagship event, MLA Updates 2023, is open for registrations.

Held on Thursday, 23 November 2023 at the Bendigo Showgrounds, MLA Updates will feature presentations, displays and demonstrations bringing farmers – and everyone along the red meat supply chain – up to speed on MLA's investments in research, development and marketing.

This year's theme centres around 'Sustainability from paddock to plate', with a strong focus throughout the day on solutions and technology that embrace sustainability and set producers up for success.

MLA Updates will also feature keynote speaker Holly Kramer, who will address the event with a discussion about the increasing interest of corporates in sustainability throughout the supply chain, not only here in Australia, but also in our major export markets for Australian red meat.

Ms Kramer sits on the board at Woolworths Group and is chair of the board's Sustainability Committee. She also serves as a director on the board of ANZ Bank, Fonterra Group, and NBryo, an unlisted agri-tech start up business based in Queensland. She is also a cattle producer in the Southern Highlands of New South Wales.

In a following panel session, LAMBPRO's Tom Bull, Western Plains Beef's Iain Bruce and MLA's Group Manager for Adoption & Commercialisation Sarah Strachan will have a discussion on practical solutions for producers to be successful through embracing sustainability.

MLA Updates 2023 will also include plenary sessions throughout the day, featuring a presentation from Jason Strong. There will also be updates from MLA on marketing and insights, Meat Standards Australia, and presentations from MLA's Corporate Chef and Retail and Corporate Butcher.

There will also be a range of showcases and livestock practical demonstrations from MLA's Research & Development, Adoption, Marketing, and Integrity Systems Company teams. Agriculture Victoria, Peak Industry Councils, and Rural Aid will also be participating in the showcase and presentations to provide information to participants on the wide range of services available to industry stakeholders.

The MLA Annual General Meeting will also take place at this event from 3:30pm and MLA Updates will conclude with a sundowner event.