Back to

News & Events
Throw your hat in the ring for this year's National Banksia Sustainability Awards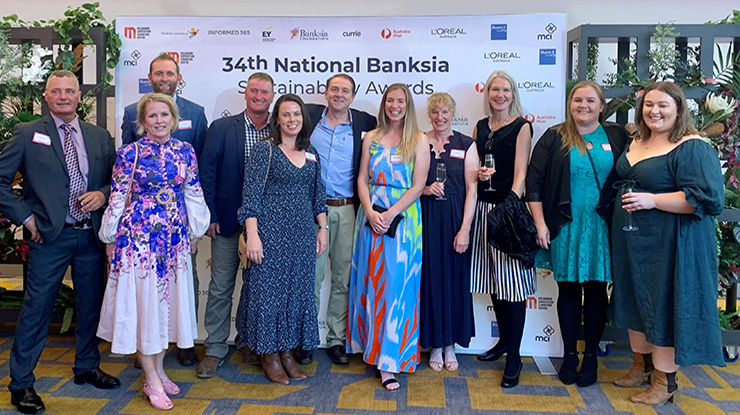 Finalists from the red meat and livestock industry at last year's National Banksia Sustainability Awards
Key points:
Entries are now open for the National Banksia Sustainability Awards – apply before the closing date: 18 December 2023.
There are multiple categories that would be relevant for participants in the red meat and livestock industry that recognise sustainability initiatives and outcomes.
An online information session detailing the application process will take place on 19 September at 12pm AEST.
Download your entry kit for guidance on how to apply.


Entries to the 35th National Banksia Sustainability Awards are now open! Don't miss the opportunity to be recognised for your innovative work in sustainability by applying for one or more of the multiple award categories by 18 December 2023.
As a proud sponsor of the National Banksia Awards for the third year in a row, MLA encourages those working in the red meat industry to apply for one or multiple award categories.
One category highly relevant to the red meat and livestock industry is the Agriculture and Regional Development Award. This recognises the work of individuals, organisations and communities who are championing resilient agricultural systems, sustainability in rural areas and working towards solutions to social and economic challenges such as food security, climate change and biodiversity preservation.
Red meat industry a strong contender
Paradigm Foods and its Roots Regenerative brand was crowned last year's winner of the Marketing and Communications for Impact Award, with fellow red meat industry representatives HW Greenham, Leather Cattle Co, and FutureFeed, finalists in other category awards.
Paradigm Foods' deep commitment to regenerative agriculture, reducing food waste, improving animal welfare and overall sustainability is a reflection of the wider red meat industry's commitment to the continual pursuit of excellence in the sustainability field.
The red meat sector can be proud of its efforts to date – having more than halved its emissions since 2005 baseline levels and being well on the way to achieving its ambitious plan to be carbon neutral by 2030 (CN30).
Last year's finalists included many notable examples of those working within the red meat industry:
Agriculture and Regional Development Award and Ethical Sourcing Award finalist: HW Greenham & Sons, Victoria – Greenham introduced the Greenham Beef Sustainability Standard to deliver planet-positive beef to global customers.
Net Zero Leadership Award Finalist: FutureFeed, Queensland – FutureFeed is paving the way for an entirely new industry – Asparagopsis seaweed as a livestock feed ingredient to drastically reduce methane emissions.
SME Sustainable Leadership Award finalist: Leather Cattle Co, Queensland – Leather Cattle Co leads by example in the sustainable production of beef through excellence in environmental stewardship, animal management and increased productivity.
Why get involved?
Whether you receive the top gong or not, the entry process itself is a practical way to assess your sustainability initiatives and receive valuable feedback on where you're at. Being able to connect with others involved in the sustainability space and having the chance to showcase your business or project's leadership in the field are other benefits.
Get started
Why not check out the free self-assessment tool offered by Banksia's partner SDG Align, to evaluate your current sustainability practices and access tips on how to further align your work with the UN's Sustainable Development Goals?
Application information
The Banksia Foundation celebrates excellence in sustainability practices through offering awards for 14 categories – with quite a few categories relevant for the red meat and livestock industry.
Interested applicants should download the relevant award's corresponding entry kit for guidance on the category criteria and application structure, as well as for information about the entry and judging processes.
Submit your entry through the online portal by 18 December 2023.
Register for the online information session taking place on 19 September at 12pm AEST where you will gain insights and guidance from esteemed judges and past winners on how to craft the perfect entry.