Back to

News & Events
Data-led innovation drives international award win
Meat & Livestock Australia (MLA) has been awarded the first annual Hitachi Transformation Award for its work in using data to help drive innovation in the red meat industry.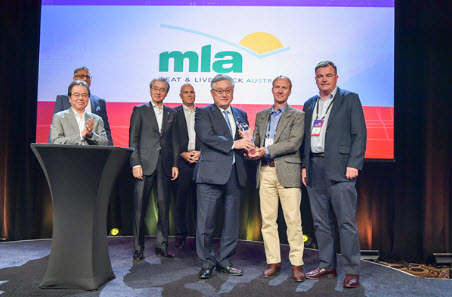 The Award was announced overnight by Hitachi Vantara and Hitachi Consulting at NEXT 2017 hosted by Hitachi, the premiere event for the digital revolution, at the Mandalay Bay Hotel and Casino in Las Vegas, Nevada, with MLA winning from a field of five international finalists.
The Transformation Award recognises leading companies that are transforming their businesses in new and innovative ways, with the support of Hitachi group solutions. MLA was selected among five finalists who exhibited the substantial benefits they have achieved by accelerating business transformation, improving user experience, innovating with data and enabling the internet of things (IoT).
Hitachi technology is being used in a new research and development (R&D) project underway in Queensland, aimed at allowing value chain partners to share and mine data to benefit their operations.
MLA Donor Company (MDC), in collaboration with vertically integrated beef supply chain business, Australian Country Choice (ACC) and Australian Cattle and Beef Holdings (ACBH) is undertaking the project using Hitachi's sensor-driven data collection and analytics technology.
Collaboration with Hitachi includes an on-farm pilot evaluating a series of typical data streams generated by weather stations, soil moisture probes and water trough monitors that are now integrated with process intelligence and data analytics to support almost real time management decisions and forecasting.
The objective of the project is to evaluate the integration of data capture on farm and management systems to access improvements in processes, practices and technologies, to meet the increasing needs of the red meat industry.
MLA General Manager – Research, Development & Innovation, Sean Starling, said the award was recognition of the work MLA was doing in better utilising and sharing data across the entire Australian red meat industry.
"This project is a great example of working collaboratively across industry. I would particularly like to acknowledge our project partners – Australian Country Choice (ACC), Australian Cattle and Beef Holdings (ACBH), and Hitachi for their ongoing work in undertaking this valuable project," Mr Starling said.
"Hitachi's sensor-driven data collection and process analytics will assist Australia's red meat industry to identify their own processes and pain points along the whole value chain to better manage, measure and improve supply chain operations as far as on-farm operations and down to individual animals.
"The outcomes and learnings from this project will be used to inform a number of current MLA industry imperatives and strategies under development including industry's digital strategy, automation technology and sensing, and building data management systems to support current producer data."
"We're delighted to present Meat & Livestock Australia with the first Hitachi Transformation Award in recognition of the substantial benefits they have achieved through accelerating business transformation. Through data analytics and driving IoT- led decision-making, MLA is helping foster the productivity and profitability of the Australian red meat and livestock industry," said Brian Householder, president and chief operating officer, Hitachi Vantara.
The NEXT 2017 General Session also featured MLA's Dr Nigel Tomkins presenting on the 'The Power of Analytics and IoT To Drive Real-World Outcomes'.
Phase one of the R&D project being supported by MDC in collaboration with Hitachi and ACC-ACBH is expected to be completed in January 2018.