Back to

News & Events
Project to test DEXA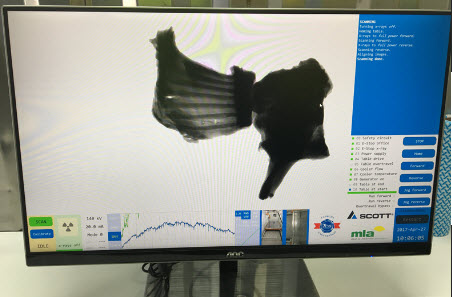 DEXA, or Dual Energy X-Ray Absorptiometry, is a tool which provides timely, accurate and objective information on the lean meat, bone and fat composition of beef and lamb carcases.
MLA grainfed levies are helping fund a research project that will refine DEXA technology for the beef industry and ensure it delivers more accurate descriptions on the value of cattle.
Installation of the nation's first commercialised beef DEXA machine is underway at Teys Australia's Rockhampton plant and is expected to reach completion in November 2017, which is when testing on the unit is set to begin. The separate objective carcase measurement project, focusing on lean meat yield and eating quality, will then commence in January 2018.
The research is partly supported by the Australian Government's Rural R&D for Profit programme in consultation with the Australian Lot Feeders' Association and MLA.
Leading the project is Dr Graham Gardner from Murdoch University, Principal Investigator of the ALMTech Project (Advanced measurement technologies for globally competitive Australian meat).
Dr Gardner said the research at Rockhampton involves calibration and proofing work with the technology and would be central to the successful rollout of beef DEXA systems to the red meat industry.
Testing for reliability and consistency
"DEXA needs to be able to determine bone, muscle and fat in any carcase that it looks at, so whatever the length and breadth of weight and fat range in the Australian herd, we need to calibrate the technology to cover them all," Dr Gardner said.
"We've already scanned 50 carcases across a wide weight and fat range at Brooklyn using Teys' 'DEXA in a box' system, and that has allowed us to create a working algorithm so we can roll it out straight away when we start the project in Rockhampton.
"Our work in Rockhampton will allow us to build up a large volume of data – we want to present a data set to industry that demonstrates DEXA's reliability and consistency," Dr Gardner said.
Carcases will be going through a continuous production process, so researchers will be measuring carcases and testing the technology on a variety of cattle with different fat and weight ranges.
"Initially, we will be doing repetition tests and training the device to predict important cuts that they market.
"Once the CT scanner is in place, we will be training it to have the ability to predict carcase composition."
Adding value for producers and processors
Dr Gardner said the technology offered many potential benefits to the red meat value chain.
The device will predict the proportions of bone, muscle and fat and will do so with more reliability and precision than what rib fat or P8 assessments currently provide.
"That improved precision and accuracy of measurement will give more transparency to producers. It will provide better feedback and precision management on-farm in response to data. Enhanced feedback systems will provide producers with new information to improve compliance to market specifications.
"Some supply chains may choose to trade upon that, but what I can facilitate is improved feedback and we will look to work with Livestock Data Link or a company's feedback system to achieve this.
"For processors, it will provide them with new tools and data to enhance efficiency, and improve their capacity to allocate product to the most valuable market end-point."
Looking ahead
Dr Gardner said while a fixed time had not been set to complete the project at Rockhampton, it was hoped a significant data set would be in place by mid-2018.
"We will then need to look at doing further calibration work at other sites where more Bos taurus cattle are processed," Dr Gardner said.
Looking ahead, Dr Gardner said it was up to the red meat industry to decide how it would use the objective measurement technology the project was helping to deliver.
"I can provide the solutions and encourage their use, and that's exactly what I intend to do, but as to when it will be available to producers is a question for the supply chain and not something I can answer. It's up to them to get together and discuss how they feed the information through to producers," Dr Gardner said.
More information
A demonstration of DEXA technology will also feature at Australian Lot Feeders' Association's SMARTBEEF Conference on 2–3 November, 2017.
For more information on SMARTBEEF, visit the event website where you can also register and view the program: www.smartbeef.com.au.