Back to

News & Events
Aussie goatmeat inspiring US chefs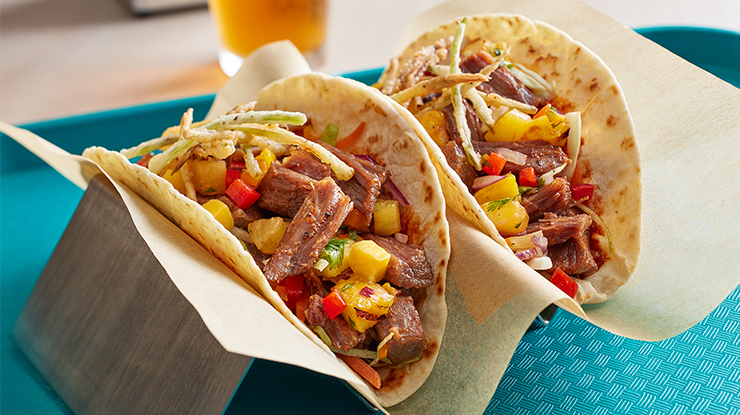 MLA's North America team recently worked with US chef Grant Morgan, founder and chef of Chopped Thyme Culinary Innovation, Dallas, to develop a recipe using Australian goatmeat for one of the US foodservice industry's most influential publications – Flavor & The Menu magazine.
Grant is best known for his work with premium fast casual restaurant, Velvet Taco, and that expertise is on full display with this new recipe – the G.O.A.T (Greatest Of All Time) taco, made with True Aussie Goat.
Grant used Australian goat leg for the dish, braising it in coconut milk, chicken stock and jerk seasoning.
To build the taco, he spooned jerk sauce onto a grilled flour tortilla, added acidic green cabbage slaw, braised goatmeat, pickled mango, and habanero-pineapple relish, and then garnished the taco with fried leeks.
"It's all about the layering of flavours and textures when building a taco: the spice in both the jerk sauce and habanero, and the rich flavour from the braised goat that's built up by the sweetness and acid from the pickled mango," Grant said.
"The crispy crunch you get from the leek gives every bite a punch of flavour. Aussie goat has a great, mild flavour and is a unique protein that can help diversify any menu."
Although goatmeat shipments to the US have declined this year, it remains Australia's largest goatmeat export market, taking 57% of exports, comprising 4,445 tonnes shipped weight for the calendar year-to-July.