Back to

News & Events
Back on track and better than ever
04 March 2021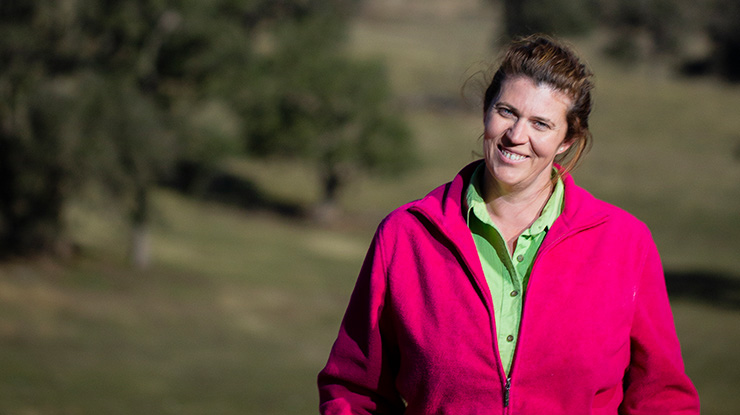 NSW producer Deb Gray. Image: Hilary Wardhaugh
More than 100 producers in bushfire-affected regions across Australia have benefited from farm business advice to get back on track since MLA launched the free Back to Business program in January 2020.
One producer who now knows the value of expert advice is Deb Gray, who reckons the one-on-one sessions with a local farm business consultant was the ticket to success when times were tough.
In early 2020, bushfires ravaged Deb's property at Araluen, NSW. More than half of her land was damaged and she lost livestock. On the back of recent severe drought, Deb said the emotional and financial toll to her and the business were extreme.
"We got through the drought and 2020 was already going to be a tight year financially, but then the fire hit and it just shattered us," Deb said.
"We came back after being evacuated and my last three paddocks of feed had been burnt to the ground.
"Our neighbours and Rural Fire Service volunteers had been amazing in saving our house and what stock and pastures they could, but in that moment I didn't know what to do."
Deb said they didn't have a set recovery plan after the fires – just the goal to reach May and sell their calves on the ground for cash flow.
"I was treading water during that period," Deb said.
"I had tight finances and my only plan was getting to May."
It was during this time Deb saw the Back to Business program advertised in MLA's e-newsletter, Friday Feedback.
"Accessing a consultant wasn't something I'd done before, but I was willing to try anything," Deb said.
"Alastair of RaynerAg was assigned to us and from the first session I had with him, we started to map out a plan of recovery."
Deb said the sessions laid out short, medium and long-term plans for her business, and helped it grow in strength.
Her goals are now:
Short-term
weed management
retaining calves originally earmarked to sell to rebuild the breeding program.
Medium-term
shopping for bulls, using estimated breeding values and growth weights to turn stock off sooner and to produce a genetically stronger herd.
Long-term
developing strategies to increase carrying capacity from 60 to 80
identifying additional revenue streams to complement the beef business, such as producing lucerne hay.
Transformation
Deb said the three consultation sessions she accessed through Back to Business have transformed her operation and her mental mindset.
"It really helped me get back on my feet and feel excited about farming again," Deb said.
"If you're eligible for this sort of thing, give it a crack.
"Personally, the consultation sessions have been so valuable for us that we've actually renewed Alastair on a new 12-month contract.
"Having a consultant come in with an unbiased view to look at our business has seen its potential grow enormously, and it really was a godsend when we needed it most."
Lessons learned
MLA's free Back to Business initiative gives producers affected by bushfire access to advice to get their busines back on track.
External advice can improve a business's potential productivity and profitability.
It's important have short, medium and long-term plans when recovering from natural disasters.