Back to

News & Events
Bective Station Feedlot wins MSA honours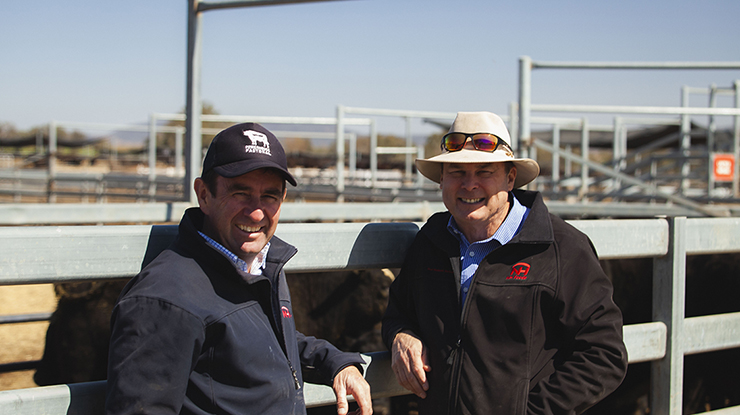 NH Foods Australia Group Livestock Manager, Stephen Moy and Whyalla Beef General Manager, Tony Fitzgerald, at Bective Station Feedlot.
A commitment to producing a consistent, high quality beef product and outstanding rates of compliance to Meat Standards Australia (MSA) has seen Bective Station Feedlot with the 2019 MSA Excellence in Eating Quality Awards for Most Outstanding Feedlot in New South Wales (NSW).
Based on the Liverpool Plains and leased by Whyalla Beef (owned by NH Foods), Bective Station Feedlot has a capacity of 5000 head with cattle fed for 270 days.
The feedlot is focused on turning off cattle for NH Foods Angus Reserve brand, one of Australia's largest verified Black Angus beef brands. Cattle are finished on a barley-based ration for a minimum of 270 days, with an average MSA marble score of 590 over the period of the MSA Awards 2017-19
Whyalla Beef General Manager, Tony Fitzgerald, said Angus Reserve cattle finished at the feedlot are processed through the company's Wingham Beef Exports plant and are MSA graded.
"This market acceptance of the MSA standards gives our customers the confidence to know they are purchasing a consistent, high quality product," Tony said.
"As a feeder and processor of stock we work with our suppliers to identify cattle that perform well in our operation. All purchases into the Angus Reserve program must be verified Black Angus."
Tony said nutrition is an important factor in influencing eating quality and meeting MSA compliance.
"For us, nutrition is continually evolving, as seasonal changes affect availability of different commodities available to us," Tony said.
"In light of the extremely dry conditions across most of the eastern seaboard, finding available sources of energy, protein and fibre has been challenging. Fortunately, our nutritionists understand these difficulties as well as the eating quality commitment we have made to our customers.
"Our cattle are fed a barley-based ration and perform extremely well. All our programs have defined feeding Key Performance Indicators set to them around average daily gain, feed conversion and numerous other feeding criteria.
"In addition to nutrition, we recognise the importance of well-handled cattle. MSA figures show how stress in cattle has a direct correlation with high pH levels."
Bective Station achieved 99.7% compliance to MSA requirements, which include ensuring meat pH is below 5.71. This was coupled with an average MSA index across 2017-19 of 63.31, to make them the winner of the Feedlot category.
"Preparation of cattle entering the feedlot is the key requirement for us, and this in turn adds benefit to our suppliers. For example, having cattle prepared well from weaning through to feedlot entry with the correct health protocols aids in reduced shrink, better feeding performance and health outcomes," Tony said.
Tony said his message to other producers is simple: compliance to a specification means more money in the supply chain from producer through to the retailer.
"Compliance is the basis for the establishment and expansion of a branded beef program - without compliance, there is no brand," Tony said.
"The success of branded products depends on the delivery of a consistent, quality product. MSA grading gives Whyalla Beef and our customers the confidence to stand by our products."