Back to

News & Events
BRD's impacts quantified
11 June 2019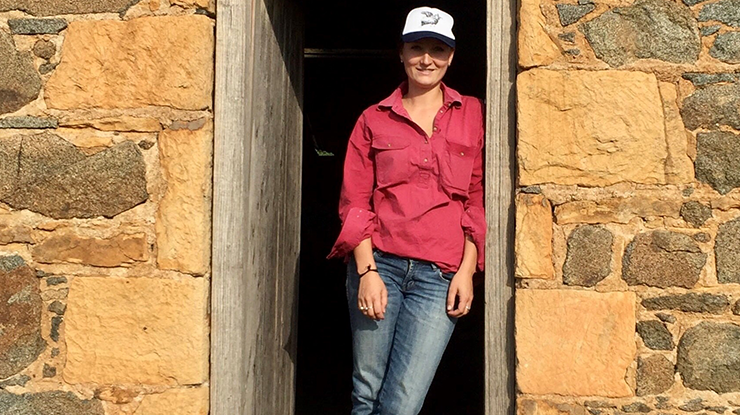 PhD student Claudia Blakebrough-Hall from The University of Sydney, assisted in the R&D undertaken into the economic impact of BRD.
The economic impact of Bovine Respiratory Disease (BRD) in Australian feedlots has been quantified for the first time, providing valuable insights into its effects on animal performance and economic return.
BRD is the most significant disease affecting the Australian cattle feedlot industry, and was the focus of a research project managed by MLA in consultation with the Australian Lot Feeders' Association (ALFA).
Information from the research project will be valuable for cost-benefit analysis to determine feasible levels of investment in vaccination and treatment protocols, disease detection strategies, technologies, and also preconditioning premiums.
The project was led by Associate Professor Luciano González from The University of Sydney, with assistance from PhD student Claudia Blakebrough-Hall.
Taking every cost into account
Two trials were conducted between February and December 2017 in the Riverina region of NSW, which followed around 3,000 cattle closely from induction, through a 116-day feeding period, and on to slaughter, where lungs were inspected for damage indicating previous BRD episodes.
The project aimed to determine the true economic impact of BRD by quantifying every known cost factor associated with BRD, including individual animal treatment records, lung abnormalities at slaughter, labour costs and the costs associated with decreased production, among others.
Associate Professor González said the research demonstrated that performance, carcase traits and economic outcomes declined as the number of BRD treatments and the severity of lung abnormalities increased.
"The results have really demonstrated the importance of lot feeders collecting data at the feedlot and analysing feedback data from processors including health data," Associate Professor González said.
"It is data that will help lot feeders look at what factors in the feedlot are impacting the incidence of BRD."
The difference between cost types
The project compared the subclinical cost of BRD – that is BRD not detected by human observation but evident in lung lesions at slaughter – to the cost of clinical BRD, which is BRD diagnosed by human observation and clinical measures, as well as lung abnormalities present at slaughter.
"The average incidence of subclinical BRD was 10%, which demonstrates that we need to develop technologies to better detect animals that are sick but don't show signs of illness," Associate Professor González said
"Animals with clinical BRD – that is, treated for BRD and with severe lung lesions at slaughter - displayed the lowest performance, followed by subclinical BRD (not treated for BRD but with severe lung lesions), 'resolved' BRD (treated for BRD but no severe lung lesions) and healthy animals displaying the greatest performance and net returns.
"There were minimal differences in performance between clinical and subclinical animals; however, clinical animals had lower value at slaughter and net returns were $127 per head lower than subclinical BRD cases.
Treatment costs
"We found that BRD mortalities were approximately 80% of all mortalities and between 2% (Trial 1) and 0.3% (Trial 2) of all animals inducted.
"The majority of animals – approximately 70% – are treated once for BRD.
"Animals treated three or more times for BRD showed carcases 40kg lighter in both trials and returned $384.97 less in Trial 1 and $284 in Trial 2 compared to healthy animals on a dead out basis.
"Severe lung lesions were observed in 16% (Trial 1) and 6% (Trial 2) of the animals slaughtered.
"Pleurisy score of 3 – that is where lungs adhered to thoracic wall - was observed in 10.7% and 5.6% of animals for Trial 1 and 2, respectively.
"In Trial 1, animals with severe lung lesions or pleurisy score of 3 yielded carcases that were 14.31kg or 18.79kg less, respectively, compared to animals with normal lungs at slaughter. Net returns were also decreased by $91 per head for these animals."
Associate Professor González said the project found the average treatment cost for BRD ranged from $36 to $63 per animal.
Decision making with data
"The costs of treatment can add up very quickly, and if an animal dies from BRD, the overall loss is really significant. You can spend up to $63 per head treating animals that die, plus $6/head in induction vaccinations, so you're losing $70 in treatment costs and a total loss of approximately $1,700 for these animals."
Associate Professor González said the project's findings could help in identifying areas to address in order to reduce BRD's impact on commercial feedlots.
"The data produced in this study could also be a useful tool for feedlot business management decisions such as health and profit driven marketing strategies related to BRD."