Back to

News & Events
Breed not a barrier to unlocking value from MSA data
02 June 2020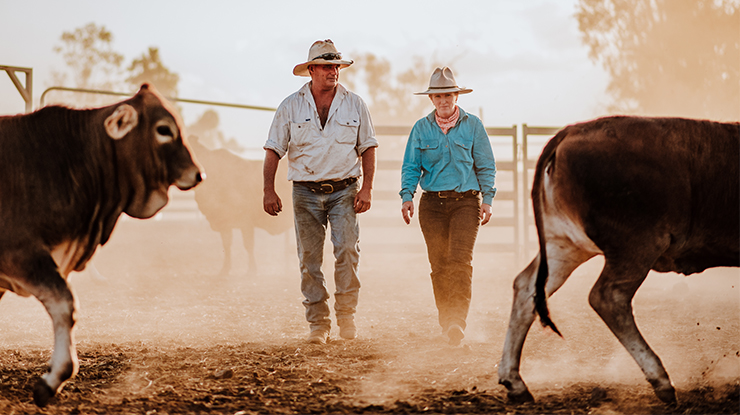 Robert and Melinee Leather. Photographer: Jessica Howard
Running 4000 head of Brahman and Brahman-cross cattle across nearly 18,000 hectares in Central Queensland, Robert and Melinee Leather along with their son Adam and daughter-in-law Chloe have found MSA feedback invaluable in tracking the performance of their livestock.
Based near Banana, Central Queensland, the Leathers operate both a Brahman-based breeding herd and a finishing operation comprising Brahmans crossed with Limousin, Brangus and Senepol, across three properties, 'Barfield Station', 'Four Mile', and 'Hazeldean'.
First registering with MSA in 2007, the Leathers regularly use myMSA to source their carcase feedback.
Targeting turn off carcase weights of between 300-320 kilograms for steers and 260-270 kilograms for heifers, the Leathers sell their cattle into MSA programs at Teys, Biloela, with the remainder going into the Australian Organic Meats program through JBS at Rockhampton.
When it comes to better understanding eating quality performance, Melinee believes tracking animals at an individual level is something that will drive vast improvement.
"We know that we can get straight Brahmans returning a really good MSA score, but with a herd of our size it's difficult to pinpoint the genetics of that animal," Melinee said.
"There are Brahman genetics out there that will perform, and we're hoping to be able to follow this on an individual animal level in the future."
Beyond genetics, nutrition is something the Leathers have found to underpin performance of their cattle.
"We've been successful in using our MSA data to identify the impact nutrition has on the performance of our cattle, and we monitor carcases coming off different feed sources," Melinee said.
"Analysing data from 2016-19, it was clear that compliance dropped during dry spells.
"Combined with things like low stress stock handling and selecting animals on temperament, we graze animals across a mix of buffel, bluegrass, Mitchell grass and Leucaena to get the best results we can, regardless of season."
Ultimately, the Leathers believe that it's only through measurement, monitoring and data analysis that gains can be made.
"From the outset, you really need to understand the market you're trying to hit," Melinee said.
"From there, monitoring and measurement can guide the decisions you need to make to get there. We are far from perfect when it comes to data collection, but it can be well and truly worth it.
"If we can follow cattle through and understand why they're performing the way they are, then that helps us understand how to better manage our herd.
"Benchmarking in particular is useful because I like to look at trends in our herd, but also in the context of what's happening around us; is it typical for our area or is it something specific to us that we need to take a closer look at."
myMSA has been refreshed, giving MSA producers access to a range of new features including:
Opportunity Index: The Opportunity Index helps you focus your attention on where financial gains can be made and to benchmark carcase attribute performance. It tells you what your Index would have been if non-compliant carcases me the MSA minimum requirements.
New look and feel: the myMSA portal has been refreshed and is easier to use. New features include:

Easy navigation on the left-hand menu
Help prompts on every page
Accessible on every page.
Access your carcase feedback, MSA Index results and benchmark the eating quality performance of your herd at www.mymsa.com.au