Back to

News & Events
Building brand consistency around the world
27 April 2021
Over the past 12 months, MLA's international marketing team has spent considerable time working on our consistency of planning, execution, evaluation, communication and branding.
As markets such as Japan, Korea, the US, the UAE and Malaysia opened decades ago, industry established branch offices to work on important activities such as business development, branding and promotion of Australian red meat. This was pre-digital era, and the consistency of our material mattered less.
Over time, each MLA office developed distinct programs, even using completely different logos to brand Australian product. While these brands had built equity in their respective markets, each had its own brand identity, positioning, messaging and strategy. As Australia's customers became more global, the Australian red meat industry identified the opportunity to align the positioning, messaging and identity of Australian red meat under a single brand platform for use across all export markets, and so the True Aussie brand was developed and launched in May 2014.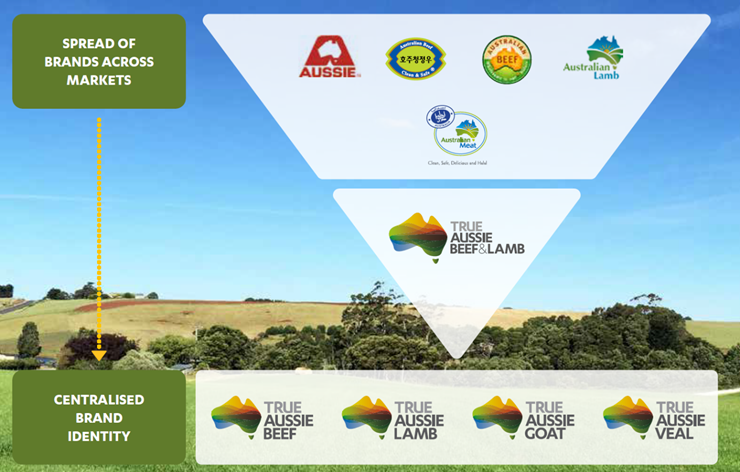 Consumer research across a number of key markets has shown that country of origin is the most important factor in decision making around purchases, and that people tend to have a strong positive perception of Australian red meat. It was therefore important that the logo made Australian products easy to find and helped retailers across the world tell their customers that they proudly use Australian.
We also licence the True Aussie logos and encourage brand owners and customers to use these in their own marketing activities, because strength in numbers helps build the country of origin position Australia has for the benefit of all.
The pandemic has provided an opportunity to refresh our strategy around the True Aussie logo, and to ensure we have consistent guidelines for use. Increasingly, the logo is being used as a secondary country of origin type indicator, subservient to a retailer or exporter brand, and the guidelines now assist with that.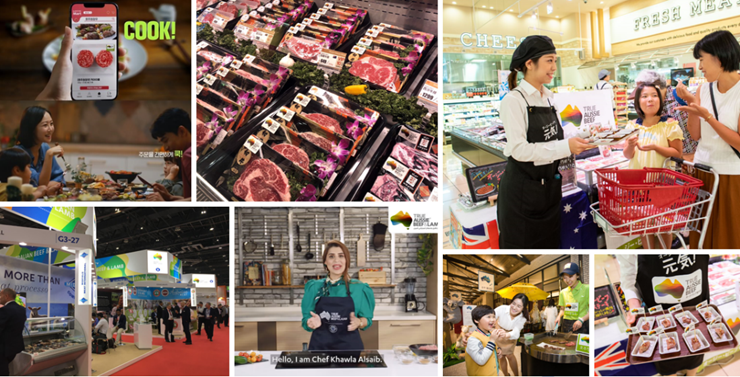 The True Aussie logo on display around the world.
Part of the refresher process also includes the development of 'playbooks' which guide MLA and brand owners to more effective communication – whether in planning and executing a brand campaign, or using nutrition and wellbeing credentials in public relations strategy and for key influencer messaging.