Back to

News & Events
Cattle slaughter gets a well-needed boost
26 August 2021
Key points:
Eastern states' slaughter jumps 10% to hit 100,062 head, in-line with year-ago levels
According to ABS, 2.9 million head killed in first half of 2021
Grainfed proportion of slaughter remains historically high at 45%
For the week ending 20 August, eastern states' cattle slaughter achieved that ever so elusive 100,000 mark, hitting 100,062 head. This is the first time the cattle kill has been on par with 2020 levels. Currently, 2021 slaughter is tracking to be the lowest in over three decades due to severe drought turn-off in 2018–19 and wetter conditions heightening the rebuild.
According to the National Livestock Reporting Service (NLRS), Queensland was the sole contributor, rising 21%, so evidently a handful of processors were able to bump up kills despite rising COVID-19 cases and ongoing processor disruptions in NSW.
MLA has projected the national kill to achieve 6.3 million head by the end of the year, with just over 2.9 million head killed in the first half according to the ABS. Current levels suggest 40% of the kill is required to achieve that, with 37% of the year to go, so the race is on. While the cattle market continues to break new ground, the consistent nature of the weekly kill this year hints that we are more likely to see steady rates continue, with the odd fluctuation for the remainder of 2021.
Hopefully, the kill will improve towards the back end of the year when more finished stock come off feed. However, the continued rain in key supply regions in NSW and Queensland is fuelling restocker activity and retention of females, showcased by continued young cattle records and a declining cow kill, keeping slaughter at subdued levels.
The following chart highlights the striking resemblance between processor cows purchased at the saleyard and the ABS total kill, indicating the reliance on kill cows to boost slaughter rates.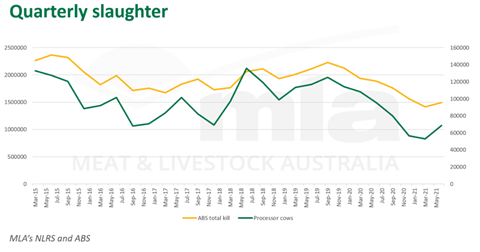 Grainfed
The June quarter stats also revealed that 45% of slaughter was grainfed, 2% below the March quarter, yet still 6% higher than the five-year quarterly average. Evidently, the retention of grassfed cattle, particularly cows, are keeping the grainfed proportion historically high.
© Meat & Livestock Australia Limited, 2021