MLA's COVID-19 statement
25 March 2020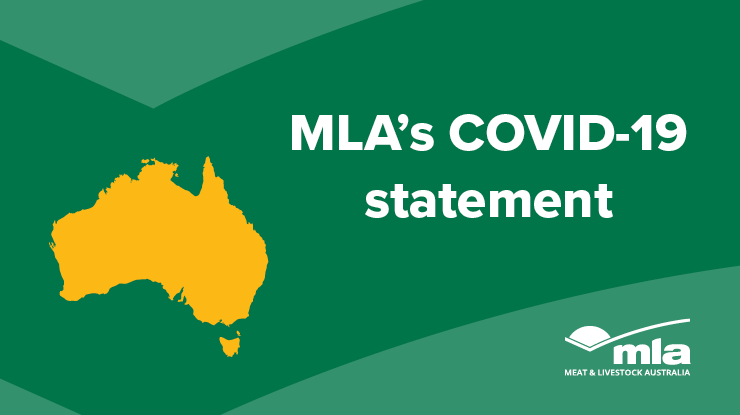 For up-to-date information on the Australian Government's response to COVID-19 visit the Australian Government's website which provides the latest news, updates and advice from government agencies across Australia.
Meat & Livestock Australia is taking considered action to support global containment efforts of Coronavirus (COVID-19) and to safeguard the health and wellbeing of our people, their families, our stakeholders, visitors and contractors.
It's clear that Coronavirus is continuing to spread both here in Australia and overseas and as such it is important that we take measures to mitigate the spread of the virus to ensure the safety of our communities, particularly the elderly and immunocompromised.
MLA has implemented preventative measures that comply with government guidelines and taken additional steps to prepare and adapt to a changing work environment.
Business travel
In line with the Australian Government restrictions, all domestic and international travel for business is prohibited until further notice.
Personal travel (non-business related)
The Australian Government has now advised international travel is prohibited until further notice. Domestic travel in Australia is subject to state border restrictions and is only for essential purposes.
Self-isolation
The Australian Government advises that anyone who has travelled internationally or has come into direct contact with a confirmed case of COVID-19 must isolate themselves and should monitor their health for 14 days from the date of entry or contact.
Office closure and business operations
From 5pm Wednesday 25 March all MLA offices (except China) will close. This means that all employees (except in our China office) will be working from home – including our Livestock Market Officers who collect livestock data across Australia's saleyards. For our Livestock Market Officers this means they will no longer attend saleyards but will work to deliver market reports remotely from their homes. This means changes to MLA's market reporting.
The Integrity Systems Company (ISC) Helpdesk service will continue to operate during business hours of 9am – 5pm, Monday to Friday.
At this stage, we plan to reopen our offices on Monday 27 April, or until otherwise advised.
We have the IT systems, tools and resources to support our employees to work productively from home.
We will continue to communicate and operate with minimal interruption to business-as-usual.
Should any business operations be impacted, we will communicate these changes ahead of time and do our best to make sure it doesn't affect our stakeholders.
Hygiene

Health authorities advise that following good hygiene practice is the most effective preventative measure.
We are promoting good personal hygiene practices including:

Washing hands frequently with soap and water
Using hand sanitiser frequently
Avoiding touching your face
Using tissues when coughing or sneezing and disposing of them straight after use
Avoiding close contact with others, especially touch

We are promoting social distancing when out in public
At risk people (such as immune compromised or elderly)
We encourage employees who are considered to be in a high-risk category to discuss flexible work options that meet their specific needs with their manager.
Meetings and events
Meetings and events are now suspended until further government instruction.
We will continue to monitor the status of COVID-19 as the situation evolves and update our response accordingly.
We appreciate your understanding as we seek to avoid any unnecessary risks to our people, their families and the community.
Join myMLA today
One username and password for key integrity and information Systems (LPA/NVD, NLIS, MSA & LDL).
A personalised online dashboard that provides news, weather, events and R&D tools relevant to you.
Customised market information and analysis.
Already registered for myMLA?