Back to

News & Events
Curtis Stone returns to champion Australian beef
15 November 2018
Internationally renowned Australian chef Curtis Stone is back in Australia this month to help champion the Australian beef industry as he undertakes an epic road trip to film a new television series for a global audience.
Following on from his popular appearances at Beef Australia 2018 at Rockhampton in May where his cooking demonstrations showcased secondary beef cuts, Curtis has returned to film 'Field Trip with Curtis Stone' in Western Australia (WA).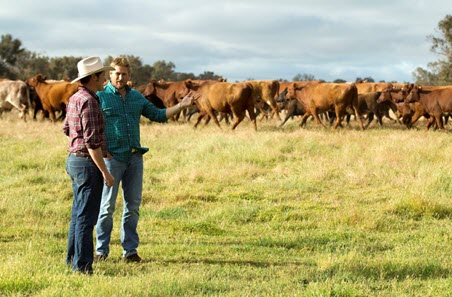 Meat & Livestock Australia (MLA) has supported the trip by connecting Curtis and his team to local beef producers to demonstrate the quality of Australian beef and the on-farm stories behind its production.
MLA Domestic Market Manager, Graeme Yardy, said the collaboration between MLA and Curtis would help promote Australian beef in both the domestic and export markets.
"The domestic market remains the most valuable market for Australian beef, however, key consumer insights have shown that 41% of consumers don't know that beef bought in Australia is Australian," Mr Yardy said.
"Consumers claim their most important purchase drivers are freshness, quality and Australian raised, and it is these quality and provenance messages that Curtis will focus on.
"Two episodes of the new television series being filmed will focus on Australian beef from different regions within WA. The PBS USA network has bought the rights to the series, with plans to on-sell to networks in Australia, Asia and the United Kingdom.
"With approximately 70% of all Australian beef exported, the importance of promoting our beef in export markets cannot be underestimated. In 2017-18, the United States was our second biggest beef export market behind Japan.
"Curtis is knowledgeable, well liked and respected and a fantastic advocate for Aussie beef and how it is produced. He has a strong following in many countries and is seen as a trusted voice for the quality and integrity of Australian beef.
"Alongside filming the television series, Curtis will also create three recipes celebrating the ease and versatility of Australian beef. He will help tell the provenance story behind the Australian beef industry, while inspiring Australians to cook with beef as we move into summer and continue the Australian Beef. The Greatest campaign."
The trip by Curtis and his team through WA will also inspire a new Australian led menu for his flagship restaurant, Maude, in Los Angeles. With his brother Luke Stone, Curtis also operates a European-style butcher shop and fine-dining restaurant, Gwen, in Hollywood.