Back to

News & Events
Dining out culture driving beef consumption in Taiwan
28 October 2019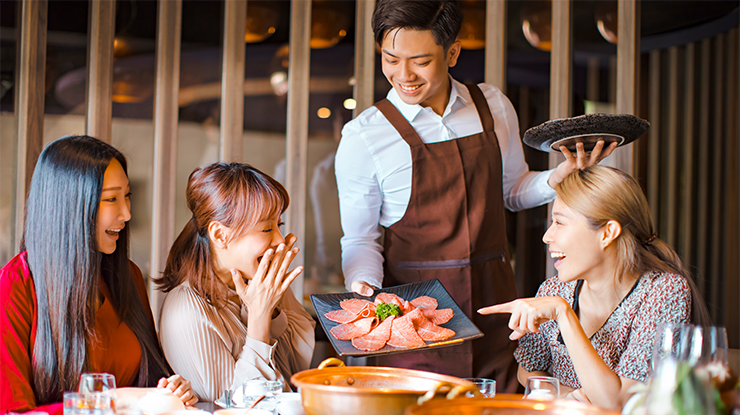 A love for dining out among Taiwan's wealthy and urbanised population has seen the island become a significant and consistent market for Australian beef in the Greater China region.
Taiwan's beef consumption continues to increase, driven by a large young adult population with growing disposable incomes and more openness to western-style foods.
Between 2008 and 2018, beef consumption per capita increased 66% from 3.87kg to 6.41kg.
As demand has grown, Taiwan has increased its volume of beef imports some 27% from 2014 to 2018, with total beef imports reaching an all-time high of 130,505 tonnes shipped weight (swt) for the 12 months to July 2019.
In 2018, Taiwan was the sixth largest beef export market by value for both Australia and the United States.
Importantly, Australia's total beef export unit price (A$/kg) to Taiwan has been the highest among our top ten export destinations for the past five years.
Dining out culture
Foodservice is an important channel for Australian product, which goes into both the mid-end casual dining and top-end fine dining sectors.
Spending on restaurants and hotels accounts for 12.9% of household spending in Taiwan, compared to 7.2% in the US, and 6.5% in Australia.
MLA's Global Consumer Survey conducted in Taiwan in 2016 also found that Taiwan's dining out frequency was high by global standards, with Taiwan consumers dining out for lunch and dinner at more than double the rate that Australians do.
Taiwan consumers dined out for lunch close to 200 occasions per year, and for dinner at an average of 125 times per year, compared to Australians who dined out for dinner on just over 50 occasions and just under 50 occasions for lunch per year.
Around 70% of Australian beef goes into the market's foodservice sector, with shin/shank and intercostal cuts used in slow wet-cooking for local style dishes and thin-sliced product used in hot pot and shabu-shabu style recipes.
The western-style fine dining segment has grown in recent years, using premium beef cuts such as cube roll/rib eye roll, striploin, tenderloin and short rib. Some consumer segments have developed a preference for highly marbled beef such as US prime, Australian Wagyu and Japanese Wagyu, while others seek quality, leaner grassfed beef.
Safety and quality key
Taiwan consumers have comparatively high levels of concern about beef safety. Country of origin is a key way consumers judge a product's safety and Australian beef has perceived strengths on safety and consistency of quality standards compared to other import suppliers.
Continued messaging on Australia's unique traceability and food safety systems will maintain Australia's advantage on the important attributes of safety and quality.
Australian beef can further articulate its eating quality benefits of flavour, tenderness, aroma and juiciness, which deliver an enjoyable experience, particularly important to building preference among younger and more affluent consumers, who consume more beef.
Taiwan's retail sector is quite mature by global standards, with Australian beef bought mostly from hypermarkets and supermarkets.
Global competitors
Although Taiwan's beef imports have grown in recent years, increased competition from the US, New Zealand, Paraguay and Japan, is putting pressure on Australia's market share in different market segments, with all exporting larger quantities than previous years and New Zealand and Paraguay additionally benefiting from zero tariffs.
Due to tight supply from Australia and strong demand from China, Australia's market share in Taiwan has been surpassed by the US for the past four years in a row.
US beef has been able to command a significant premium over Australian, despite having the same market access conditions – 2018 unit prices were 29% higher for US frozen beef, 42% higher for US chilled compared to Australian. This partly reflects the different mix of cuts and grade of product, with US chilled mostly comprised of 'special quality' boneless, Prime or Choice grade boneless short rib, chuck eye roll and steak cuts.
US frozen product is comprised of a higher proportion of Prime or Choice grade short plate, chuck eye roll and oyster blade cuts, while Australian frozen is dominated by shin/shank, blade and manufacturing cuts. US market access restrictions also play a role, with US ground beef and internal organs ineligible for import due to lingering BSE concerns and only allows beef products from cattle under 30 months of age.
In late 2017, Japanese Wagyu regained access to the market and in 2018 Japan exported 639 tonnes swt of product, becoming Japan's largest beef export market and intensifying competition for Australia's higher value grainfed exports in the foodservice sector.
Strengthening communication of Australia's superiority in safety, quality consistency, nutritional value and wide range of product variety - from lean grassfed to highly marbled - will help convince consumers to favour Australian beef.