Back to

News & Events
Early adopters of MSA reaping rewards at Merriwa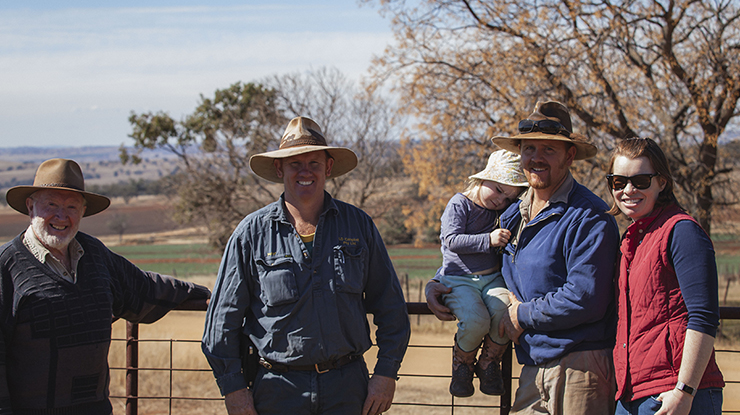 Ron, Peter, Lucy, Mark and Karen Campbell, Merriwa.
A decision to register for Meat Standards Australia (MSA) 20 years ago is paying off for the Campbell family at Merriwa, NSW, who are reliably selling into domestic supermarkets all year round, despite the tough conditions caused by the drought.
Peter Campbell, who farms with wife Wendy, along with his parents, Ron and Betty, and brother and sister-in-law, Mark and Karen Campbell, says the premium for MSA graded cattle has grown considerably since his father signed up for the program many years ago.
"Dad signed up to make sure we had capacity to sell into all markets when the time came, and it has really come into play since we started supplying to Woolworths 25 years ago," Peter said.
"Being able to sell into Woolworths is a huge benefit to our business. It gives us the ability to turn off our stock throughout the year whenever they are ready to go."
The work of the Campbell family has seen them win the 2019 MSA Excellence in Eating Quality Awards for Most Outstanding MSA Producer, Band 1, in NSW.
Peter and his family run a mixed-farming operation on 2640 hectares, where they breed Angus cattle, run a cross-bred lamb enterprise and crop around 600 hectares.
They supply 450 head of cattle per year to Woolworths under a supplementary-fed contract, which allows the Campbell family to finish stock using grain.
"The cattle are mostly managed in a rotational grazing system on native and improved lucerne-based pastures, but in recent dry times, we have finished them in drought paddocks using a grain ration of wheat, barley, sorghum and hay to help stock reach live weights of at least 500kg ," Peter said.
As well as nutrition, Peter says low stress stock handling plays an important role in meeting MSA compliance.
"MSA figures show how stress in cattle has a direct correlation with high pH levels. If you've got cattle that want to run or spook easily, the pH levels go up very quickly, and that can make for tough beef," Peter said.
It's for this reason, MSA has a minimum requirement of meat pH to be lower than 5.71. The Campbell family was able to achieve 99.7% compliance to MSA requirements during 2017-19.
"We use quad bikes and dogs in the paddock; we yard wean and then handle the stock daily in the yards without dogs.
"In the paddock, it's just about getting around them quietly, letting them be aware of us so that we can be aware of them.
"We also cart all of our own stock, so we've got the capacity to manage the animals right up until slaughter. We can control their feeding, their preparation for trucking and their capacity to be trucked. This plays into that eating quality which is what MSA is all about."
Peter said temperament also plays a big part in producing superior eating quality beef expected by suppliers and consumers.
"If we can't handle our cows, we move them on. Bulls are the same – they need to be easy to handle.
"We have bred a few bulls of our own and we've culled very heavily on temperament there."
Peter said MSA is a great reference tool and allows cattle producers to objectively manage their herd.
"You've got to know your product and you've got to know what the supplier wants – MSA helps us understand this," Peter said.
"We know off the back of the indexes provided to us, which were an average of 62.51 during 2017-19, through MSA that we're doing something right – our buyer tells us that Woolworths are happy with our product and that's exciting for us as a business."