Back to

News & Events
Feedback key to success for Corryong beef producers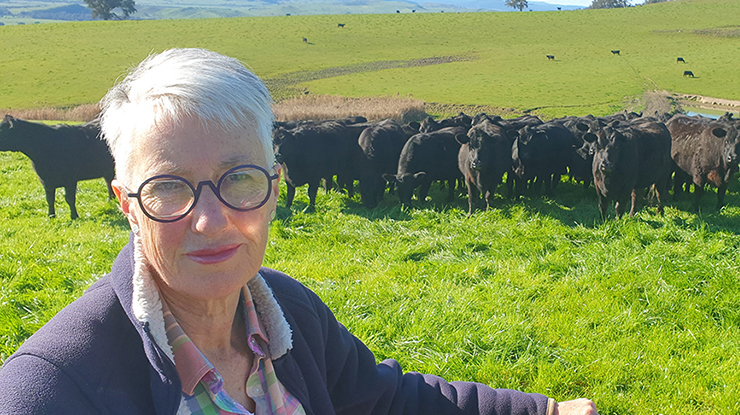 Linda Nankervis, with some of the family's self-replacing Angus herd on their farm near Corryong.
For upper Murray beef producers, Linda and Gary Nankervis, acting on industry feedback is crucial to maximising herd eating quality and business profitability.
Together with their son Joe, Linda and Gary run a self-replacing Angus beef herd on their 654 hectare farm near Corryong in Victoria, supplying finished grassfed cattle to Pinnacle Beef under the JBS Farm Assurance Program.
The Nankervis family have been named winners of the 2019 MSA Excellence in Eating Quality Progress Award for Victoria for their continuous improvement in compliance to MSA specifications, as well as improving their average MSA Index
A change in business direction seven years ago was the catalyst for the Nankervis family to register for MSA when they stopped selling feeder cattle and started selling directly to processors.
"As a beef producer, MSA is a crucial tool for our business. We know how we are performing compared to the rest of the industry and we know what areas need improvement," Gary said.
"In the end, as with any business, it's about profit margins and we are paid more for animals that comply with buyer requirements. The industry standards are MSA and the processors we supply use MSA as a standard to base their requirements on."
The Nankervis family use both myMSA and carcase feedback to guide on-farm decisions.
"Carcase feedback on our animals is the main source of information that helps us make improvements in our business," Gary said.
"If we have an issue with high pH, then we look at what may have caused the stock any stress leading up to delivery. If there is an issue with fat cover, then we address nutrition.
"Thanks to the MSA grading and buyer feedback we have a definite idea of what we need to look for to improve genetic traits and continue to move toward the perfect carcase.
"When buying bulls, we use Estimated Breeding Values (EBVs) to try to select the best bulls in line with what our feedback is telling us. Visual appraisal and temperament are also extremely important to us in breeding well-balanced animals – we don't chase a particular trait at the expense of others."
Low stress stock handling is another important factor Linda considers in the commitment to the MSA program. New yards have been built to minimise stress for their animals and farm workers and laneways have been installed for ease of movement around the property, reducing pressure on the animals.
"Cattle are run together as mobs that stay together right up until they are loaded on the truck. We also minimise yarding and stressing the cattle as much as possible in their final weeks while they are being finished," Gary said.
"We own our own truck and cart our own cattle which ensures the they are handled with great care from the time they leave the farm until unloading at the plant."
Nutrition is also a big priority for the Nankervis family who value the importance of a producing a natural, grass-fed beef product. Their cattle are raised on phalaris sub clover perennial pastures which have been established as a drought coping strategy.
"The cattle do exceptionally well on these pastures during winter and spring," Gary said.
"We are also moving into a rotation of perennial and annual ryegrass system on some country. We are using a rotational grazing system to maximise grass utilisation similar to a dairy system and we are seeing amazing results."
Gary's advice to other producers who are managing cattle for market compliance is to read, understand and act on feedback; know what the market wants and aim at supplying at the top.
"Deal direct with buyers - ask for help to interpret feedback and seek their advice on your cattle's suitability for the intended market," Gary said.